Description
Scaling Ambition: The Road to Faster Growth Presented by BDC
Did you know? Women-owned businesses account for only 16% of all small and medium-sized businesses in Canada and only 5% of Canadian Tech companies have a woman CEO. This represents enormous untapped potential and presents a huge opportunity. As Canada's development bank, BDC has stepped up its efforts to support women-led businesses to help them scale-up and prosper. We also understand the unique challenges tech entrepreneurs face.
Join BDC's Lunch and Learn for strategies to help you grow and scale a thriving business, including how to fuel growth without diluting company ownership. Plus, learn how BDC is supporting women-led Tech businesses.
Speaker: Jasmin Ganie-Hobbs, Major Accounts Manager, Tech Industry
Jasmin is a senior member of the Technology Industry team at the Business Development Bank of Canada (BDC). Jasmin works extensively with emerging technology and knowledge-based companies, providing both financial and consulting solutions, and serves as a champion for women entrepreneurs at BDC.
Much of her success helping technology companies grow lies in her astute ability to determine the credibility of a business's management team, and the potential for commercialization and success. She has consistently earned top ranks at BDC, and previously provided analysis on "Beyond the Deal" for Dragon's Den. Jasmin is a frequent industry guest speaker and has successfully worked with many of the best and brightest companies.
Getting to ventureLAB:
Parking is available in the guest parking area of the IBM Headquarters at 3600 Steeles Avenue East in Markham. From Pharmacy Road/Esna Park Road, enter into the IBM driveway and follow the signage directing you to the guest parking. All parking is free. If taking transit, enter via Esna Park Road on the north side of Steeles Avenue.
Enter through the Main Reception where a ventureLAB team member will greet you and help you find your way. For more information about ventureLAB please visit www.ventureLAB.ca. Questions? Send us an email at hello@ventureLAB.ca.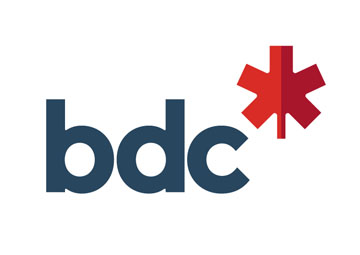 About ventureLAB
ventureLAB is a leading technology hub that supports tech entrepreneurs and small businesses. Located in York Region, Canada's densest technology cluster, ventureLAB has supported over 2,000 entrepreneurs in a region that is home to over 4,300 technology companies and 65,000 tech jobs. ventureLAB operates a 50,000 square-foot innovation hub that is home to over 45 tech companies and innovation partners. At ventureLAB, we support tech entrepreneurs through programs focused on capital, talent, and technology to grow and scale their businesses locally, nationally, and globally.
ventureLAB recently announced the Tech Undivided Initiative, which focuses on increasing the number of women working in tech — as female founders, in technical roles, and in leadership roles in tech companies. This initiative will bridge diversity gaps in workplaces; strengthen Canada's global competitiveness; and increase the number of women tech entrepreneurs.
About Business Development Bank of Canada (BDC)
BDC supports small and medium-sized businesses in all industries and at every stage of growth with money and advice. We are the Business Development Bank of Canada. We are BDC.
---
Ticket Deposit & Refund
Fees associated with ticket purchases will be refunded after the event, given that the person who purchased said ticket is in attendance and had their ticket scanned by a ventureLAB team member on the day of the event. Refunds will not be issued to those who do not attend or those who do not cancel their ticket a minimum of 48 hours in advance.
The Scaling Ambition: The Road to Faster Growth - BDC Lunch 'N' Learn will have a per ticket price of $15.00. Once the event has concluded, attendees will receive their ticket deposit back, minus Eventbrite Processing Fee's (roughly $1.71/ticket).
Photo/Video Disclaimer
All ventureLAB events are recorded for educational and marketing purposes. If you do not wish to be included in these recordings please let a ventureLAB team member know as soon as possible so that we can omit you from the recording.