Sales Have Ended
Ticket sales have ended
Registration has closed for this Scaling Up Workshop on September 27. Please call 289-257-9032 or email lindsayslavin@kaizenperformance.com as there may still be a seat available. Thank you!
Sales Have Ended
Ticket sales have ended
Registration has closed for this Scaling Up Workshop on September 27. Please call 289-257-9032 or email lindsayslavin@kaizenperformance.com as there may still be a seat available. Thank you!
Description
Are you distracted with daily fire-fighting?
Or executing on your strategy for sustainable growth?
If you and your leadership team are frustrated with working hard every day and not making the progress you know is possible, you'll want to attend this workshop and learn the proven methodology and tools that will get your business executing consistently and on the growth path.
This world-renowned Scaling Up / Mastering The Rockefeller Habits workshop has empowered over 20,000 executives and their teams with proven tools and strategies to scale up smarter.
WHAT'S INCLUDED:
You'll understand where the gaps are in your Four Decisions* and how to bridge those gaps in your own unique business.

You'll leave with a first draft of your One Page Strategic Plan - the foundation to build your 3-5 year Sustainable Growth Plan.

And you'll schedule your plan review and debrief with a Scaling Up Coach after the workshop.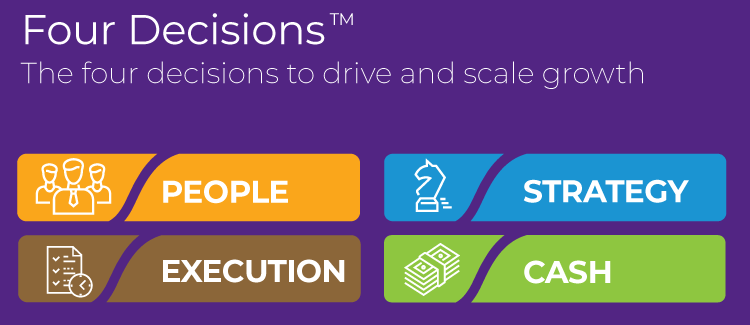 How to attract and keep the right PEOPLE

Creating a truly differentiated STRATEGY

Driving flawless EXECUTION

Increasing your CASHFLOW
For example:
PEOPLE
How to have the right people doing the right things

How to hold them accountable for their results

How to become a magnet for A Players

How to align your team around core values and purpose
STRATEGY
How to implement a simple one-phrase strategy that everyone knows

Clarify your core values

Identify and overcome threats to your success

How to create 3-5 year strategies that accelerate growth
EXECUTION
How to eliminate bottlenecks and pinch-points

Learn to master the 3 Disciplines of execution

Fine-tune processes to run without drama

Create a culture of accountability

KPIs – Identify your Critical Numbers

Meeting Rhythms – how to establish effective communication
CASH
Ensure you are producing enough from internal sources to fund growth

Implement strategies to increase your cashflow and cash on hand

Learn how to shorten your cash conversion cycle

Improve your sales cycle and make sure you are never short on cash


Receive a copy of SCALING UP: How a Few Companies Make It... and Why the Rest Don't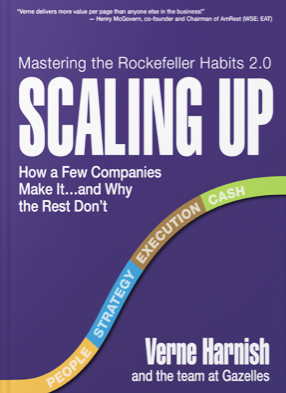 Learn how to accelerate profitable GROWTH using the Rockefeller Habits™
In just one day, you will learn how to accelerate profitable growth leveraging the Rockefeller Habits 2.0 best practices through engaging lectures, videos, hands-on exercises, group discussions, and coach demonstrations.
WHO SHOULD ATTEND?
Business Owners, CEOs, and their Leadership Teams who are ready for change, and know they need to do something different to get their business into growth mode.
This workshop is open to all those interested in amplifying their success and scaling up their businesses via a proven course trajectory.
We welcome lifelong learners and those hungry for best practices and cutting-edge thought leadership.
We welcome leaders who want to develop their team and know they can't do it alone, and are willing to invest in outside resource for help.
To maximize results and return on investment, we encourage leaders and senior teams to attend together.
Join this small exclusive group of other CEOs and Business Owners at the luxury boutique Oban Inn and Spa in the historic Niagara-on-the-Lake, Ontario, Canada.


THE LOCATION:
The Milloy Room at the Oban Inn
A light breakfast and lunch are included, in the rich tradition of culinary excellence at the Oban Inn.
Staying in beautiful and historic Niagara-on-the-Lake
If you wish to stay overnight, a limited number of guest rooms at the Oban Inn & Spa are available at group rates until August 15.
Thursday September 26 - $235/night
Friday September 27 - $295/night
Please call or email Ian Shulman at the Oban Inn & Spa to make your room reservation.
(905) 468-2165 x5200 i.shulman@obaninn.ca
Ian will return your call/email Monday, Thursday-Sunday.
Group Rate: "Scaling Up Workshop".
"In the Old Town of Niagara-on-the-Lake, overlooking Lake Ontario and the golf course, an historic landmark since 1824. Privacy, intimacy, elegance and lush gardens, outdoor hot spring and swimming pool, world class OSpa, minutes' walk to three Shaw Festival Theatres, Old Town Queen Street, and a short drive to 28 local wineries."
WORKSHOP COACHES:
Diana Southall
Diana is a fifth-generation entrepreneur who works with growing mid-sized businesses in the Western New York area.

She combines her talent for asking the right questions, distilling complex information into action plans, honing in on the right data and metrics, with an enthusiastic style to coach leaders for clarity, focus and disciplined implementation.

Among Diana's clients are $5M 3rd-generation metal fabricators, $50M commercial developers, $100M software companies, $500 million global manufacturers, who employ up to 5000 employees.


Juan Folch
Through mentoring & coaching CEOs and Senior Executives worldwide for over 27 years, Juan has helped them think differently, achieving better, sustainable solutions to grow both their business and themselves to their full potential.

Today Juan focuses on mid-market companies with revenue from $5 - $300M specializing in strategy, processes, management and sales, working with business owners, CEOs & their leadership teams.
Juan is the chair of the Small Business Week committee for the Oakville Chamber of Commerce, and volunteer pilot for Hope Air, a charity organization transporting patients from northern Ontario to Toronto hospitals.
Dan Holstein
Dan Holstein is a multiple award winning certified Master Business & Executive Coach who has been helping businesses grow profitably and sustainably in the Hamilton area since 2010.
As founder of Kaizen Performance Improvement Corp., Dan's purpose is to have a positive, lasting impact on the business owners and executives he coaches, and has enabled them to create outstanding business results.
Dan sits on the board of his local Chamber of Commerce and is Vice President of the Board of Neighbour To Neighbour Centre, an anti-poverty charity.

Organizer of Scaling Up Your Business: Breaking through the Barriers to Sustainable Growth
This Scaling Up workshop is Sponsored by:
Diana Southall, The People Plan
www.people-plan.com
716-898-0720diana@people-plan.com
Juan Folch, Business Coaching Solutions
www.bcscoaches.com
905-338-2258
juanfolch@bcscoaches.com
Dan Holstein, Kaizen Performance Improvement Corp.
https://kaizenperformance.com
905-876-2234
danholstein@kaizenperformance.com