About this Event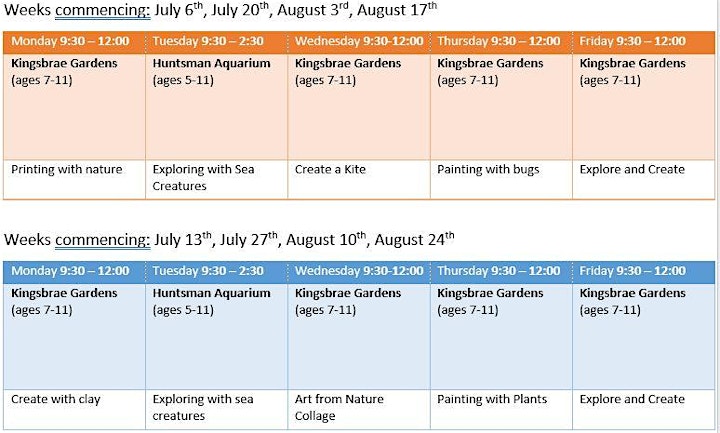 Sunbury Shores Arts & Nature Centre has joined with Kingsbrae Gardens and the Huntsman Aquarium to provide summer arts and nature activities. Kids ages 7 -11, will explore and create, utilizing the beautiful gardens and grounds of Kingsbrae and KIRA, with access to nature trails and local beaches. The Huntsman will provide aquarium and classroom experiences with some beach exploration.
Kids will be working with qualified and experienced instructors to learn more about their environment and natural world while creating art and having fun. At least two staff will be on hand at all times for supervision and individual attention and encouragement.
Recommended Covid-19 protocols will be in place to ensure everyone's protection and safety. All the camps held at Kingsbrae will be outdoors utilizing the KIRA amphitheater, however your child will need a face mask in case of emergencies.
For all activities, please provide your child with sun screen/block, a water bottle, and some small allergen-free snacks. Also a sun hat/glasses, sensible (ok to get wet) footwear, and a jacket or layers in case of cool or windy weather. If your child has an allergy and needs any allergy medication, please provide and notify the instructor.
Book through eventbrite to ensure a spot, we have a maximum of 12 kids, first come-first serve. Please note that all participants must be at the KIRA front gate entrance by 9:15 for registration. Latecomers may not be able to join the group depending on the activity.
Please understand that at registration, you will be asked to fill out a waiver confirming that both you and your child/children have no symptoms of Covid-19, have left the province in the last 14 days or have been in contact with anyone with symptoms, been confirmed with having Covid-19 or being tested for Covid-19. If your child shows any sign of symptoms or in any way places any other child, staff, or instructor at risk during the camp, you or the emergency contact you set at registration will be asked to come and collect your child/children immediately.
OUR LOCATIONS
KINGSBRAE GARDENS: Mondays/Wednesday/Thursdays/Fridays
Meet at KIRA front gate entrance—9:15 am
130 Prince of Wales Street, E5B 1R3
These beautiful gardens are filled with flowers, trees, birds and animals, offering colourful and fun inspiration for exploring the natural work and arts/crafts. Each day here will focus on a different activity, relating and connecting our surrounding environment with creating individual artworks. The KIRA amphitheater will provide cover, with plenty of social distancing and washroom facilities.
Accessible from Kingsbrae Gardens, the SORTI trail system follows the old railway track from Langmaid Park to the causeway by Katy's Cove. The 8ft-wide, paved, active-living (non-motorized) trail is easily accessible, and passes through meadows, woods, coastline and salt marsh. Activity will include easy walking with plant, bird and animal identification, games and creative fun.
$20.00 per child /morning
HUNTSMAN MARINE AQUARIUM : Tuesdays
Meet at Front Entrance— 9:15 am
1 Lower Campus Road, E5B 2L7
The mission of the Huntsman Education Department is to help foster the "active stewardship" of our oceans and educate students about their critical role in this global mission. Working with youngsters, daily activity themes include lobsters, sharks, microscopic life, seals, marine debris, whales, sea stars, deep sea fishes & water. Kids can get 'hands on' with marine life to learn more about them, while having fun and being creative.
For the activities at the Huntsman marine science centre, please contact the huntsman at (506) 529-1226 or email Ibarrett@huntsmanmarine.ca. Prices are $34.50 (member) to $40.25 (non-member)
OUR SCAMPs INSTRUCTORS
All our instructors have many years experience of working with children teaching creative thinking, self expression and community awareness. They all hold Criminal Background Checks for safe working with children and the vulnerable sector.
We provide all-inclusive, non-judgemental and encouraging programming, aimed at all abilities. Each day's activity will normally provide a take-home creation as well as the experience.
Chantal Vincent
Chantal has taught art in all mediums to kids of all ages for many years. One of Sunbury Shores favourite instructors—generations of children have received her enthusiastic and generous teaching through our CLASS program, working with our local schools. She includes learning about our environment, indigenous peoples, native plants and animals and speaks both English and French.
Genny Simard
As a biologist, Genny worked with the local aquarium and some of the whale watching tour companies before starting Turtle Shore Adventures, focusing on the local wildlife and the fascinating history of our area. She is joining our SCAMPS program this year, providing fun, learning and creativity on our local Trails. Genny has great enthusiasm, going above and beyond to create lasting memories. She speaks both English and French.
Geoff Slater
As an artist, Geoff creates in all mediums – including the St. Andrews' murals! A youth worker, Geoff was an art instructor at the Kiwanis Community School and Sir James Dunn Academy. As an intervention worker, he replaced Ritalin with paintbrushes, and taught students how to express their feelings in creative, constructive ways. His love of nature means much of his creative work happens outdoors. Geoff will be providing learning and creative inspiration on our local beaches.
Laura Barrett
Laura is the Education Assistant at the Huntsman Marine Science Centre. Their Young Explorer Days run on Tuesdays from 9.30 to 2.30, for ages 5—11, and include educational games, crafts, interactions with live animals and beach exploration.
Please email info@sunburyshores.org if you have any questions or concerns.
This project is being funded in part by the Fundy Community Foundation and Kiwanis of St. Andrews.