About this Event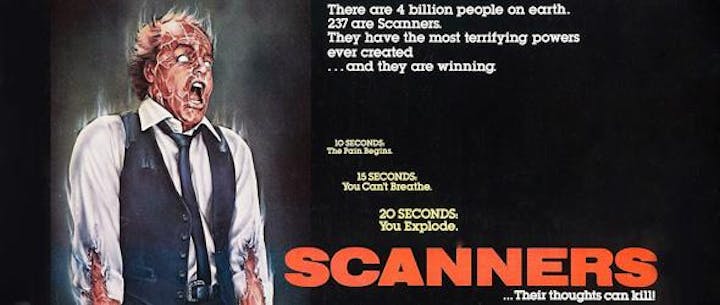 EVENT DETAILS:
Saturday, July 13th. Doors at 8:00 PM. The Grand Gerrard Theatre.
Join us in this special screening of David Cronenberg's 1981 sci-fi exploitation masterpiece Scanners! Opening up the night will be a musical performance by Brampton thrash-metal cosmonauts Droid. Come out early to hang and enjoy some affordable drinks and snacks. We'll be spinning sci-fi and horror themed metal throughout the night, and there will be a selection of metal merchandise, zines and original artwork for sale.
We will be raffling off some prizes before the screening!
**This is an all-ages event (although the film was originally assigned an R-rating).****Schedule coming soon...
TICKETS:
$13 advance ticket (on eventbrite)
$15 at the door (cash only)
---
FILM SUMMARY:
CLICK HERE to watch the trailer.
"With Scanners, David Cronenberg plunges us into one of his most terrifying and thrilling sci-fi worlds. After a man with extraordinary—and frighteningly destructive—telepathic abilities is nabbed by agents from a mysterious rogue corporation, he discovers he is far from the only possessor of such strange powers, and that some of the other "scanners" have their minds set on world domination, while others are trying to stop them. A trademark Cronenberg combination of the visceral and the cerebral, this phenomenally gruesome and provocative film about the expanses and limits of the human mind was the Canadian director's breakout hit in the United States." -The Criterion Collection
---
VENUE DETAILS:
The Grand Gerrard Theatre, 1035 Gerrard St E, Toronto, ON M4M 1Z6
The Grand Gerrard is a semi-accessible space (front entrance is a double-door with centre divider). The screening room is located on the main floor.
Bathrooms are non-gendered and located on the main floor.
If you have any concerns or requirements please get in touch before the show and we'll do our best to make sure you're accommodated!