Building strategic agility for dynamic times.
About this Event
No matter what the world looks like as we move through the next several months and years, a number of important trends will remain intact that link directly to the health of organizations. They will need to re-examine their strategies to address a changed world and even determine the need for a pivot. They will then need to examine the capabilities and behaviors of their leaders, as these could stand in the way of successful strategic transformation.
During this webinar, we will discuss a framework for how to think about strategy through scenario planning, and look at the leadership competencies associated with successful growth companies. We will provide examples of successful practices and suggest approaches to define your strategy and build supporting leadership capabilities going forward.
Agenda:
1:00-1:05pm: Welcome and Introductions
1:05-1:45pm: "Scenario Planning by Kevin Joy & Mary Larson – MNP Partner, Consulting Services
1:45-2:00pm: Discussion and Q&A.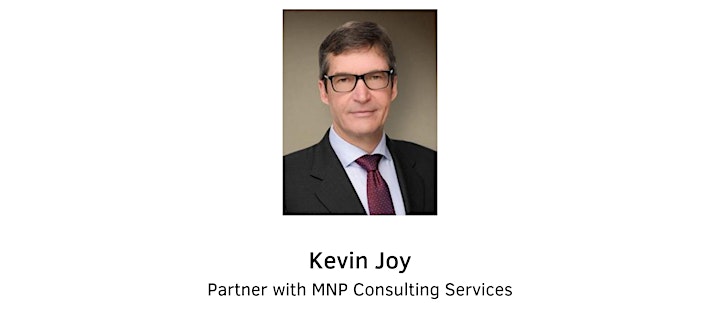 Kevin Joy is a Partner with MNP's Consulting Services team in Montreal. Drawing on more than two-and-a-half decades of strategic marketing, business development and general management experience in Canada, the U.S. and Mexico, Kevin helps companies successfully navigate complex business challenges and thrive.
A trilingual executive (in English, French and Spanish), Kevin delivers strategic advisory and interim management services to organizations across North America. He helps all types of organizations ranging from startups to multinationals, across a variety of industries, from consumer goods and manufacturing to pharmaceuticals, healthcare and technology.
Kevin is passionate about helping companies with challenges such as defining strategy, transforming culture, structuring sales and marketing approaches and revitalizing company performance. He is highly effective at building team alignment and has led to the creation of multiple cross-functional teams to rapidly drive innovation and change.
Kevin holds a Master of Business Administration (MBA) in international marketing from McMaster University and a Bachelor of Chemical Engineering (B.Eng.) from McGill University.
Mary Larson, ICD.d, is a Partner with MNP's Consulting Services group in Montreal. Mary helps clients clarify and build alignment around their strategies, build leadership capacity and embed cultures that foster outstanding execution.
Mary is particularly focused on working with C-suite executives and CEOs. Drawing on her extensive business experience and skill in asking the right questions, Mary helps clients become more effective in aligning their teams around their work, and successfully addressing the issues that drive both behavior and culture.
Mary has worked with clients across North and South America, Europe and Asia, including the Business Development Bank of Canada, Bosch / Siemens, Cirque du Soleil, Duke Power, Johnson & Johnson, Kellogg's, McDonald's and Western Union. She has held senior executive positions with McDonald's Corporation in the U.S. and Alcan in Canada.
Mary, who works in both English and French, received her Bachelor of Arts (BA, Honors) from Princeton and Master of Business Administration (MBA) from the Stanford Graduate School of Business.
Mary is a designated graduate of the Institute of Corporate Directors (ICD.d) at the Rotman School of Management, University of Toronto. She is board chair of McGill's School for Continuing Studies, a board member of Prostate Cancer Canada and vice-president of the University Club of Montreal. She co-founded the International Women's Forum in Canada.
About ventureLAB
ventureLAB is a leading technology hub that supports tech entrepreneurs and small businesses. Located in York Region, Canada's densest technology cluster, ventureLAB has supported over 2,000 entrepreneurs in a region that is home to over 4,300 technology companies and 65,000 tech jobs. ventureLAB operates a 50,000 square-foot innovation hub that is home to over 45 tech companies and innovation partners. At ventureLAB, we support tech entrepreneurs through programs focused on capital, talent, and technology to grow and scale their businesses locally, nationally, and globally.