Event Information
Refund policy
Contact the organizer to request a refund.
Eventbrite's fee is nonrefundable.
Talking About Death Won't Kill Us - SCHC Palliative Education Annual Conference
About this event
The Scarborough Centre for Healthy Communities provides inclusive health and wellness services to treat illness, support people who are managing chronic disease, enduring crisis, or facing end of life.
On Wednesday, October 27th, 2021, Join the Scarborough Centre for Healthy Communities in their Palliative Education Annual Conference where they will be discussing how talking about death wont kill us with guest speakers, breakout rooms, team building activities, prizes and more.
Event Description
Scarborough Centre for Healthy Communities (SCHC) is pleased to run an educational conference focused on palliative care in Scarborough. This year's conference focuses on the theme "Talking About Death Won't Kill Us" with an overarching theme of humanizing advance care planning with care and dignity.
The "D" word – Death, is an inevitable human experience. In many ways, like love, it shows no boundaries and displays no prejudice. Death, when discussed, prepared for and embraced, has potential to elicit a meaningful and lifelong impact. How do you perceive death? Do you pull away or embrace it as a transformational experience? Join us at our annual palliative care conference, as we discuss normalizing death for a death-avoidant society. We look forward to engaging you in insightful conversations on embracing and responding to the experience of death and dying that will have you leaving empowered and stronger to engage, support and walk with someone who is dying.
The education will be delivered in interactive keynote presentations, teambuilding and breakout rooms. The audience is comprised of individuals who are interested in enhancing their knowledge on palliative care.
AGENDA
7:30 AM - 8:30AM Zaamilah Bala Optional Yoga
9:00 AM - 9:15 AM Emcee Opening Remarks/ SCHC
9:15 AM - 10:00 AM Mahoganie Hines, BScN, RN, CHPCN(c), Registered Nurse- Palliative Pain & Symptom Management Consultant, Hospice Niagara
Advocacy at Multiple Levels
10:00 AM - 11:00 AM Stuart Knight, Founder of The More More Stuart Knight Productions Inc. Four Conversations For Success
11:00 AM - 11:15 AM Break Sponsor segment
11:15 AM -12:00 AM Katherine Murray, RN, BSN, CHPCN(C), FT, Hospice Palliative Care Nurse, Educator, Author Life and Death Matters
The Comfort basket what is in yours. Princples and practices
12:00 PM - 1:00 PM 1 hour Lunch
1:00 PM - 3:00 PM 4 x 30 . Break out rooms
Breakout 1 Goals of Care
Breakout 2 "Brenda Derdaele RN, Palliative Pain and Symptom Management Consultant ON Durham Hospice Services
My Wishes, Your Voice
Breakout 3 Health Care Consent
Breakout 4 Amy Archer Person Centered Care/Person Centered decision maker
3:00 PM - 4:00 PM Teambuilding
4:00 PM - 4:15 PM Break Sponsor segment
4:15 PM - 5:00 PM Kathy Macleod Beaver Keynote speaker- Learning from The Indiginious Approach to Palliative Care
5:00 PM - 5:15 PM Emcee Closing/SCHC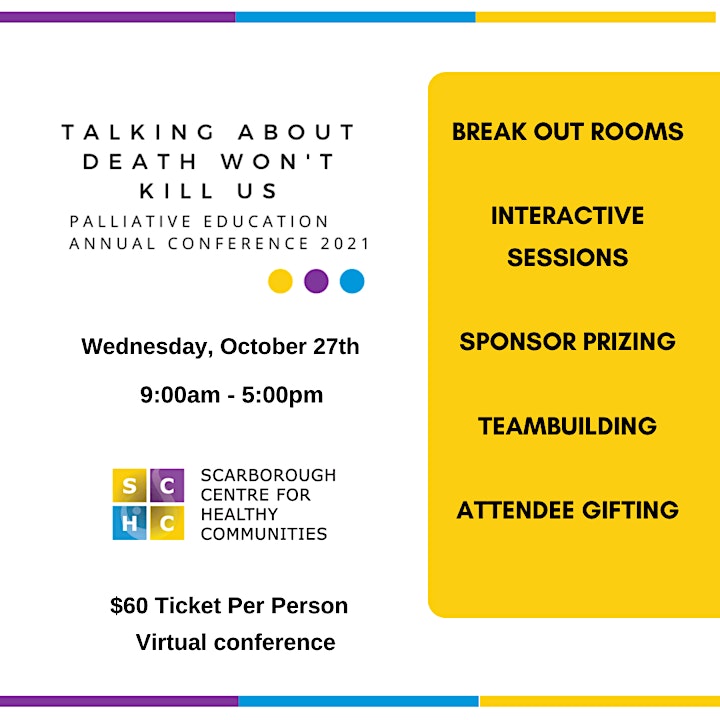 Date and time
Location
Refund policy
Contact the organizer to request a refund.
Eventbrite's fee is nonrefundable.
Organizer of SCHC Palliative Education Annual Conference
Originally founded as West Hill Community Services in 1977, Scarborough Centre for Healthy Communities (SCHC) is one of the most established and comprehensive community health organizations in the province. The organization owes its beginnings to 13 community agencies, a core group of community leaders and countless volunteers who identified emerging health and social needs within Scarborough.

After incorporating and acquiring not-for-profit status, SCHC built on the initial services of our Meals-on-Wheels, home support, transportation and family support programs.  After a successful rebranding campaign, we employ over 155 staff, engage over 650 volunteers and operate 38 distinct and integrated services across 11 sites that work together to improve the health of our community.  We provide medical assistance through our clinics, are involved in a growing youth program and have a multitude of social support programs including a food bank.