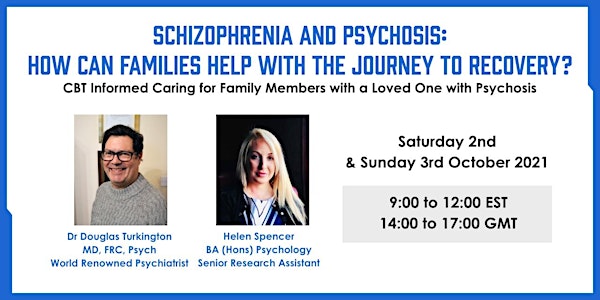 Schizophrenia and Psychosis: How can Families help with Recovery?
Refund policy
Contact the organizer to request a refund.
Eventbrite's fee is nonrefundable.
This webinar will offer families/caregivers tools & strategies to reduce feelings of anxiety & depression & to build greater resiliency.
About this event
We're excited to introduce expert Dr. Turkington, MD Psychiatrist, and Helen Spencer, BA (Hons) Psychology, Senior Research Assistant, in our two-part webinar series.
Families and caregivers can look forward to learning more about informed cognitive behavioural therapy for psychosis to help individuals on their journey to recovery. This webinar will also show how families can work together alongside a psychiatric team and therapist working with their loved ones.
Our team will demonstrate the following ideas and techniques:
Learn about the recovery journey with particular reference to the role of families
Identify the different types of schizophrenia and psychosis and the various recovery stages for each type
Learn basic mental health strategies for you and your loved one to cope with during the lockdown
Understand the role family members have in therapy, such as cognitive behavioural therapy (CBT) and medicine
Identify the emotional tone and typical communication styles within families and their cultural background
Learn how to change the emotional tone and communication style to make steps towards the first stages of recovery
Know how to help a loved one with no or reduced insight and how to start to understand (and make sense of) their symptoms and issues
Demonstrate how a family member can model different coping methods (for example with voices, or suspicious beliefs) and how to help their loved one cope more effectively
Learn approaches to help loved ones who refuse or intermittently take antipsychotic medication
Our team will also demonstrate how to work with a loved one using cannabis, alcohol, or other substances as their primary coping style. Our webinar will show examples of making sense of voices, conspiracy theories, delusions, and negative symptoms to improve insight and reduce stigma.
*Each webinar will be three hours long. Our experts will demonstrate techniques and role-plays followed by a Q & A.
Time Zones 9:00AM to 12:00PM EST | 14:00 - 17:00 UK
OUR EXPERTS
Dr. Douglas Turkington, World Renowned Psychiatrist, MD, FRC, Psych
Dr. Douglas Turkington is an International renowned consultant Psychiatrist from Newcastle, UK and Founding Fellow of the Academy of Cognitive Therapy in Philadelphia, USA. He is a pioneer of CBT for people experiencing severe mental health challenges including psychosis. In 1990, Dr. Turkington copiloted a normalizing treatment with CBT techniques for schizophrenia. He has led many randomized controlled trials of CBT, including the largest pragmatic trial of low-intensity CBT delivered by psychiatric nurses in schizophrenia, of which he was acting chief investigator. Doug has provided training internationally for over 30 years.
Helen Spencer, Doctoral Researcher, BA (Hons) Psychology, Senior Researcher Assistant
Helen Spencer is a Research Assistant at Cumbria, Northumberland Tyne & Wear NHS Foundation Trust in the UK. Helen has worked alongside Dr. Turkington for over 10 years and together they have published over 20 papers, including a book for service users and carers. Helen is in the final year of her Ph.D. at Newcastle University in the UK, investigating the use of case formulation in CBT for psychosis.