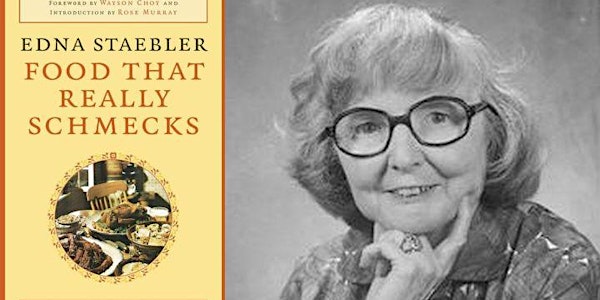 Schmecks Appeal, the Culinary Legacy of Edna Staebler, with Rose Murray
Location
Relish Cooking School
70 Victoria St N
Unit B.
Kitchener, ON N2H 5C2
Canada
Description
Explore the life and culinary legacy of Edna Staebler (1906-2006), Canadian cookbook author (Food That Really Schmecks, etc.) and journalist, with Rose Murray, Edna's friend and a cookbook author herself, with titles including A Taste of Canada and Rose Murray's Canadian Christmas Cooking, among many others.
The morning program, beginning at 10 a.m. with coffee and treats, is hosted at Relish Cooking School, 70 Victoria St N, Unit B, Kitchener, ON, N2H 5C2. Morning snacks and a full lunch will be served using Edna's recipes. Rose Murray will give her talk during the morning session and will be available for questions.
After lunch, visit historic Schneider House, 466 Queen St S, Kitchener, ON N2G 1W7 and learn about the Mennonite tradition of apple schnitzing. Taste schnitzed (dried) apples in historic recipes and hear about modern orchard culture and dried apple snacks from an Ontario apple grower.
The ticket price includes morning coffee and snacks, a lecture by a renowned Canadian cookbook author, a three-course lunch, 15% discount on any retail purchases at Relish that day, entry to Schneider House and afternoon program and snacks.
Free parking is available at both venues. Bus and train stops are also close to both venues. For those not driving themselves, car-pooling will be available between Relish Cooking School and Schneider House.
Please note that tickets are non-refundable.