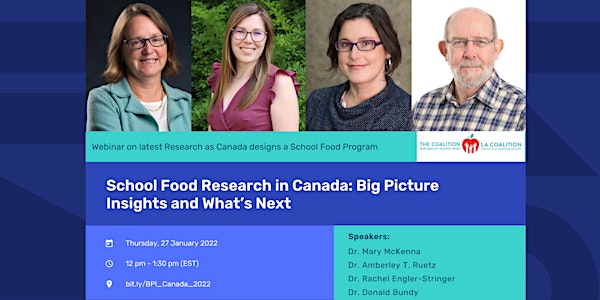 School Food Research in Canada: Big Picture Insights and What's Next
Hear about the new groundbreaking study about school food programs (SFPs) in Canada, and the newly launched Canada-wide study of SFP models
About this event
With school food in Canada in two mandate letters, and as the Canadian government gets ready to launch a School Food Program for Canada, research about the state of school food programs in Canada is crucial. What is the current state of school food programming in Canada? And what does the future look like for school food in Canada?
The webinar is sponsored by the Coalition for Healthy School Food and the CAFS School Food Working Group.
Join us this January 27 (12:00 - 1:30 pm EST) to hear the latest update by Dr. Amberley Ruetz and Dr. Mary McKenna on their paper, 'Characteristics of Canadian school food programs funded by provinces and territories'. This landmark study, the most comprehensive analysis of school food programs since the 1990s, captured data we have never had access to before: the range of practices and the breadth of program coverage across the country.
Dr. Rachel Engler-Stringer, Principal Investigator of Canada's first school food intervention research funded by CIHR and the host of the School Food Working Group of the Canadian Association of Food Studies (CAFS), will join to talk about the newly launched case study research on promising school food program models across Canada. This study will yield lessons from every province and territory to inform the creation of a world-class, locally-adapted school food program for Canada.
Dr. Donald Bundy, Director of the Global Research Consortium for School Food and Nutrition, the research arm of the Global School Meal Coalition, will update on the global evidence for school food programs and the work of these two important groups.