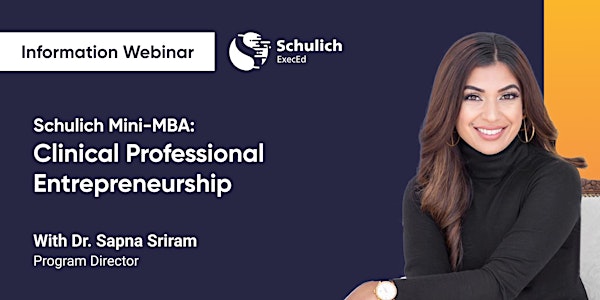 Schulich Mini-MBA: Clinical Professional Entrepreneurship Program
Join us online to learn how you can make your clinic more successful by studying core MBA subjects in a condensed Mini-MBA format.
About this event
Schulich ExecEd has pioneered a concise Schulich Mini-MBA: Clinical Professional Entrepreneurship Program to provide you with current, robust business competencies directly applicable to your practice.
This Mini-MBA for Clinicians – the only program of its kind in Canada – is designed specifically for healthcare professionals and is focused on enhancing their business management skills to drive growth and profitability in their practice over the long term. The program will help clinicians with starting or expanding a new venture; gaining a fresh perspective at how business knowledge is evolving; and leading more customer-focused effective practices.
Join Program Director Sapna Sriram for this online session about the program and how it can help you to think critically and strategically about your healthcare business, ask forward thinking questions and make informed decisions.
This session will be of interest to: Acupuncturists, Osteopaths, Massage Therapists, Dietitians, Occupational Therapists, Cosmetic Medi-Spa Providers, Psychotherapists, Speech Language Therapists, Physiotherapists, Optometrists, Chiropractors, Pharmacists, Veterinarians, Naturopaths and more!
About the Speakers
Sapna Sriram is a leading Canadian chiropractor and registered acupuncturist with a focus on sports injuries, pre- and post-natal care and chronic pain. She is also the award-winning co-founder and CEO of Integra Health Centre, Toronto's largest and most reputable, collaborative full-service medical and health clinics. Sapna is a mentor and educator; having been a clinical and business mentor to clinic owners and clinicians across Canada. As a media personality, Sapna is Canada's go-to injury expert and has been featured on multiple media interviews.