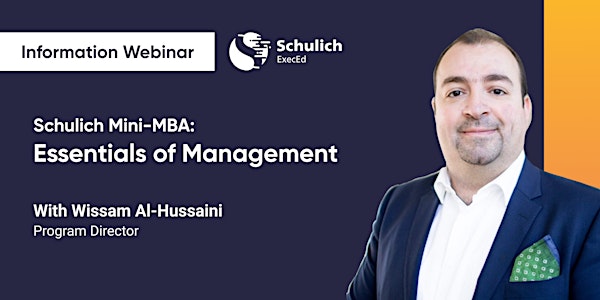 Multiple dates
Schulich Mini-MBA: Essentials of Management - Webinar
ONLINE EVENT - Register today! (Multiple dates available, visit our Eventbrite page for details.) Are you an experienced manager who has tak
Date and time
Tue, Feb 16, 2021 9:00 AM - Mon, Jul 17, 2023 9:30 AM PST
About this event
ONLINE EVENT - Register today!
Are you an experienced manager who has taken on new responsibilities or wants to advance their career?
A busy executive who wants to gain a fresh look at how business knowledge is evolving? A professional who is contemplating doing an MBA or Executive MBA and would like to get a "trial"?
Then the Schulich Mini-MBA: Essentials of Management might be the right choice for you.
The Schulich Mini-MBA delivers a range of MBA subjects and learning experiences in a condensed time-frame for busy executives. The Schulich Mini-MBA: Essentials of Management is designed as a technology-enhanced program, allowing for highly interactive classroom experiences that are supplemented with online modules and pre-session materials with which you engage at your own pace. Participants gain knowledge and insights in more than ten different subjects – including strategic management, marketing, managerial finance, supply chain management, and human resources – preparing them to become more effective managers in their organizations and beyond.
Join us for this one-hour online event to learn more about the program and get answers to your questions about doing a mini-MBA.
About the organizer
We are an extension of the Schulich School of Business at York University in Toronto. Our role within the school is to provide lifelong learning for the development of professionals and executives long after their full-time education has been completed and they are in the work force.

Because few of us have the same job for life, we constantly have to re-invent ourselves, learn new skills and adapt to the changing marketplace and business environment. Today's professionals and executives must be able to quickly develop and fine-tune personal business skills to adapt and grow.