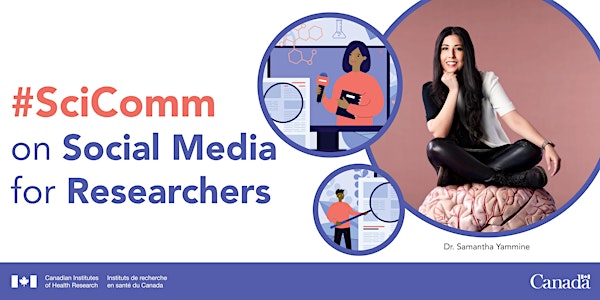 #SciComm on Social Media for Researchers
Led by Science Sam
About this event
Please note: Capacity is limited to 300 participants for this course, and registration is on a "first come, first served" basis. CIHR will also maintain a small waiting list, so any registered participants are asked to contact CIHR as soon as possible if they can no longer attend. Participants must be based at a Canadian post-secondary institution (such as a CIHR eligible institution).
In this 2-hr interactive workshop led by Science Communicator Samantha Yammine (also known as Science Sam), we'll discuss best practices for communicating science through social media. Building off lessons learned so far in her career and sharing examples from others in the field, you'll see examples of effective science communication and myth-busting through social media platforms like Instagram, Tik Tok, Facebook, YouTube and Twitter, with lots of time for discussion and questions.
Important note about registration
This workshop will be delivered in English. Similar workshops will be available in French at a later date (details and registration information will be posted separately on CIHR's website).
Participants must register using their Canadian post-secondary institution e-mail address. Failure to do so will void the registration and result in the registrant being removed from the participant list with or without notice.
This workshop was designed for health researchers. For the purposes of this workshop, "researcher" is defined as an individual actively pursuing or performing health research at the graduate level or above. The workshop is therefore designed for career stages ranging from graduate students (such as Master's students, PhD candidates and post-docs) through to senior researchers.
This training course is free of charge for participants, thanks to support from the Centre for Research on Pandemic Preparedness and Health Emergencies housed at CIHR.
The instructor
Samantha Yammine is a neuroscientist and popular Science Communicator better known as Science Sam. She earned her PhD from the University of Toronto studying how stem cells build and maintain the brain, and then went on to found Science Sam Media, a science-based digital production agency.
She is passionate about empowering people to explore science by making it more familiar, accessible, and inclusive. Garnering millions of views a month, Samantha is an innovative leader in creating factual content that stands out as @science.sam on Instagram and Tik Tok. She has been a guest Science Correspondent for a variety of shows on Netflix, TVO Kids, CBC GEM, Discovery UK, CBC Radio, and AsapSCIENCE. She sits on the Board of Trustees for RCIScience and the anti-misinformation campaign ScienceUpFirst, and was named one of Toronto Life's Top 50 Most Influential People in Toronto in 2021.
About CIHR
At the Canadian Institutes of Health Research (CIHR), we know that research has the power to change lives. As Canada's health research investment agency, we collaborate with partners and researchers to support the discoveries and innovations that improve our health and strengthen our health care system. Learn more