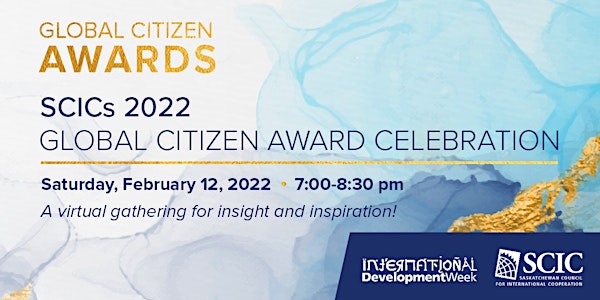 SCIC's 2022 Global Citizen Award Celebration
Join us to honour SCIC's 2022 Global Citizens at a virtual celebration for insight and inspiration.
About this event
SCIC's Global Citizen Awards are presented annually during International Development Week. The Global Citizen Awards bring people together from across Saskatchewan to learn from one another, to be inspired, and to celebrate the amazing achievements of people working for a more just, equitable and sustainable world.
International Development Week (IDW) is an annual initiative established in 1991. It is held during the first full week of February, in 2022 from February 6 to 12. IDW engages Canadians on global issues and offers an opportunity to pause and acknowledge Canadian contributions to global social, ecological and economic justice.
Featuring a Keynote Address by Dr. Alaa Murabit
UN High-Level Commissioner: Health, Employment, Economic GrowthUN SDG Global AdvocateBill & Melinda Gates Foundation: Health Director (PAC)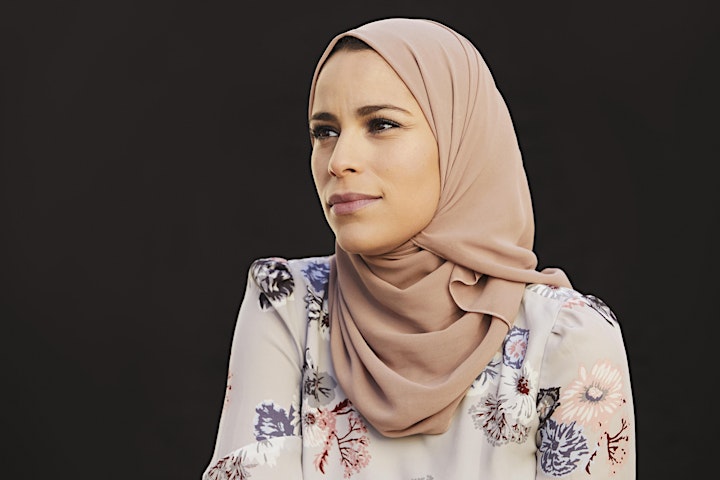 About Dr. Alaa Murabit (she/her)
A medical doctor, global health and security expert and strategist, women's rights advocate, and United Nations High-Level Commissioner on Health Employment and Economic Growth. Alaa is one of 17 Sustainable Development Goal Advocates appointed by the UN Secretary-General due to her leadership on establishing and advancing the SDGs, and a 2020–2021 Fellow at the Radcliffe Institute for Advanced Study at Harvard University. She leads The Gates Foundation's Global Policy and Advocacy Health work, in partnership with the Global Health and Global Development divisions. Her work has shaped policies in over 190 countries and impacted the lives of billions.
Alaa founded the women's rights organization Voice of Libyan Women in 2011, at the age of 21. Her TED Talk, "What My Religion Really Says About Women," has been viewed nearly 7 million times. In 2016, she became executive director of Phase Minus 1, providing thought leadership in conflict resolution and inclusive security, and she later founded CO-AGENCY, an accelerator for emerging women's leadership in security, health, peacebuilding, and policy. A Nobel prize nominee, Alaa is the recipient of more than 100 honors and awards, including the Canadian Meritorious Service Cross, BBC 100 Women, Forbes 30 Under 30, CNN Leaders You Should Know, Nelson Mandela International Changemaker Award, and Harvard Law's Women Inspiring Change. She is an MIT Media Lab Director's Fellow and an Ashoka Fellow, and serves on the board of the Malala Fund. Alaa received an M.D. from the University of Zawia in Libya and an MSc in International Strategy and Diplomacy, with Distinction, from the London School of Economics and Political Science.
Web & Social Media Links
Website: https://alaamurabit.com/https://twitter.com/almmura?lang=enhttps://www.instagram.com/alaamurabit/?hl=enhttps://www.facebook.com/alaamurabithttps://www.linkedin.com/in/alaamurabit
Meet the 2022 Global Citizen Nominees