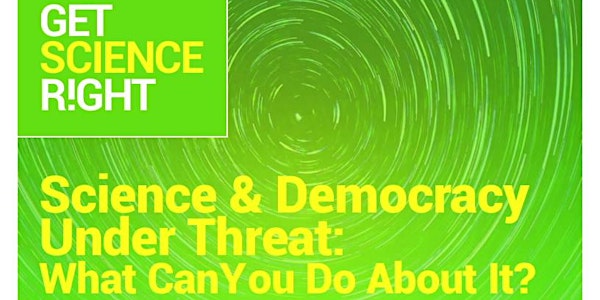 Science and Democracy Under Threat: What Can You Do About It?
Location
Waterloo Inn Conference Hotel
475 King Street North
Waterloo, ON N2J 2Z5
Canada
Description
Our democracy is based on our leaders proving what they say with evidence, which is why the government employs scientists. The current federal government has muzzled scientists, ended the long form census, and, as a result, changed how you understand Canada. Now, our democracy is under threat and our panel of activists and experts want to discuss with you what we can do about this attack on our very way of life.
Panelists:
Dr. Heidi Swanson, Assistant Professor and University Research Chair, Department of Biology, University of Waterloo
Katie Gibbs, Executive Director, Evidence for Democracy
Dr. Heather Douglas, Associate Professor and Waterloo Chair in Science and Society, Department of Philosophy, University of Waterloo
Moderator: Dr. Brad Mehlenbacher Educational Leadership, Policy & Human Development, North Carolina State University
Refreshments will be provided.
FAQs
Do I have to bring my printed ticket to the event?
No, this event is open to the public. All are welcome! The RSVP is simply for us to know how many attendees to expect.
I would like to go but have no transport.
No problem! There are shuttles to and from the event. Shuttles leave from the University of Waterloo (Ring Road, just off of Columbia); Wilfrid Laurier (Hazel and University, under the underpass). The shuttle leaves the Wilfrid Laurier campus at approximately 6:30pm and the University of Waterloo campus at 6:40. The shuttle will leave the Waterloo Inn at 8:45. There is no charge.