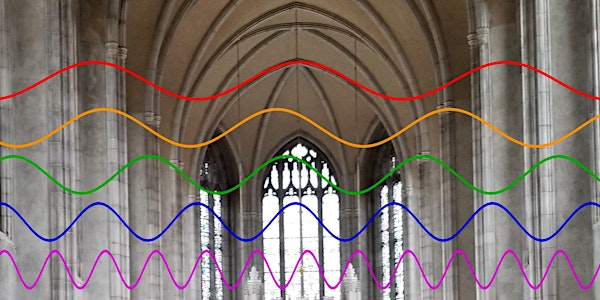 Science & Art of Song
Date and time
Sat, Mar 30, 2019 5:30 PM - 7:00 PM EDT
Location
Trinity Chapel, University of Toronto (enter through Trinity College Main Building) 6 Hoskin Avenue Toronto, ON M5S 3K7 Canada
Description
Update: Tickets will be made available at the door until the chapel is filled to capacity. Please plan to arrive by 5:15pm.

Note there happens to be a free Astronomy Public Tour on campus after this event.
---
Bring your curiosity and wonder! Join us for an inspiring evening exploring the science and art of song, hosted by the University of Toronto Department of Physics and featuring the Cornell University Chorus.
What distinguishes music from noise? What is a musical note, and why do some notes sound harmonious together and other notes clash? Why do different people singing the same note sound different? What makes different vowels sound different, even when you sing them on the same note? In the first half-hour of this event, guided by Dr. Carolyn Sealfon, we will explore a few questions like these with the Cornell Chorus. Together we will observe patterns and test possible explanations, uncovering simple yet powerful rules about notes, vibrations, and waves.
Then, we will enjoy an hour-long performance by the renowned Cornell Chorus while visually displaying the vibrations and frequencies of the sound their combined voices create. Sit back and listen to the masterful artistry of their music, or recognize the patterns we uncovered in the notes they are singing. Either way, it will be an awe-inspiring experience.
The Cornell University Chorus is a 50-voice premier treble ensemble founded in 1921 that performs a repertoire spanning eight centuries and ten languages. Currently directed by Dr. Robert Isaacs, they have worked under the direction of Nadia Boulanger, Eugene Ormandy, and several other conductors on the stages of Carnegie Hall, Lincoln Center, and other major concert halls, and have also been featured on two nationwide broadcasts: a special half hour on CBS radio, and an appearance on PBS's MacNeil/Lehrer News Hour as part of an artistic feature on former director Susan Davenny Wyner. They advance women and gender minorities in the arts by creating a strong community that promotes musical diversity, leadership, and excellence. Each year, they go on a domestic or international tour, and this year they are excited to share their voices with us in central Canada. To help support their tour, please make an optional donation here and enter "Cornell Chorus Gift Account - A808701" in the "Other" field of the gift form.

Dr. Carolyn Sealfon is a proud alumna of the Cornell Chorus. She currently teaches in the University of Toronto Department of Physics, and has previously facilitated learning at Princeton University as Associate Director of Science Education, as a physics professor at a Pennsylvania public university, at an inner-city high school in New Jersey, and in interactive workshops across the continent. After her undergraduate degree in physics from Cornell, she earned her PhD in cosmology (structure and evolution of the universe) at the University of Pennsylvania. Education integrates her longtime passions of problem-solving through science and connecting people through performing arts.