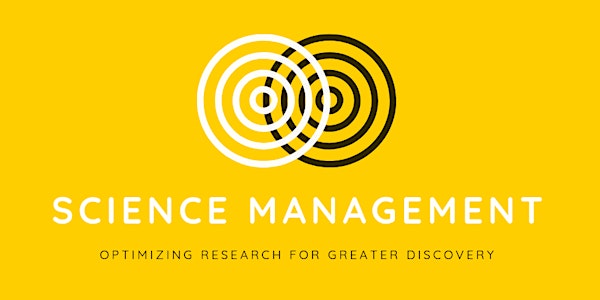 SCIENCE MANAGEMENT Symposium @ CAN-ACN 2019
When and where
Location
Sheraton Centre Toronto Hotel 123 Queen Street West Toronto, ON M5H 2M9 Canada
Description
The landscape of scientific research is changing. Today's researchers need to participate in large-scale collaborations, obtain and manage funding, share data, publish, and undertake knowledge translation activities in order to be successful. As per these increasing demands, Science Management is now a vital piece of the environment. This panel discussion will host area experts whom have extensive experience with management in a science setting. Our goal is to motivate participants to regard Science Management as an essential component to their research workflow and begin to integrate project management techniques and tools into their regular practise.
Potential outcomes include:

To convey the necessity of project management to one's scientific pursuits;

Provide guidelines and tools that are adoptable and maintainable that lend directly to project planning, tracking and maintenance;

Assert that there are non-traditional research careers to consider;

To debunk the myth that Science Management stifles scientific exploration.
---
AUDIENCE
Whether you're a PI or student, or anything in between, project management skills are a necessary component to your ability profile.

In order to build a research plan that is productive, meaningful and effective, researchers need to be equipped with a fundamental know-how of managing their research timelines, budgets and resources.

This symposium will provide researchers across the career spectrum with requisite tools, techniques and strategies for employing formalized project management to their science.


---

SCHEDULE

08:30 - Arrival & Registration
09:00 - Panel Session
10:00 - Q & A
10:30 - Break
10:45 - Presentation: Tools, Techniques & Basic Project Management Skills for Science

---

SESSION CHAIR


Dr. Randy McIntosh is a senior scientist at the Rotman Research Institute located in Toronto at Baycrest Hospital. Dr. McIntosh is a pioneer in the study of how different parts of the brain work together to bring about the wide range of human mental operations. He has combined modern functional neuroimaging methods with mathematical modeling to characterize the changes in brain network dynamics related to awareness and learning, and shown how these dynamics change in normal aging and different clinical conditions.
Dr. McIntosh has lead a team of international scientists on a mammoth project to build the world's first functional, virtual brain, suitably called The Virtual Brain. The massive project—akin to decoding the human genome—has the potential to revolutionize how clinicians assess and treat various brain disorders, including cognitive impairment caused by stroke and Alzheimer's disease.
Twitter: @ar0mcintosh

PANEL SPEAKERS


Dr. Jordan Antflick is currently Manager, Knowledge Translation at the Ontario Brain Institute. He earned an Honours BSc in Pharmacology from the University of Alberta, and a PhD from the University of Toronto where he studied cerebellar neurochemistry. Dr. Antflick applies his varied research background to his current role where he aims to make research relevant to various audiences inside and outside of science.
Tanya Brown is an experienced Program Manager for The Virtual Brain (TVB) - an open source neuroinformatics platform for modeling large-scale brain dynamics developed by an international consortium of researchers and lead through Baycrest. She is dedicated to facilitating TVB's research program through a crystallized approach of science management that supports scientific discovery by enabling exploration to the outer limits of our current knowledge base. Tanya is also a key member of the TVB business development team with MaRS Innovation in our concerted effort towards knowledge translation. Altogether, she brings a multifaceted skill set to neuroscience research that spans the science, knowledge translation thereof, innovation, project management, public relations, digital strategies and effectual networking that sum to align with the evolving landscape of scientific research.
Twitter: @aynaT__Tanya || @thevirtualbrain.org
Dr. Mojib Javadi works with investigators from partner organizations to develop provincial and federal grants for new data management and informatics technologies and solutions, and acts as the informatics project manager on a number of funded collaborative projects. Mojib also leads the molecular data team at Indoc, which implement molecular data management strategy and functions of supported programs and studies. Mojib holds a Ph.D. in Molecular Cancer Biology from the University of Toronto. Prior to joining Indoc, Mojib completed an NSERC funded industry post-doctoral fellowship with Lorus Therapeutics working on early stage development of cancer therapeutics.

Dr. Helena Ledmyr is the Deputy Director at INCF, a global organization that advances data reuse and reproducibility in brain research by coordinating the development of Open, FAIR, and Citable tools and resources for neuroscience. Helena has been at INCF since 2010 and manages development initiatives and communications strategies. Her experiences include working with science communication and administration at the Royal Swedish Academy of Sciences, and she is currently the vice chair for the Swedish Network for Research Communication, and one of the moderators of Real Scientists , a science communication project on Twitter with 75k followers.
Twitter: @Helena_LB
Dr. Christa Studzinski is currently the Manager of Research Programs at the Ontario Brain Institute where she helps maximize the impact of neuroscience through partnerships. Christa holds a PhD in Pharmacology from the University of Toronto. She has also completed 2 post-doctoral fellowships, co-founded a company and participated in research that led to the FDA approval of a medical food for Alzheimer's disease. Christa leverages these experiences to foster meaningful relationships between researchers, clinicians and industry partners.
---
This event is proudly supported by the Ontario Brain Institute.