Join us on May 8th for a day of STEM learning with interactive games, live chats with scientists, a trivia gameshow and more!
About this event
Ryerson's Science Rendezvous 2021 offers virtual science activities and demonstrations to interact with from home. We have activities for young children, teens and adults. Ryerson scientists and invited external guests have lined up an array of interactive activities, such as using medical imaging technologies to diagnose disease, podcasts from science innovators, French language games about ecology, and more!
We'll have a live session with EcoSpark to learn about citizen science, a student panel to share their experiences as young scientists, and a live trivia gameshow to end off the day! Register now to receive the link.
In addition to this, all Science Rendezvous hosts across Canada invite you to participate in the virtual Science Chase Challenge! Visitors can "travel across the country" to visit all of the Science Rendezvous events and complete mini challenges along the way. Challenges go live on May 8th. Start your journey at Ryerson University!
Science Rendezvous, now part of NSERC's, external link, opens in new window Science Odyssey, external link, is Canada's annual celebration of science. This free festival, targeted to all age groups, makes science accessible to thousands of people with a day of engaging, informative and interactive events. Science enthusiasts across the country take their passions to the people to encourage a public understanding of the great impact science and technology have on our lives and our changing world.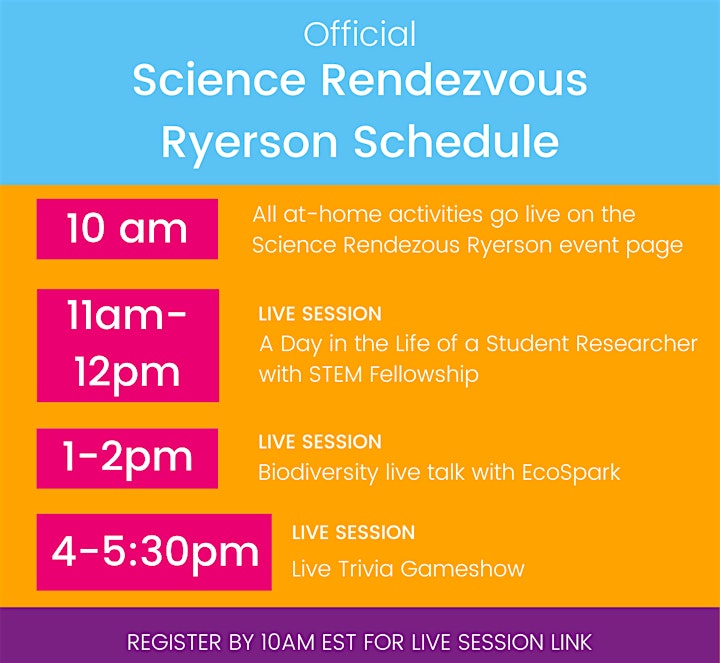 Organizer of Science Rendezvous 2021 @ Ryerson University
Our mission is to make science engaging, comprehensible and accessible to the general public.  We aim to increase science literacy and foster critical thinking about scientific issues.  We provide opportunities for members of the community to engage in science through hands-on work and discussion.  We support scientists in effectively communicating about their research.  We offer students new opportunities for experiential learning through science outreach.  We are guided by principles of diversity and inclusivity in every aspect of our work.