Soul City Music Co-op presents three Windsor singer-songwriters live in downtown Windsor.
About this event
Soul City Music Co-op presents another stellar evening of Windsor singer-songwriters, featuring three artists from the co-op's roster. Join us downtown at Phog Lounge (157 University Ave. W.) on Friday, November 19, 2021.
With limited capacity regulations in effect, getting your tickets in advance is the ONLY way to guarantee your spot at the event! Proof of vaccination will be required at the door, and masks must be worn when you are not seated.
Doors 8:30pm
Show begins at 9:00pm
Admission $10
Vaccine passport required
19+
MIKE HARGREAVES
Born and raised a riverbank away from the birthplace of Motown, prolific Canadian singer-songwriter Mike Hargreaves has a lifetime of immersion in classic soul and R&B music. With over a decade of experience crafting and performing intelligent, compelling songs, Mike continues to re-define the sound of Canadian independent music.
CRISSI COCHRANE
Crissi Cochrane's sultry, soulful music is an original blend that honours her East Coast folk roots and her abiding love of jazz, retro pop, and classic soul. Beloved for her silky vocals, expert songwriting, and fierce musicianship, Crissi has amassed more than 13 million streams on Spotify and a reputation as an independent artist to watch. Her latest single 'Why' is available on all streaming platforms, accompanied by a beautiful animated music video by Delaney Beaudoin.
MADELINE DOORNAERT
To say that Madeline Doornaert is a promising singer-songwriter is an understatement - on her debut album "Muddy Water", Madeline not only promises, but delivers, with a stunning collection of deeply meaningful songs delivered in her uniquely modern style. Madeline's warm, silky voice soothes atop acoustic guitars, lush back-up vocals, and analog percussion, revealing stories of enduring friendship, self-love, and overcoming hardship. Inspired by the works of 1970s folk pioneers Carole King, Janis Ian, and Buffy Sainte-Marie, "Muddy Water" is an expert self-portrait, capturing a profound maturity in effortlessly beautiful songs.
---
ABOUT SOUL CITY MUSIC CO-OP
Launched on January 1st, 2020, the Soul City Music Co-op is not your traditional music label. Co-founded by Windsor singer-songwriters Mike Hargreaves and Crissi Cochrane, the label strives to unite artists who are committed to enriching the community that they live in, while fostering sustainable self-managed music careers for a small but mighty roster of Windsor artists: The Bishop Boys, Brendan Scott Friel, Crissi Cochrane, Dane Roberts, Madeline Doornaert, Max Marshall, Mike Hargreaves, and The Family Soul.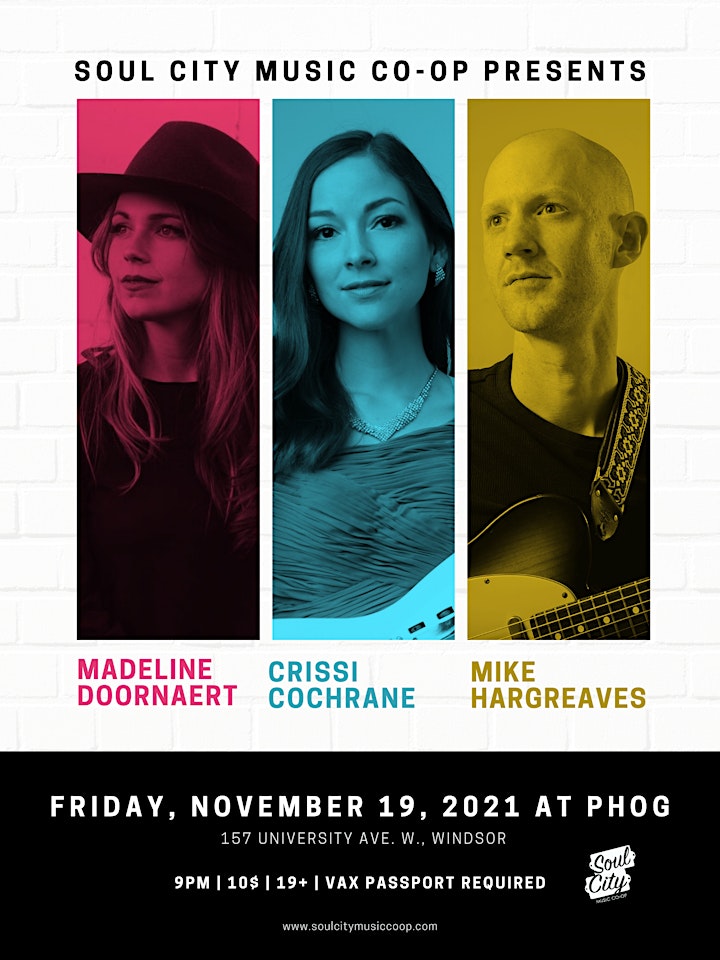 Organizer of SCMC Presents: Mike Hargreaves, Crissi Cochrane, and Madeline Doornaert