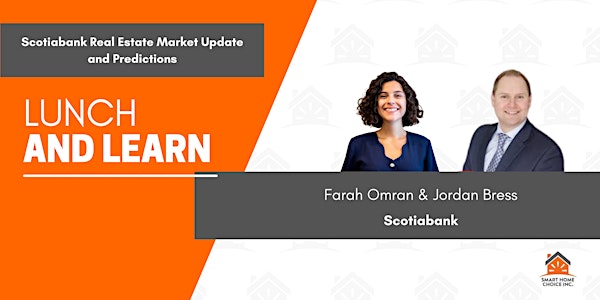 Scotiabank Real Estate Market Update and Predictions
Scotiabank Real Estate Market Update and Predictions With Farah Omran & Jordan Bress
About this event
Join our Lunch & Learn! On Thursday October 13th @ 12pm, Farah Omran and Jordan Bress from Scotiabank will be providing us with another Economic Update and try to make sense of where the market is going and what this means for the remainder of 2022.
Scotiabank will be providing us with an in-depth analysis on:
A micro/macro economic analysis of the real estate market
Is the Bank of Canada done with their interest rate hikes or will there be more?
Are we heading into a recession and what does that mean for the real estate market?
Making sense of all the economic trends and how to prepare for what's next
What changes are happening within Scotiabank to assist their clients?
BIO:
Farah Omran joined Scotiabank Economics in February 2021 as an Economist, mainly working with the team on stress-testing and modelling, while leading the department's research into the Canadian housing market. Before joining Scotiabank, Farah held a policy analyst position at the C.D. Howe Institute. Farah holds a Master's Degree in Economics from the University of Toronto, where she was a fellow at Massey College.
Jordan Bress has held several senior roles including Senior Manager Business and Personal for Royal bank managing 250 relationships during his tenure in the role.
In 2010 Jordan accepted the role as Senior Relationship Manager for Ontario North and East for the Public Sector with RBC. He was responsible for managing clients such as Municipalities, Hospitals, Universities, and Colleges etc. He also managed Request for Proposals ( RFP ) responses during this time. Managing a book of 500 Million in assets and lending requirements.