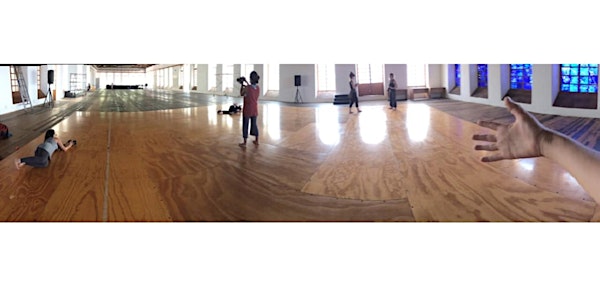 Screendance workshop: rituals and onirism
Online workshop by Agite y Sirva (Paulina Ruiz Carballido and Ximena Monroy Rocha)
About this event
This workshop is for dancers, performers, choreographers and audiovisual artists interested in exploring the creative possibilities of screendance and its hybrid forms in sensitive resonance with the body and the moving camera.
Description
In this two-hour online workshop we will practice screendance as medium of rituals and onirism. We will work the dreamlike imagination that has the human body and movement in relation with the camera as a duet, as pas de deux. We will do site specific practices to expand our imagination concentrating on perception, exploring the interrelationships and compositions body-movement- gaze-space-camera-sound-time-rhythm and the screen, generating an expanding playful, sensitive and poetic choreographic space in resonance with the audiovisual language. How can we move with the camera as an extension and expansion of our body? How can gestures and daily spaces become material to be integrated into a screendance work?
Paulina Ruiz Carballido (Mexico/France). Choreographic artist. Holder of a Bachelor's degree in Dance (2009) from the UDLAP in Mexico, a Master's degree in Dance Research (2013) from the University of Paris VIII and a D.E. Professor of Dance by the National Center of Dance - (Pantin) Training and Pedagogy Department (2014-2015). Her choreographic, pedagogical, screendance work and writings have been published and presented in America and Europe. Co-director of Agite y Sirva Festival Itinerante de Videodanza (MX). She co-directed with Ximena Monroy the edition of the 5 books of the collection La creación híbrida en videodanza, the first printed compilation in Mexico, published by Editorial UDLAP. In collaboration with CaSa (Oaxaca), she co-directed with Ximena Monroy the international residencies: Comunidades Híbridas (2015), Resonancias (2017), Híbridos Expandidos (2018) and Diálogos intermediales (2019). Paulina is an associate artist of the Collectif V.I.D.D.A (FR). She resonates and collaborates with diverse artists, audiences, institutions and researchers in different contexts and constellations.
Ximena Monroy Rocha (Mexico). Intermedia creator, curator and researcher. BA in Communication Sciences (UDLAP) and MA in Art History (UNAM). She collaborates internationally on research, curating, mediation, creation and pedagogy in editorial, videographic, scenic and installation projects. Co-founded and co-directs the Agite y Sirva Festival in Mexico, which is part of international festival networks. She is attached to the Permanent Seminar of Studies on Scene and Performance (SPEEP) at UNAM. Co-designs and facilitates academic activities and programs with various educational and cultural agents, as the International Choreocinema Diploma. Her film and writing work has been exhibited, awarded and published internationally.
We will send you the link the day previous to the event. Please stay tune!!