Screening of PANS/PANDAS Film "My Kid is Not Crazy" & Panel Discussion
Description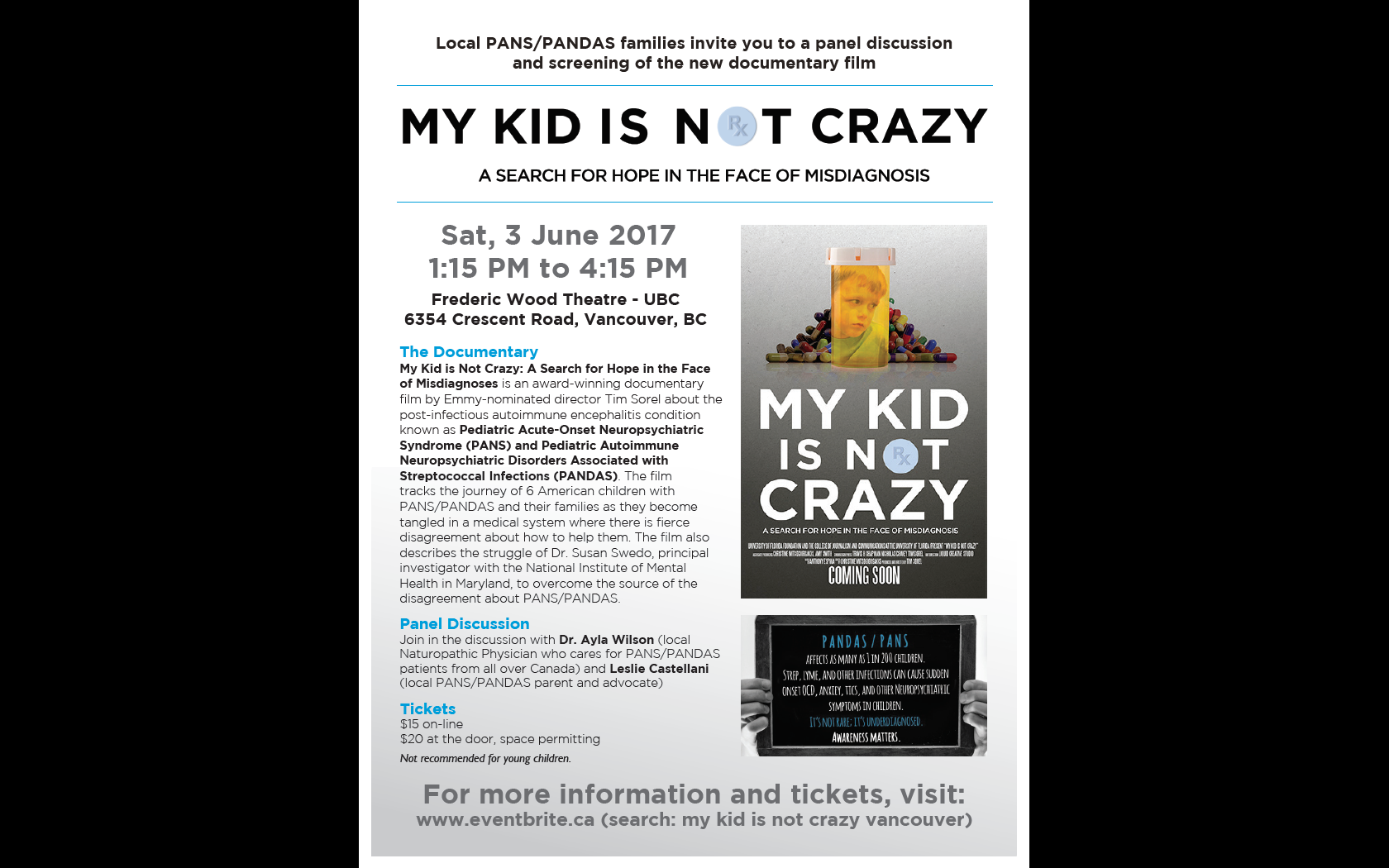 1:15 p.m.: Doors open
1:40 p.m.: Welcome
1:45 to 3:15 pm: Screening of My Kid is Not Crazy: A Search for Hope in the Face of Misdiagnosis by Tim Sorel
3:20 to 4:10 p.m.: Panel Discussion with Dr. Ayla Wilson (local Naturopathic Physician who cares for PANS/PANDAS patients from all over Canada) and Leslie Castellani (local PANS/PANDAS parent and advocate)
4:10 to 4:15 p.m.: Wrap-Up
Tickets are available online here for $15.00. Sorry - no refunds. Space permitting, tickets will also be available at the door for $20.00 (cash only). No food or tickets allowed in the theatre.
The film is not rated. The film contains some images of very sick patients, which may be upsetting to children. Parents should use discretion when deciding whether or not bring children. Not recommended for young children.
All proceeds from this event (after venue rental & associated expenses) will be donated to an organization that supports PANS/PANDAS treatment/awareness in Western Canada.
Special thanks to filmmaker Tim Sorel for providing the DVD, UBC Department of Theatre and Film for the venue rental, Dr. Ayla Wilson and Leslie Castellani for leading the panel discussion, and thepandasproject.com for the awareness poster.
Trailer for My Kid is Not Crazy: A Search for Hope in the Face of Misdiagnosis
My Kid is Not Crazy: A Search for Hope in the Face of Misdiagnosis is an award-winning documentary film by Emmy-nominated director Tim Sorel about the post-infectious autoimmune encephalopathy condition known as Pediatric Acute-Onset Neuropsychiatric Syndrome (PANS) and Pediatric Autoimmune Neuropsychiatric Disorders Associated with Streptococcal Infections (PANDAS). The film tracks the journey of 6 American children with PANS/PANDAS and their families as they become tangled in a medical system where there is fierce disagreement about how to help children with PANS/PANDAS The film also describes the struggle of Dr. Susan Swedo, principal investigator with the National Institute of Mental Health in Maryland, to overcome the source of the disagreement about PANS/PANDAS.
It is estimated that PANS/PANDAS may affect 1 in 200 children. PANDAS occurs when a strep infection triggers a misdirected immune response resulting in brain inflammation. PANS occurs when an infection other than strep triggers a misdirected immune response resulting in brain inflammation. The child quickly begins to exhibit neurological symptoms (which may include urinary frequency, decline in math and handwriting skills, choreiform movements, tics, and sleep disturbances) and psychiatric symptoms (which may include behavioural regression, anxiety, mood dysregulation, memory and cognitive decline, OCD, sensory sensitivities, and restrictive eating).
Stanford University, University of Arizona, University of South Florida and Massachusetts General Hospital (Harvard University) are some of the major U.S. institutions that now have dedicted PANS/PANDAS clinics that focus on providing coordinated clinical-based care (some websites are listed below).
In addition to such clinics, there are major U.S. institutions undertaking PANS/PANDAS research (including Yale University, Columbia University, Georgetown University, University of Minnesota, and National Institute of Health).
For more information on PANS/PANDAS, please click on the links below:
General Information: