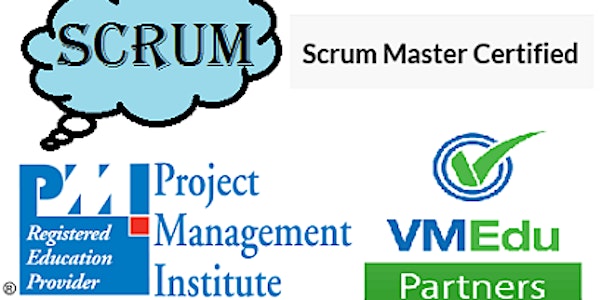 SCRUM Master Certification (Agile) (SMC Exam fee INCLUDED)
When and where
Location
PM Team 52 Village Center Place Board Room Mississauga, ON L4Z 1V9 Canada
Refund Policy
Refunds up to 7 days before event
Description
SCRUM Master Certification Course + SMC exam fee
Attend the Training with us / attend the exam right after the training and if you fail then get your money back (on the same day)
Become Scrum Master Certified in Two Days only ; learn SCRUM and apply it in work environment... Take your career to the next level ...
Register Today, Seates are limited!
TWO-days Instructor-led training (from 10am to 6pm) provided by experienced faculty and/or co-authors of the SBOK™ Guide. The announced Fees covers the TWO days sessions.
SCRUMstudy course methodology is designed by experts with extensive experience in the field of professional training and education. It combines our extensive knowledge of Scrum/Agile with innovative methods of course delivery to provide practical understanding of Scrum/Agile concepts.
Passing the examination is the last step in becoming Scrum Master Certified. Immediately after completing the exam, students will be informed of their results. Successful candidates are awarded the Scrum Master Certified (SMC™) certification.
Students can receive a physical copy of the certificates (SMC by SCRUMStudy and Attendance Certificate by PM Team Inc), additional fees applied.
Exam Format
Multiple choice

100 questions per exam

No negative marks for wrong answers

120 minutes duration

Proctored online exam

Current pass rate: 95%
Physical Resources and Materilas (will be provoided part of the course)
1) A Guide to the Scrum Body of Knowledge (SBOK™ Guide), which is the definitive guide for Scrum (340 pages)
A Guide to the Scrum Body of Knowledge (SBOK™ Guide) provides guidelines for the successful implementation of Scrum—the most popular Agile product development and project delivery methodology.
2) Scrum Master Certified (SMC™) Student Workbook (77 pages)
A comprehensive workbook covering areas concerned with Scrum Master Certification as defined in the SBOK™ Guide. The workbook covers topics such as Agile overview, Scrum overview, Scrum roles, Scrum Phases, and how to scale Scrum.
3) Scrum Master Certified (SMC™) Case Study Booklet (13 pages)
This includes a real-life scenario and relevant questions around a new product development using Scrum. This helps candidates with the practical understanding of the concepts of Scrum.
4) Scrum Process Chart (2 pages)
This contains some of the most important concepts in Scrum. It is a ready reference for a candidate who wants to revise important concepts
5) Scrum Estimation Cards (8 pages)
Estimation cards for classroom exercises help candidates understand how to estimate different tasks in a Scrum project.
Online Resources (Covered by the fees)
High Quality Videos
We have 28 high quality, interactive, and engaging online videos for each chapter and knowledge area. All course videos are prepared and presented by industry experts.
Terms and Definitions (186)
It is a glossary of important terms and concepts for each chapter and knowledge area. These terms can also be used as a collection of flashcards for practice and review.
VMEdu Approved RCUs (40)
Every VMEdu certification requires you to earn a minimum number of RCUs every three years. This ensures that VMEdu certified professional's competencies remain up to date. On successful completion of this course you will be granted 40 RCUs.
Illustrative Case Study
An interesting and illustrative case study based on a real-life scenario is provided to ensure that theoretical concepts can be applied to practical situations. This is fun to solve and provides great insights at the same time.
Crossword
An engaging and challenging crossword is provided to ensure a fun-filled learning experience.
Reference Material
Additional reference materials such as role guides are provided to enhance your learning experience.
Progress Tracking
You can track your progress online or through mobile app for each course and each chapter and continue from where you left off.
Mobile App
You can access courses in all formats anytime, anywhere through VMEdu's innovative mobile app and enjoy the same learning experience that you get online.
Additionally : Aim for the success, Ask for payments options.
Please email us at : admin@pmteam.ca if you have any quesiton.
Regards
PM Team Canada Inc