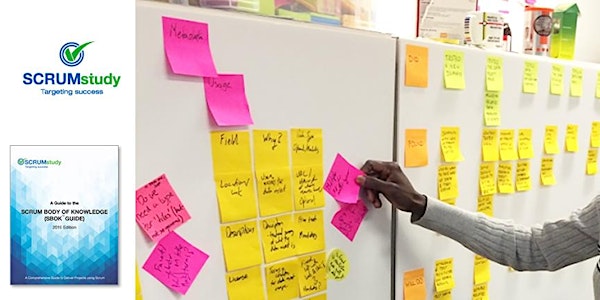 Scrum Master Certified
Gain your Scrum Master Certified accreditation, in partnership with ScrumStudy and designed around the Scrum Body of Knowledge, SBOK™
About this event
Scrum is the most popular Agile framework. It is an adaptive, iterative, fast, flexible, and effective methodology designed to deliver significant value quickly and throughout a project.Scrum ensures transparency in communication and creates an environment of collective accountability and continuous progress. The Scrum framework, as defined in the SBOK™ Guide, is structured in such a way that it supports product and service development in all types of industries and in any type of project, irrespective of its complexity.
This online course will include a blend of information sharing, facilitated learning and hands on practical activity to fully understand the following areas.
Agile and Scrum Overview
Agile Overview
Agile Manifesto
Agile Principles
Agile Methods
Scrum Overview
Scrum Advantages
Scrum Roles
Core Roles
Non-core Roles
Product Owner
Scrum Master
Scrum Team
Scrum Project Phases
Initiate
Plan and Estimate
Implement
Review and Retrospect
Release
Inputs, Tools, and Outputs for each process in each phase
Scaling Scrum
Scalability of Scrum
Scrum in Programs and Portfolios
Scrum of Scrums (SoS) Meeting
Transition to Scrum
Mapping Traditional Roles to Scrum
Maintaining Stakeholder Involvement
Importance of Executive Support
All particpants will be able to sit the online Scrum Master Exam following the workshop
Attendees will be sent a link to join the online class, 24 hours ahead of the start time.