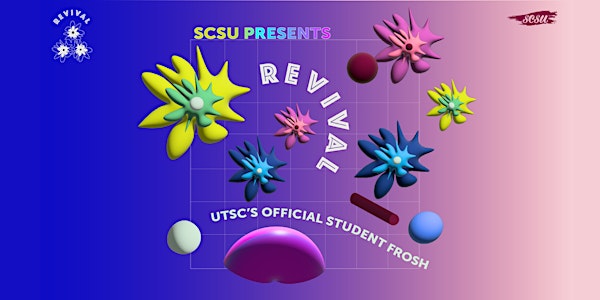 SCSU Orientation 2022: REVIVAL
The University of Toronto Scarborough Campus' official student orientation hosted by the Scarborough Campus Students Union
When and where
Location
University of Toronto Scarborough 1265 Military Trail Toronto, ON M1C 1A4 Canada
About this event
Congratulations on your acceptance into the University of Toronto Scarborough Campus! Frosh is the beginning of your university journey and we are so excited to meet you this year on August 30-September 1st.
The theme for this year is REVIVAL, symbolizing the rebirth and renewal of an amazing year and the start of something so special. This year, we are hosting a fully IN-PERSON Frosh (the first since 2019!) with TONS of amazing fun and activities. Some of the events that you can expect this year include:
A trip to the Toronto FC game and CNE!
SCSU Street Fest
DJ Dance Party
Hypnotist Show
Amazing Campus tours and cheer offs!
Exclusive access to tips and tricks for excelling in your academic careers
AND MUCH MORE….
Check back on this website soon to see an updated schedule. Get ready to meet new people, get to know your university and experience the REVIVAL of a brand new chapter in your life!
Every first year attending Frosh will also receive a swag-filled REVIVAL Kit and T-shirt!
REVIVAL will provide you with the tools to launch your first year at UTSC. We encourage students to get involved, build friendships, and most importantly, HAVE FUN! First year students will be able to learn and explore the ins and outs of UTSC from their Orientation Leaders, who are also current UTSC students.
E-mail orientation@scsu.ca or campuslife@scsu.ca for all inquiries, comments and/or concerns.
🌼P.S... if you visit the Student Centre (at UTSC) and buy your ticket in-person, you'll receive 5% OFF! 🌼
*ALL TICKET SALES ARE FINAL, NO REFUNDS*
🌼🌼🌼🌼🌼🌼🌼🌼🌼🌼🌼🌼🌼🌼🌼🌼🌼🌼🌼🌼🌼🌼🌼🌼🌼🌼🌼
ABOUT THE ORGANIZERS
The Scarborough Campus Students' Union (SCSU) is here to support you, and serves as your official student representation and voice throughout your time at UTSC. Through our events, services, and campaigns, SCSU operates independently from the university to ensure you're being put first!
We create multiple platforms for students to interact with one another, their faculty, and their administration in a safe and inclusive environment. We also offer a variety of volunteer and part-time work opportunities right on campus!
Come visit us at our office located in the Students' Centre (SL-108).
Have questions about what we do or want to get more involved? Email us at info@scsu.ca.
Follow us on Social Media!:
IG: @scsuuoft
TikTok: @scsuuoft
Twitter: @scsuuoft
Discord: @scsuuoft
Facebook: Scarborough Campus Students' Union