About this Event
SCWIST SUMMER SOCIALS 2020
CRESCENT PARK, SOUTH SURREY
Craving for the outdoors and in-person networking opportunities? Join us for this walk along the trails at Crescent Park, South Surrey and meet other SCWIST members!
Please wear a mask. You will be paired with a buddy and we will be walking with adequate social distance. We will walk around the park for around 2 to 3 hours.
Registration limited to 12 people.
ABOUT CRESCENT PARK
(Excerpt from Surrey Parks): Crescent Park is a large 52 hectare (128 acre) destination park in South Surrey. The Park offers walking trails through mature second growth forests, with ponds, streams and lots of secret meadows to discover. It is home to numerous species of birds that prefer the dense undergrowth, as well as ducks and kingfishers that use the small ponds.
The park's wildlife, open fields, covered picnic shelters and forested trails make it a relaxing destination and a place of discovery.
In addition to its spectacular natural areas, the eastern portions of Crescent Park offer a range of park amenities including two baseball diamonds, a large multi-purpose field and a playground. There are two parking lots that can be accessed from 132 Street.
The nature trail walk around Crescent Park is around 3.8 km long. Allow 1 to 1.5 hours for this walk.
MEETING PLACE
We will meet at the parking area by the Softball Diamond.
See map below.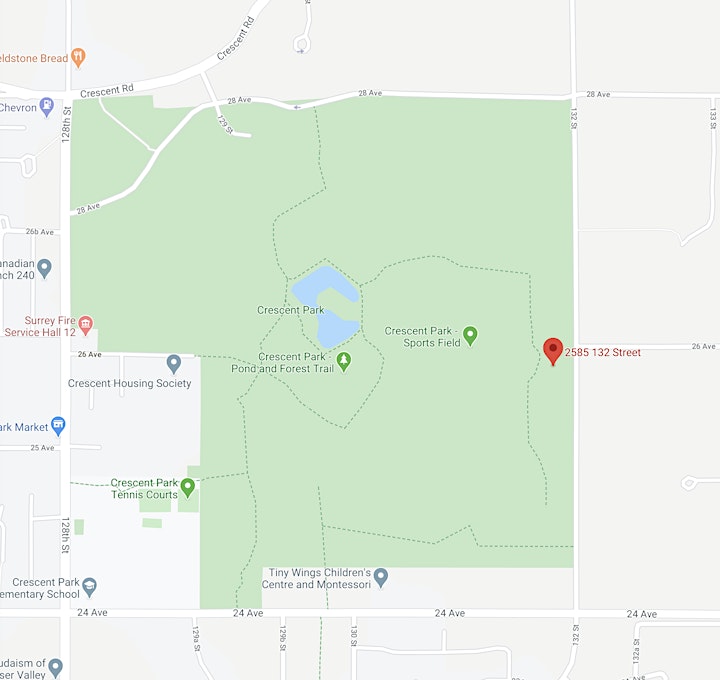 REGISTRATION
Free for SCWIST members. $5* for non-members. Not a member? Register and avail of many upcoming events for free or at low cost! Membership information here: https://scwist.ca/get-involved/become-a-member/
* Regularly $10. Save 50% during the Covid19 pandemic.
PHOTO AND VIDEO CONSENT
By registering for the event, you understand that videos and/ or photos will be taken for use in SCWIST digital communication platforms, including but not limited to: the SCWIST website, e-newsletter, Twitter, Facebook, Instagram, Youtube, and others. You therefore are providing consent for your image and voice to be used by SCWIST for free and in perpetuity.
If you do not want your image to be captured in video or photographically, please inform us when we meet and ensure that you are off camera-range during the event.
QUESTIONS AND FEEDBACK
For questions about the event, or to sign up as a speaker, please contact Khristine Carino, Director for Events, by email at director-events(at)scwist.ca.