Sea Shepherd 2nd Annual Fundraiser

Sunday, 4 November 2018 from 1:00 PM to 5:00 PM (EST)
Event Details
JOIN SEA SHEPHERD'S FIGHT TO SAVE THE OCEANS - DOING WHAT OTHERS CAN'T OR WON'T
Enjoy an afternoon in honour of the men and women who risk it all in their heroic fight for ocean conservation through direct action on the high seas, on the ground and in the courts.
!! The event is almost sold out - don't delay purchasing your ticket !!
Ticket includes delicious vegan cuisine, wine & beer, silent auction, live music, DJ and much more!
Exclusive live appearance via Skype by Captain Paul Watson and Captain Peter Hammarstedt!
Captain Paul Watson
Captain Paul Watson received the Jules Verne Award on October 10, 2012. He was the second person after Captain Jacques Cousteau to be honored with a Jules Verne Award dedicated to environmentalists and adventurers. On June 28, 2010 Captain Watson received the Asociación de Amigos del Museo de Anclas Philippe Cousteau: Defense of Marine Life Award, in recognition of his merits achieved by the work done in defense of marine life. In 2002, Captain Watson was inducted into the US Animal Rights Hall of Fame for his outstanding contributions to animal liberation. Captain Watson received the George H. W. Bush Daily Points of Light Award in 1999 and in 2000, he was named one of Time Magazine's Top 20 Environmental Heroes of the 20th Century.
Captain Peter Hammarstedt
In 2014, Captain Hammarstedt set the record for longest maritime pursuit in history chasing the F/V Thunder, an internationally-blacklisted vessel, across three oceans and 10,000 miles before it was intentionally sunk by its captain off the coast of São Tomé and Príncipe. The dramatic chase was documented by the New York Times.
Joint patrols between Sea Shepherd Global and law enforcement agents of African coastal states have resulted in the arrests of over 23 illegal fishing vessels over the past three years.
Captain Hammarstedt is the 2016 recipient of the Winsome Constance Kindness Gold Medal for Humanitarian Service, an award previously given to individuals such as Maneka Gandhi, Christine Townend and Jane Goodall.
In July of 2018, Captain Hammarstedt was nominated for the Pritzker Emerging Environmental Genius Award. An award given to a person under the age of 40 with an innovative solution to addressing an environmental concern.
Marketa Schusterova and Brigitte Breau
Veteran campaign crew members Marketa and Brigitte will speak of their recent experience in Iceland while on campaign Operation Mjölnir: documenting and exposing the activities of the notorious whaling company 'Hvalur hf' owned by the wealthy fishing magnate and second-generation whaler Kristján Loftsson. Witnessing the barbarity of the whale butchering process was challenging for them both, but necessary to expose to the world.
Emilia Korzeniewska
Campaign crew member Emilia will speak of her time as chef living onboard The Sharpie, during Operation Milagro IV; and realizing how heavily we rely on donations. Joining forces with the Mexican Navy, Operation Milagro is a conservation campaign to save the most endangered marine mammal in the world – the vaquita porpoise.

Ella from "Ella Saves The Ocean"
This pint size hero made her public debut at last year's fundraiser and stole the hearts of everyone present! Only 8 years old and making big waves in her fight to save the sharks. We are excited to have Ella return.
Julia Barnes
Local heroine Julia, Director and Writer of acclaimed documentary Sea of Life, will be present to discuss her new project – Sharklife – aimed at protecting sharks by eliminating the trade shark products in Canada. In grocery stores throughout the GTA, shark meat is being sold with no information on species or mercury levels. Through genetic testing and the creation of a short documentary, Sharklife will educate the public and campaign to end the sale of shark products.

Live performance by local jazz band "Robert Lee Trio".
Thank you to our many donors – businesses and individuals alike! We can't do what we do without you!
Animal Stone

Barberian's Restaurant

Barry Shepley Personal Best

Bold Canine

Brigitte Breau

Cardinal Couriers

Disgraceland

DJ Wes

East Thirty-Six

Emilia Korzeniewska

Evolve Camps

Float Toronto

Friend's Food House

Grail Springs Retreat for Wellbeing

Hedo Cosmetics

Jessica Coutu

Jim Bean

Jordan Brooks

Jump Restaurant

Kognitive

Lawrence Arkilander

LiZzdom

Major General David Fraser

Mama Earth Organics

Marketa Schusterova Photography

McDouglas Photography

Michael Shuh

Mokshayoga

Muskoka Brewery

Mx Aerospace

Partner Jet

RBC Laprise Management Team

Sausage Party

Sea Shepherd Conservation Society

Teddy Ing

The Printing House

The Shop Tattoo

Tori's Bakeshop

Vecado Plant-based Pet Foods

Vegan Stokes Cheese

Vegans 4 Life

Vic and Lesly Guerin
For cash purchases, or to donate / sponsor, please email us at toronto@seashepherd.org
Dress code is smart casual.
WE CAN'T IMAGINE THE OCEAN WITHOUT SEA SHEPHERD. CAN YOU?
Event hosted by Brigitte Breau and Marketa Schusterova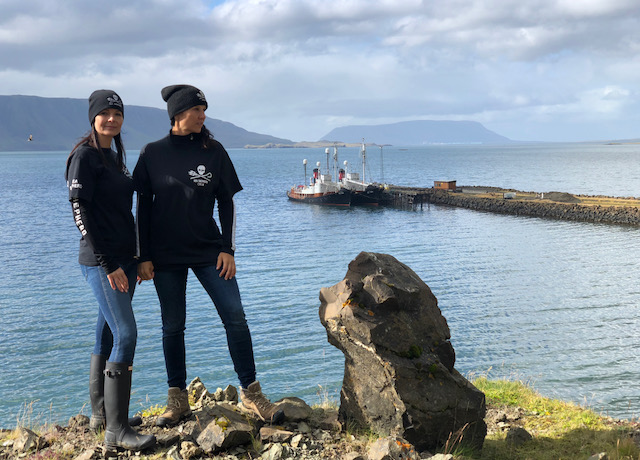 Brigitte and Marketa in Hvalfjörður fjord, North of Reykjavík, Iceland (August 2018)
When & Where

Jump Restaurant
18 Wellington Street West
Toronto, ON M5L 1G4
Canada

Sunday, 4 November 2018 from 1:00 PM to 5:00 PM (EST)
Add to my calendar