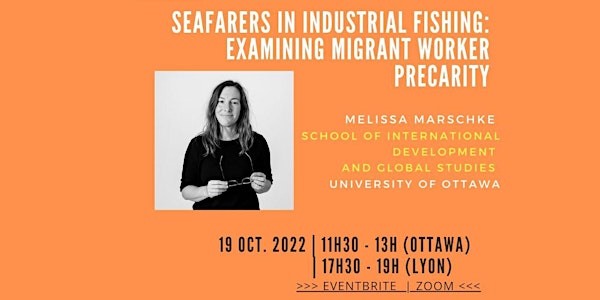 Seafarers in Industrial Fishing: Examining migrant worker precarity
19 oct. 11:30 am. Conference by / Conférence par Melissa Marschke, University of Ottawa / Université d'Ottawa.
About this event
As part of the "Urban and Anthropocene Approaches" seminar, the uOttawa-ULyon Joint Research Chair on the Urban Anthropocene and l'École urbaine de Lyon are pleased to invite you to Melissa Marschke's lecture.
Seafarers in Industrial Fishing: Examining migrant worker precarity
This talk focuses on the labour challenges facing migrant fish workers in industrial fishing. Although global fisheries are often criticized for their contributions to the degradation of fish habitat and ocean ecosystems, the unacceptable working conditions for the mostly migrant workers has drawn considerable attention in recent years. As a result, environmental NGOs have incorporated the human rights of workers into their sustainability campaigns, governments have reformed labour policies for workers, and seafood companies have taken action to reduce their risks of being identified with human rights abuses of workers in their supply chains. Even as things have begun to improve, fish work remains particularly unacceptable. In this talk, I outline how long-term structural marginalization of seafarers in fishing has made fish workers particularly vulnerable, which was further highlighted during the pandemic. I then focus on what a decent work in fisheries agenda could entail and identify a series of fisheries-related policies that are necessary for a comprehensive regime for preventing human rights abuses and unacceptable working conditions in industrial fisheries.
Melissa Marschke is a Professor at the School of International Development and Global Studies at the University of Ottawa and was trained in human-environment relations. She is currently involved in research examining Work at Sea, with colleagues at York University. For 2022/23 she is a research fellow at Collegium de Lyon in Lyon, France and STIAS in Stellenbosch, South Africa.
...............................................................................
Les marins dans la pêche industrielle : examen de la précarité des travailleurs migrants
Dans le cadre du séminaire "Approches urbaines et anthropocène", la Chaire conjointe de recherche UOttawa-ULyon sur l'urbain anthropocène et l'École urbaine de Lyon ont le plaisir de vous convier à la conférence de Melissa Marschke, Les marins dans la pêche industrielle : examen de la précarité des travailleurs migrants (conférence en anglais, suivie d'échanges bilingues).
Cette conférence se concentre sur les défis de main-d'œuvre auxquels sont confrontés les travailleurs migrants de la pêche dans la pêche industrielle. Bien que la pêche mondiale soit souvent critiquée pour sa contribution à la dégradation de l'habitat du poisson et des écosystèmes océaniques, les conditions de travail inacceptables pour les travailleurs, pour la plupart migrants, ont attiré une attention considérable ces dernières années. Par conséquent, les ONG environnementales ont intégré les droits humains des travailleurs dans leurs campagnes pour le développement durable, les gouvernements ont réformé les politiques du travail pour les travailleurs et les entreprises de produits de la mer ont pris des mesures pour réduire leurs risques d'être dénoncées pour violations des droits humains des travailleurs dans leurs chaînes d'approvisionnement. Même si la situation commence à s'améliorer, le travail du poisson reste particulièrement inacceptable. Dans cet exposé, j'explique comment la marginalisation structurelle à long terme des marins pêcheurs a rendu les travailleurs de la pêche particulièrement vulnérables, ce qui a été davantage mis en évidence pendant la pandémie. Je me concentre ensuite sur ce que pourrait impliquer un programme de travail décent dans la pêche et j'identifie une série de politiques liées à la pêche qui sont nécessaires pour un régime global de prévention des violations des droits humains et des conditions de travail inacceptables dans la pêche industrielle.
Melissa Marschke est professeure à l'École de développement international et mondialisation de l'Université d'Ottawa et a reçu une formation en relations humaines-environnementales. Elle participe actuellement à des recherches sur le travail en mer Work at Sea avec des collègues de l'Université York. Pour 2022/23, elle est chargée de recherche au Collegium de Lyon en France et STIAS à Stellenbosch, Afrique du Sud.