Greek taverna classics with a Kalofagas twist
About this event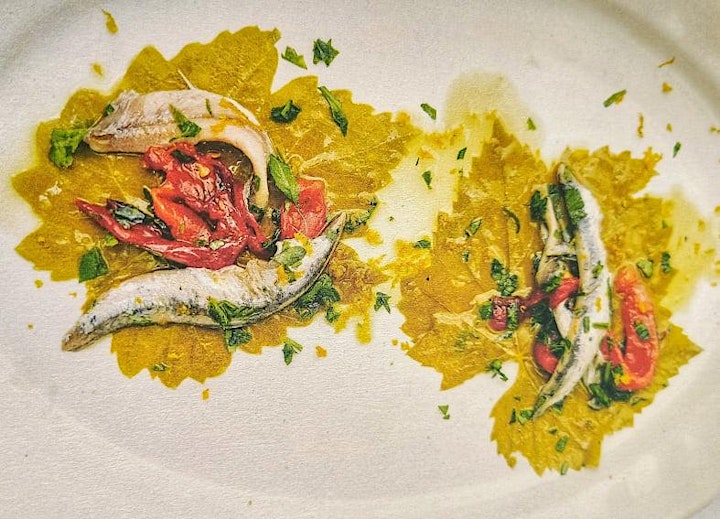 Some of you got to visit Greece this past summer, others held-off (such as myself). If there's one thing that transports me back to Greece, it's an all-seafood dinner.
Join me on Sunday, November 28th (6pm) at St. Lawrence Market Kitchen for a 5-course seafood menu.
Some Greek classics with my own twists that are will please the eye and the palate, paired with Greek wines and Spirits from Celebrity Wines.
Many specialty products from Greece will be furnished by BuyGreek.shop, including Zaros sparkling and still water from Crete.
MENU
Appetizers:
Taramosalata with Lump Crab, Scallions, Paprika
Gavros Marinatos (White Anchovies) On Grape Leaves with Garlic, Red Pepper, Parsley, Evoo
Steamed Peel and Eat Ouzo Shrimp
paired with Ouzo Katsaros
+ my homemade bread
1st course: Seafood Chowder (with dairy)
paired with 300 Assyrtiko-Kidonitsa White
2nd Course: Octopus Stifado (octopus and pearl onion stew)
paired with Arktouros Cabernet-Vlahiko Red
Main Course:  Salmon Confit with Asparagus and Creamy Lemon Sauce
paired with Armathos Barrel Aged Merlot
Dessert: Revani With Maple Whisky Cream Sauce
served with Greek coffee
Price for Dinner + Wine is $105.00
*Proof of vaccination (as mandated by province of Ontario) at check-in
**Menu subject to change
***you must email me at truenorth67@gmail.com with the names of the people in your party you wish to have seated together
*****No refunds for cancellations made after November 21st. Tickets are, however, transferable to another person after that date.
Organizer of Seafood Tavernaki Supper Club
Peter Minaki is the creator of the popular "Kalofagas – Greek Food & Beyond" food blog. He's the author of cookbooks Everything Mediterranean , Big Book of Mediterranean Recipes, Everything Easy Mediterranean and hosts/cooks for the "Kalofagas Greek Supper Club" in Canada and US.