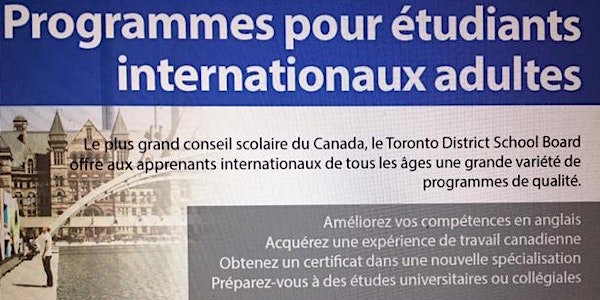 Séance d'information sur les stages et séjours linguistiques au Canada
When and where
Location
Canadian Cultural Centre - Centre culturel canadien 130 Rue du Faubourg Saint-Honoré 75008 Paris France
Description
ATELIER GRATUIT SUR LA MOBILITÉ VERS LE CANADA
Vous êtes à la recherche d'un emploi au Canada?
Vous êtes à la recherche d'un stage au Canada?
Vous souhaitez apprendre l'anglais à court ou à long terme?
Vous voulez découvrir le Canada tout en apprenant l'anglais?
Vous avez une entreprise qui souhaite s'établir à Toronto?
Venez découvrir vos options en matière de stages, emplois, séjours linguistiques et formation continue à Toronto.
Venez découvrir les programmes de l'université de Toronto et du Conseil scolaire de Toronto.
Venez nous rencontrer au Centre culturel canadien à l'Ambassade du Canada en France au 130, Rue du Faubourg Saint-Honoré, 75008, Paris.
Pour étudiants et professionnels, cet atelier vous permettra d'obtenir des conseils gratuits par rapport à la mobilité internationale vers le Canada. Vous aurez l'occasion d'explorer comment participer à des activités de développement professionnel tout en apprenant l'anglais et en explorant les possibilités de formation postsecondaire et de carrières au Canada.
Pour les entreprises ou établissements scolaires (des lycées aux universités en passant par les grandes écoles), venez découvrir comment vous pourrez organiser des séjours linguistiques de qualité pour vos employés, vos étudiants et vos élèves. Nous vous invitons à vous inscrire d'avance car les places sont limitées. Pour de plus amples renseignements, n'hésitez-pas à communiquer avec nous à info@opentocanada.com.
=====================================================
FREE WORSKSHOP ON INTERNATIONAL MOBILITY TO CANADA
Are you looking for a job in Canada?
Are you looking for an internship in Canada?
Do you want to learn English in the short or long term?
Want to discover Canada while learning English?
Do you have a company looking to settle in Toronto?
Come and discover your options for internships, jobs, language courses, professional development and corporate training in Toronto.
Come and discover the continuing education and English language programs of the University of Toronto and the Toronto District School Board.
Come and meet us at the Canadian cultural Centre at the Canadian High Commission in Paris located at: 130, Rue du Faubourg Saint-Honoré, 75008, Paris.
For students and professionals, this workshop will allow you to get free advice on international mobility to Canada. You will have the opportunity to explore how to participate in professional development activities while learning English and exploring postsecondary and career opportunities in Canada.
For businesses or schools (from public high schools to universities, grandes écoles and private schools), come and discover how you can organize quality language training programs and educational tours for your employees and students. We invite you to register in advance because space is limited. For further information or should you have any questions, do not hesitate to contact us at info@opentocanada.com.