About this Event
"An English message follows "
Parlons d'Entreprenariat - du eCommerce et de Leadership à la Séance de Mathieu D'Acosta
Vous êtes un Jeune Canadien Francophone racialisé et vous aimeriez devenir Entrepreneur et vous ne savez pas par où commencer? Aimeriez-vous explorer le marché du travail canadien pour mieux maximiser votre richesse? Pensez-vous à démarrer une petite entreprise et comprenez le concept du commerce, le marché mondial? Souhaitez-vous explorer des opportunités qui vous permettront d'aller au-delà de vos attentes? Avez-vous un engagement fort pour la justice sociale et êtes-vous prêt (e) à favoriser l'intégration des jeunes des communautés minoritaires? Si c'est le cas, la séance de Mathieu D'Acosta vous convient.
Qu'est-ce que la séance de Mathieu D'Acosta ? Visant à favoriser l'intégration économique, la séance guidera les Jeunes Entrepreneurs sur la façon de démarrer leur propre entreprise. Les sujets porteront sur : Entrepreneuriat - Commerce et Leadership avec les Intervenants suivants:
Dre. Jeanne Fortillus, Écrivaine & Économiste
M. Janvier Kakoko, Auteur et économiste
Mme Nichole Edward, présidente de l'ISABT
M. Ousman Contey, président & CEO d'ADYNA
Mme Assiatou Diallo, presidente de MOFIF & Entrepreneure
Mme . Allison Harvey, Entrepreuneure , PDG de Woman of Fire
Mr.Garbiel Broderick , Politologue & Coach in Leadership
M. Jean Mary Vianney, Journaliste & Fondateur de la CFNO
Mme Fayza Abdallaoui, Consultante & Entrepreneure Sociale
La discussion sera suivie de trois ateliers destinés à fournir des conseils pratiques et des références sur les différentes ressources disponibles. Lors de votre inscription, veuillez indiquer votre Atelier de préférence. Il y aura aussi de la gastronomie, des expositions, des performances et de la musique
Atelier 1: Entrepreneuriat et Petites Entreprises
Atelier 2: Croissance Economique et Marché du travail
Atelier 3: Implication Communautaire et Justice Sociale
Entrée est gratuite.
Quand: 22 Février 2020 – Heure : 12 h à 18 h Où: Hôtel de ville du Centre-ville de Toronto - 100, Rue Queen Ouest, salle de comité 1. Pour plus d'informations, appelez-nous au 647-456-1966, envoyez-nous un courriel à info.fslindor@gmail.com ou visitez-nous au www.fslindor.ca
Let's talk about Entrepreneurship- Trade and leadership at the Mathieu D'Acosta Session
You are a racialized Young Canadian Francophone and you would like to become an entrepreneur and you don't know where to start? Would you like to explore the Canadian labor market to better maximize your wealth? Are you thinking of starting a small business and understanding the concept of trade, the global market? Would you like to explore opportunities that will allow you to go beyond your expectations? Do you have a strong commitment to social justice and are you ready to promote the integration of young people from minority communities? If so, Mathieu D'Acosta's session is right for you.
What is Mathieu D'Acosta's session? Aiming to promote economic integration, the session will guide Young Entrepreneurs on how to start their own business. The topics will relate to: Entrepreneurship - eCommerce and Leadership with the following stakeholders:
Dre. Jeanne Fortillus, Writer & Economist
M. Janvier Kakoko, Author and economist
Mrs. Nichole Edward, President of Toronto Anti-Bullying Youth Association
Mr. Ousman Contey, CEO of African Youth Diaspora in North America
Mrs . Allison Harvey, Entrepreneur, CEO of Woman of Fire
Mrs. Assiatou Diallo, president of MOFIF & Entrepreneur
Mr. Garbiel Broderick , Politologue & Coach in Leadership
M. Jean Mary Vianney, Journalist & Founder de la CFNO
Ms. Fayza Abdallaoui, Consultant & Social Entrepreneur
The discussion will be followed by three workshops to provide practical advice and references on the various resources available. When registering, please indicate your preferred Workshop. There will also be gastronomy, exhibitions, performances and music.
Workshop 1: Entrepreneurship and Small Business
Workshop 2: Economic growth and Labor Market
Workshop 3: Community Involvement and Social Justice
Admission is free.
When: February 22, 2020 - Time: 12 p.m. to 6 p.m. Where: Downtown Toronto City Hall - 100 Queen Street West. Committee Room 1. For more information, call us at 647-456- 1966, email us at info.fslindor@gmail.com or visit us at www.fslindor.ca
-------------------------------------------------------------------------
La Séance débutera à 12 h dans la salle de comité 1 avec une Commémoration Culturelle de l'histoire des Noirs au Canada suivie d'une exposition, des intervenants principaux et les ateliers. Petit Déjeuner sera disponible et diner sera servi.
The session will begin at 12 pm in Committee Room1 with a Cultural Commemoration of black history in Canada followed by an Exhibition, some key note speakers and the workshops. Breakfast will be available, and Lunch will be served.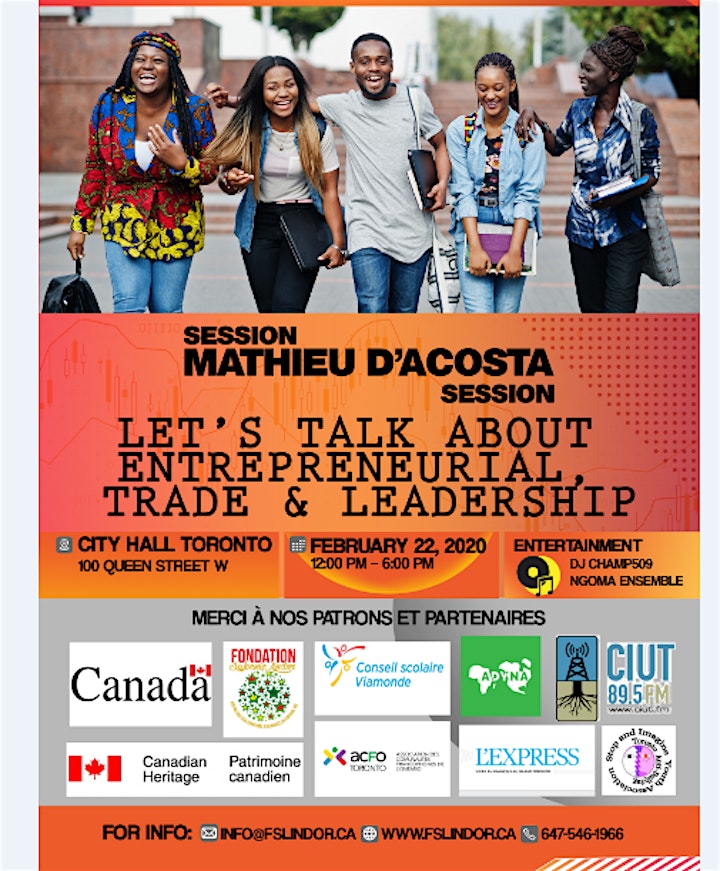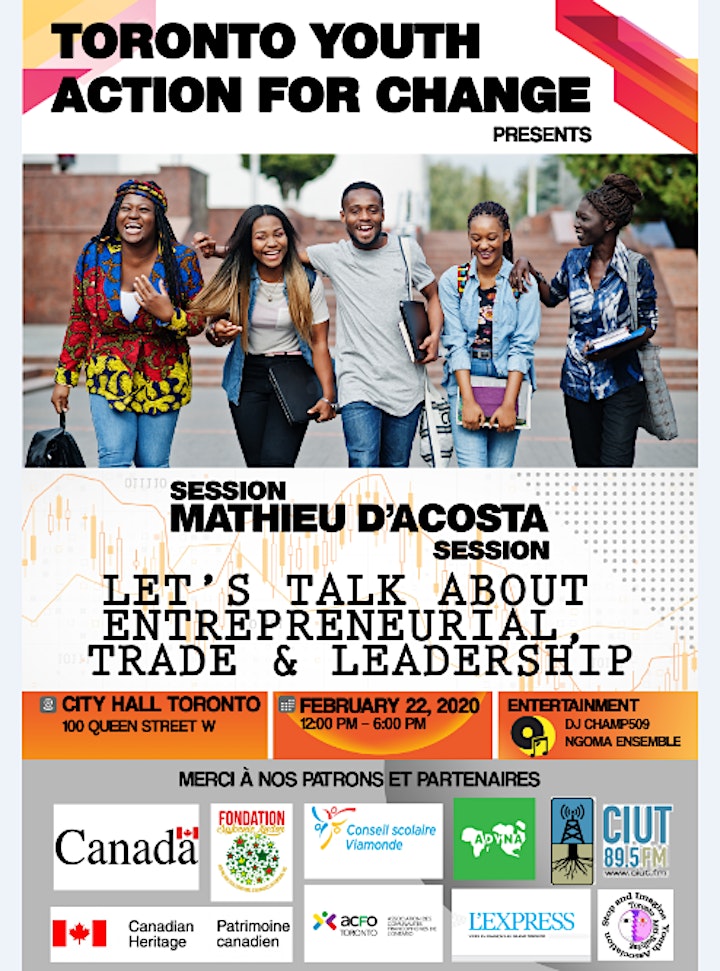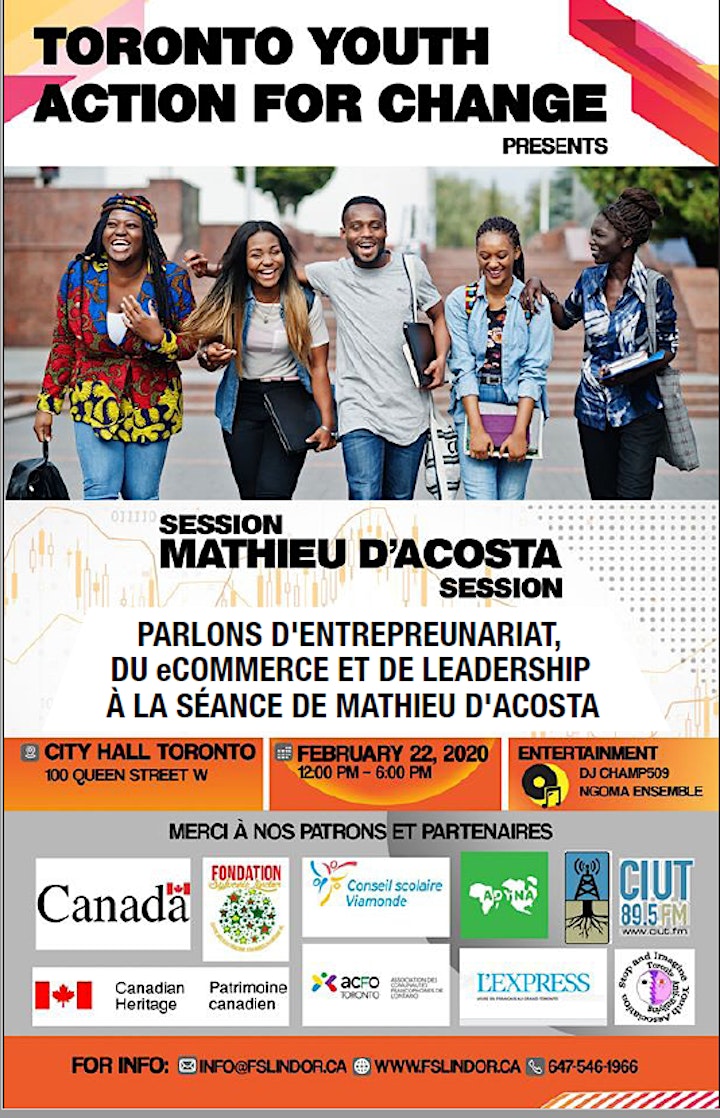 WHO is Mathieu D'ACOSTA?
Mathieu D'ACosta is one of the most fascinating (and elusive) characters in the early stages of Canadian history. We know very little about it. However, our knowledge allows us to affirm that he is considered to be the first Black to have visited Canada. Da Costa was a black African who worked, as a free man, as an interpreter for French and Dutch traders and explorers in the early 17th century
QUI est Mathieu D'ACOSTA?
Mathieu D'A Costa est l'un des personnages les plus fascinants (et insaisissables) des premiers stades de l'histoire du Canada. Nous en savons très peu à ce sujet. Cependant, nos connaissances nous permettent d'affirmer qu'il est considéré comme le premier Noir à avoir visité le Canada. Da Costa était un Noir africain qui a travaillé, en tant qu'homme libre, comme interprète pour les commerçants et explorateurs français et néerlandais au début du 17e siècle