About this Event
Veuillez vous joindre à nous à la session Viola Desmond le samedi 20 février à 19 h pour une conversation en direct sur l'héritage et les contributions en commémoration du 75e anniversaire de la résistance de Viola Desmond contre l'injustice sociale, l'inégalité raciales et au 25e anniversaire de la déclaration nationale du Mois de l'histoire des Noirs au Canada. Diffusion en direct sur la page Facebook de la Fondation Sylvenie Lindor avec les intervenants suivants:
Kindly join us at the Viola Desmond session on Saturday February 20th at 7pm for live streaming conversation about Legacy and Contributions in commemoration of 75th anniversary of Viola Desmond resistance to social injustice, inequality & 25th anniversary of national declaration of Black History Month in Canada . Live streaming at Fondation Sylvenie Lindor Foundation facebook page with the following speakers :
1) Lawyer Joel Etienne, specialist in Immigration & Criminal Law- Toronto, ON
2) Honourable Frantz Benjamin, Member provincial Parliament of Quebec - Viau , Montreal
3) Dre. Rosemary Sadlier, Historian, social worker, Former present of Ontario Black History Society, Social Justice advocate- Toronto, ON
4) Jean Marie Vianney, Journalist, Founder of Coalition des Francophones noirsde l'Ontario , PDG of M9 Media- Ottawa, ON
5) Bieuffet Bellot, Doctorant en politique Publique, Pedagogue & defenseur de l'equite sociale - London, ON
6) Amikley Fontaine, sociologue, président de la Fondation Sylvenie Lindor et responsable du projet Toronto Youth Action for Change visant à renforcer la capacité de leadership et l'entreprenariat chez les jeunes Canadiens racisés- Toronto, ON
Legacy & Contribution
The Sylvenie Lindor Foundation would like to express its deepest gratitude to those who paved the way for the black community and whose lives make up an important part of our national heritage. People like Matthew D'Acosta, Viola Desmond and Lincoln Alexander. This month is a time to reflect on how much black Canadians have done to help shape our country and contribute to its unique identity. It is also a time to think about how hard black individuals have fought and struggled to be accepted and have their culture recognized. Some key figures we would like to honor in this 25th year of Black History Month are RH Michaelle Jean, Hon. Jean Augustine, Historian Rosemary Sadlier, Desmond Cole, and Robyn Maynard.
The unbelievable work of these exceptional individuals serve as a crucial part of the foundation for what we are celebrating this month. After 25 years, we are in a position to look back on the journey we have taken with the goal of creating a more inclusive and just society. As we are guided by the past, we look to the future and the wonderful things it may bring. Happy Black History Month 2021.
The future is now!
La Fondation Sylvenie Lindor tient à exprimer sa plus profonde gratitude à tous ceux et à toutes celles qui ont ouvert la voie à la communauté noire et dont les vies constituent une partie importante de notre patrimoine national. Des Persoonages comme à Matthew D'Acosta, Viola Desmond et Lincoln Alexander. Ce mois-ci est le moment de réfléchir à tout ce que les Canadiens noirs ont fait pour aider à façonner notre pays et à contribuer à son identité unique. C'est aussi le moment de réfléchir à la façon dont les Noirs se sont battus et ont lutté pour être acceptés et faire reconnaître leur culture. Certaines personnalités que nous aimerions honorer en cette 25e année du Mois de l'histoire des Noirs sont RH Michaelle Jean, Hon. Jean Augustine, historienne Rosemary Sadlier, Desmond Cole et Robyn Maynard.
Le travail incroyable de ces personnes exceptionnelles constitue un élément crucial de la fondation de ce que nous célébrons ce mois-ci. Après 25 ans, nous sommes en mesure de revenir sur le chemin que nous avons parcouru dans le but de créer une société plus inclusive et juste. Comme nous sommes guidés par le passé, nous regardons vers l'avenir et les choses merveilleuses qu'il peut apporter. Joyeux Mois de l'histoire des Noirs 2021.
L'avenir c'est maintenant!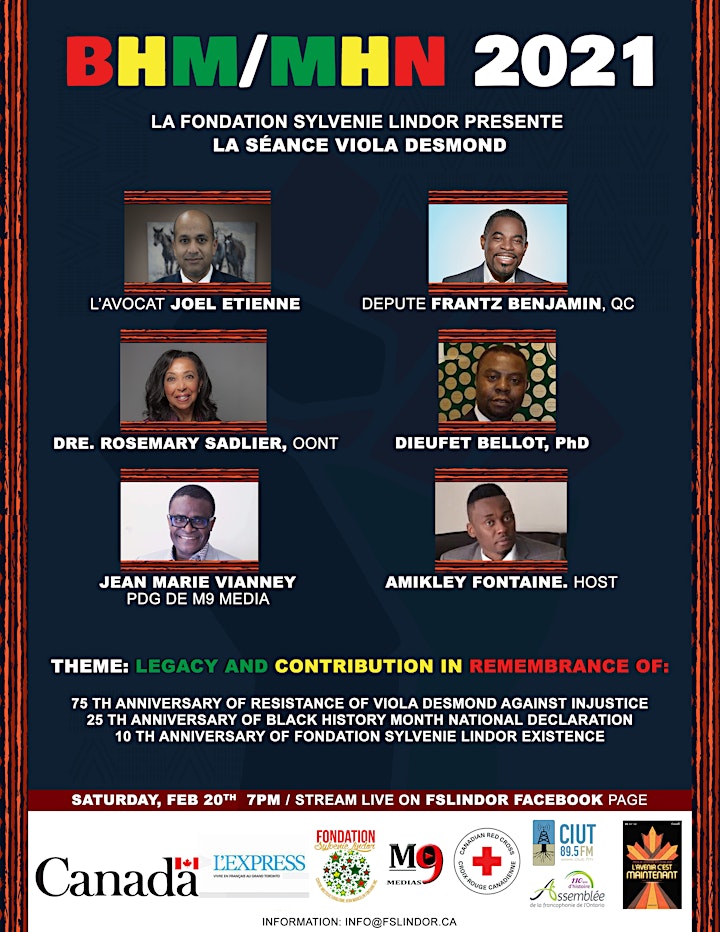 "Let's take the road together"
Fondation Sylvenie Lindor is 10 years old . We would like to take this opportunity to thank everyone who has been involved from the very beginning. Without our Staff and Volunteers, we would not have come this far. We would also like to express our gratitude to our patrons, sponsors, supporters, volunteers, media partners, community partners, and speakers. It has always been a team effort, and we consider all of these individuals and groups to be part of our amazing team. All of our initiatives that we have begun have been incredibly successful and have exceeded our expectations. Our «Annual Multicultural Forums» that we have held have started what is a crucial dialogue and has also allowed us to participate in a cultural celebration. Our speakers have offered such wonderful insight and the government officials who have supported us in this endeavor have made a huge difference.
"Faisons la route ensemble"
Fondation Sylvenie Lindor a 10 ans . Nous aimerions profiter de cette occasion pour remercier tous ceux et toutes celles qui ont été impliqués depuis le tout début. Sans notre personnel et nos bénévoles, nous ne serions pas arrivés aussi loin. Nous tenons également à exprimer notre gratitude à nos mécènes, sponsors, supporters, bénévoles, partenaires médiatiques, partenaires communautaires et conférenciers. Cela a toujours été un effort d'équipe, et nous considérons que tous ces individus et groupes font partie de notre incroyable équipe. Toutes nos initiatives que nous avons lancées ont connu un succès incroyable et ont dépassé nos attentes. Nos «forums multiculturels annuels» que nous avons tenus ont lancé ce qui est un dialogue crucial et nous a également permis de participer à une célébration culturelle. Nos conférenciers nous ont offert un aperçu si merveilleux et les représentants du gouvernement qui nous ont soutenus dans cette entreprise ont fait une énorme différence.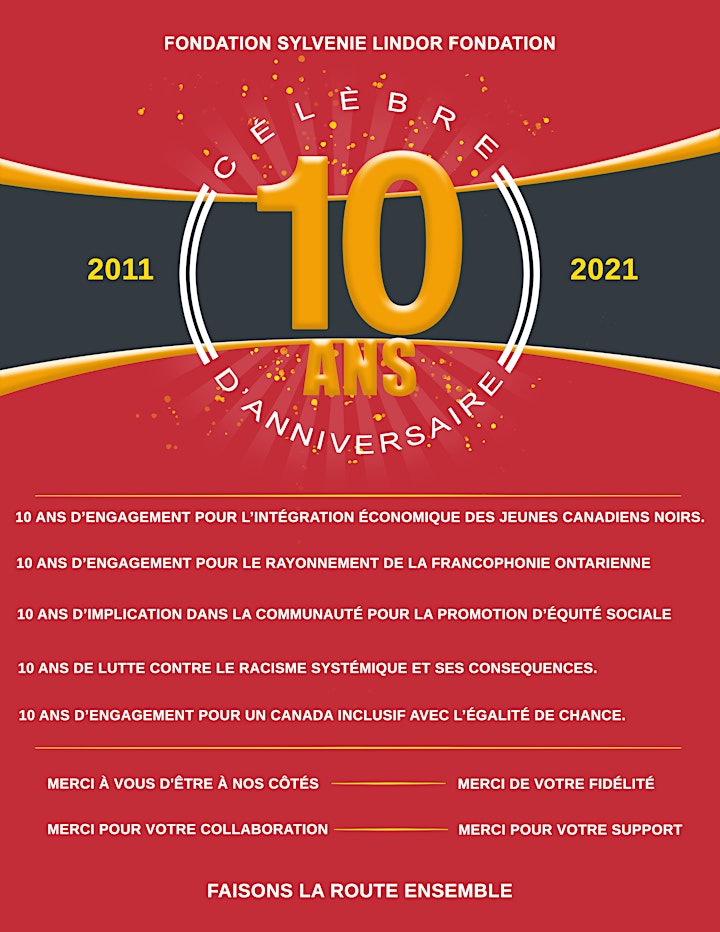 Viola Irene Desmond
Viola Irene Desmond (née Davis), businesswoman, civil rights activist (born 6 July 1914 in Halifax, NS; died 7 February 1965 in New York, NY). Viola Desmond built a career and business as a beautician and was a mentor to young Black women in Nova Scotia through her Desmond School of Beauty Culture. In 1946, Viola Desmond challenged racial discrimination when she refused to leave the segregated Whites-only section of the Roseland Theatre in New Glasgow, Nova Scotia. Viola Desmond was arrested, jailed overnight and convicted without legal representation for an obscure tax offence as a result. Despite the efforts of the Nova Scotian Black community to assist her appeal, Viola Desmond was unable to remove the charges against her and went unpardoned in her lifetime.
Desmond's courageous refusal to accept an act of racial discrimination provided inspiration to later generations of Black persons in Nova Scotia and in the rest of Canada. In 2010, Lieutenant-Governor Mayann Francis issued Desmond a free pardon. In December 2016, the Bank of Canada announced that Viola Desmond would be the first Canadian woman to be featured by herself on the face of a banknote — the $10 note released on 19 November 2018. Viola Desmond was named a National Historic Person by the Canadian government in 2018
___________________
Viola Irene Desmond (née Davis), femme d'affaires, militante des droits civiques (née le 6 juillet 1914 à Halifax, Nouvelle-Écosse; décédée le 7 février 1965 à New York, État de New York). Viola Desmond a bâti une carrière et travaillé comme esthéticienne et a été mentor auprès de jeunes femmes noires de la Nouvelle-Écosse par le biais de son école Desmond de culture de la beauté. En 1946, Viola Desmond a contesté la discrimination raciale lorsqu'elle a refusé de quitter la section réservée aux Blancs du Roseland Theatre à New Glasgow, en Nouvelle-Écosse. Viola Desmond a été arrêtée, emprisonnée pendant la nuit et condamnée sans représentation légale pour une obscure infraction fiscale en conséquence. Malgré les efforts de la communauté noire de la Nouvelle-Écosse pour l'aider à faire appel, Viola Desmond n'a pas pu retirer les accusations portées contre elle et n'a pas été pardonnée de son vivant.
Le refus courageux de Desmond d'accepter un acte de discrimination raciale a inspiré les générations futures de Noirs en Nouvelle-Écosse et dans le reste du Canada. En 2010, le lieutenant-gouverneur Mayann Francis a accordé à Desmond un pardon gratuit. En décembre 2016, la Banque du Canada a annoncé que Viola Desmond serait la première Canadienne à figurer seule sur le visage d'un billet de banque - le billet de 10 $ publié le 19 novembre 2018. Viola Desmond a été nommée personnalité historique nationale par le gouvernement Canadien en 2018