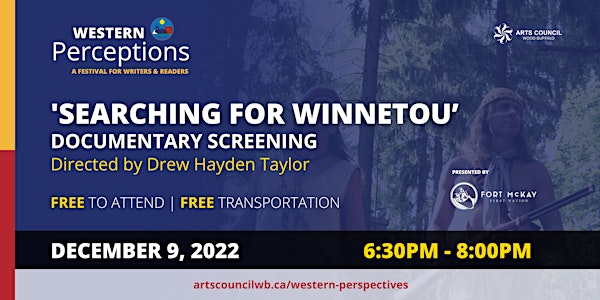 'Searching for Winnetou' Documentary Screening
You are invited to watch a screening of 'Searching for Winnetou,' a documentary by award-winning playwright, Drew Hayden Taylor.
When and where
Location
Oil Sands Discovery Centre 515 Mackenzie Boulevard Fort McMurray, AB T9H 4X3 Canada
About this event
ABOUT THE DOCUMENTARY
Searching for Winnetou explores the controversy surrounding cultural appropriation of Indigenous culture in an innovative, hilarious, unnerving, yet inspiring way. For years Drew Hayden Taylor, prolific playwright and author of dozens of Canadian-Indigenous books, has noticed a high proportion of German tourists visiting Canada, many who have come looking for a real "Indianer" experience (what Germans call the North American Native lifestyle). Inevitably, almost every one of these Germans will relate stories of Winnetou: Germany's most famous, but mythical, Apache warrior. Winnetou was their childhood hero. As one museum curator explained: "Winnetou is like Superman for the German people". Fascinated with this phenomenon Taylor spent last summer in Germany trying to uncover the over 100-year roots of its Winnetou obsession. There Taylor revealed camps where thousands of Germans dress and attempt to live like Indigenous people. This discovery kicks off a mind-bending journey through history, art, politics, and controversy. Even Adolf Hitler and much of the Nazi elite were bizarrely obsessed with North American Native warriors. "I did not expect to see thousands of Germans dressed in traditional Native outfits, nor reveal that even Hitler himself was obsessed with the Lakota people for years", says director Drew Hayden Taylor. The film is a fascinating exploration of "cultural appreciation vs appropriation" from the perspective of one of Canada's most beloved Native writers.
Watch the trailer HERE!
ABOUT THE PRODUCER
Drew Hayden Taylor, an Ojibway from the Curve Lake First Nations in Ontario, has worn many hats in his literary career, from performing stand-up comedy at the Kennedy Center in Washington D.C., to being Artistic Director of Canada's premiere Native theatre company, Native Earth Performing Arts. He has been an award-winning playwright, a journalist/columnist (appearing regularly in several Canadian newspapers and magazines), short-story writer, novelist, television scriptwriter, and has worked on numerous documentaries exploring the Native experience. Most notably as a filmmaker, he wrote and directed REDSKINS, TRICKSTERS AND PUPPY STEW, a documentary on Native humour for the National Film Board of Canada, and for CBC, co-created SEARCHING FOR WINNITOU, an exploration of Germany's fascination with North American Indigenous culture. 2 years later he followed it up with the documentary COTTAGERS AND INDIANS, about Indigenous/non-Indigenous conflicts over land and water issues.
Currently, the second season of his APTN documentary series, Going Native, will be airing in the fall. And he is working on another CBC documentary exploring the concept of 'pretendianism' and how it affects Indigenous people.
His success as a writer has allowed him the opportunity to travel the world, spreading the gospel of Native literature. Through many of his non-fiction books, from the four volume set titled FUNNY, YOU DON'T LOOK LIKE ONE, to the ME FUNNY, ME SEXY, ME ARTSY and ME TOMORROW series, he has tried to educate and inform the world about issues that reflect, celebrate, and interfere in the lives of Canada's First Nations.
EVENT DETAILS
Date: December 9, 2022
Doors Open: 6:15 PM
Show starts: 6:30 PM
Run time: 44 min
Location: Oil Sands Discovery Centre
Admission Fees
Free shuttle service to Oil Sands Discovery Centre is available!
Pickup Location:
5:10 PM - Holy Trinity High School
5:35 PM - MacDonald Island
Drop off after event will be at the same locations.
ABOUT THE WESTERN PERCEPTIONS WRITERS CONFERENCE
The event, "Western Perceptions" brings best-selling Indigenous and non-Indigenous authors to the community to share literary perspectives with the region. The event is taking place December 8-10, 2022 at several locations throughout the Wood Buffalo region.
Among the invited writers are Mi'kmaw Comic Writer Brandon Mitchell and award-winning Playwright, Writer and Producer Drew Hayden Taylor.
The three-day festival is jointly organized by an Indigenous and a non-Indigenous artistic director. Frederick McDonald, a member of the Fort McKay First Nation, is well-respected throughout Alberta as an Indigenous artist. Therese Greenwood is an award-winning author of fiction and non-fiction who has worked as a reporter, editor and broadcaster and has appeared in publications ranging from the Globe And Mail to Queen's Quarterly to Cottage Life.
QUESTIONS AND MORE INFORMATION
For questions or more information, please contact Programs Coordinator, Hanna Fridhed at hanna@artscouncilwb.ca.