Event Information
Refund policy
Contact the organizer to request a refund.
Eventbrite's fee is nonrefundable.
S~x Magick, or Meditative M~sturbation, is the practice of harnessing and using your own divine power to heal yourself and manifest desires.
About this event
These 30 Days will guide you more deeply into yourself to heal any s~xual trauma or shame, to reconnect with your inner passion and desire, and to manifest love and truth into your life.
This is a solo practice, done daily, and Sarah will set up the foundation for the work on Day 1.
Self- Guided Program details:
~ 3 video calls (recorded) with instructions and guidance.
~ 28 Day Meditative Masturbation Journal PDF
~ 4 : 60 min Sexual Vitality movement classes (recorded)
*BONUS: LIVE Q&A CALL Thursday Nov 11, 11am MST
Meditative M~sturbation is a profound tool to find healing, clarity and expansion in not only your physical body but your whole life. The process is gentle and you can go at your own pace, and reaching out for support anytime you need.
Whether you learnt to suppress your s~xuality, or maybe you overdid it, we can find a healthy expression of our desires and needs. We can clear out the old, rebalance our energies and then be met in our FULLNESS! This process allows the energy to flow freely in our body and our lives allowing more ease, connection, creativity, passion, calm, a strong sense of self ; clearing out old ties, trauma, tension or pain.
This is brave work, for those willing to create a NEW story.
Imagine feeling fully seen in your s~xuality. Imagine having lots of energy to create and express. Imagine being satisfied, filled with love and open to all experiences.
I look forward to diving in!!
<3
What a few past participants have said:
"Tantra Magick's Meditative M~sturbation course was among the most profound experiences of my life and I encourage anyone with any kind of apprehension or anxiety around their body or their s~xuality to participate. Sarah was an inspiring and understanding guide through the journey and works very hard to create a space for safe, trustful sharing among the group. I admit to a degree of skepticism going into the course, but going into the experience with an open mind and open heart has helped enlighten me to the value of unconditional and sincere self-love - truly the most powerful force in the universe."
James
"Sarah is such an empathetic and gentle human to work with, which is what makes her the perfect guide for a senstive course like this. I was able to be completely honest with her without feeling embarrassed and I felt massively supported through the whole course. As someone who has struggled with body imagine and self love for many years this course gave me tools i would never have considered using previously. This was not only a practice of self love and acceptance towards myself but became an important part of my daily self care ritual. Leaving me feeling energized and loved. I found by doing this work and healing parts of myself, the other relationships in my life became healthier and stronger. I am usually ready for a break after completing previous challenges but I can't wait to go through this one again and go deeper. Truly life changing."
Brittany
<3
Full course access: $137.50
If you're curious but not ready to commit, join the live Q&A on Nov 11th at 11am MST to learn more! Message me!
Learn more at: www.tantramagick.com
Sarah Anderson, formerly Curts, is a pregnant witch!! She is a certified yoga teacher, semi-retired aerialist and professional dancer. She holds her Reiki Master, Tantra Coaching and Family & Systemic Constellations Facilitator certificates. Sarah offers her Tantric wisdom, yogic knowledge and witchcraft wellness for people to connect with themselves and their higher selves. It is Sarah's pleasure to guide others back to their bodies and souls, integrating all aspects of self to live fully now!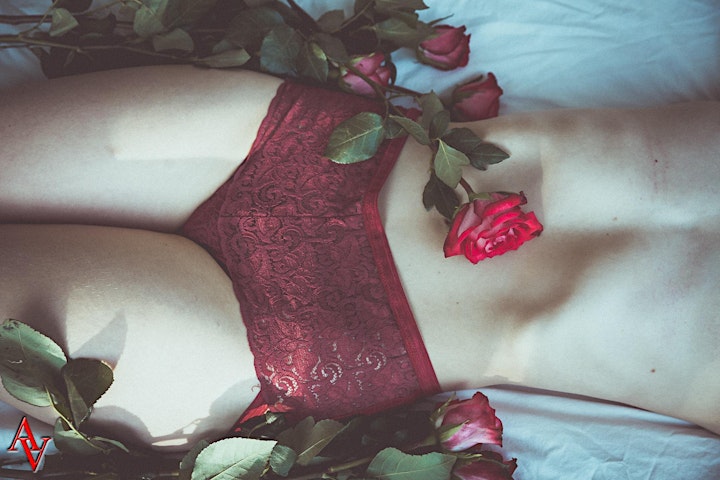 Date and time
Location
Refund policy
Contact the organizer to request a refund.
Eventbrite's fee is nonrefundable.
Organizer of Seasonal Sacred Self-Pleasure ~ S~x Magick
Sarah is a Tantrika, High Priestess, Hedgewitch & Muse. She is a certified yoga Teacher, a professional dancer and aerialist, a reiki Master and a Family and Systemic Constellations Facilitator. Bella has been working with movement for over 25 years and with energetics and sexuality for over a decade. She hosts witch gatherings monthly online for the full moon & new moon and teaches yoga daily. For the many ways you can work with her, head to TantraMagick.com.