Come walk with us on a Sunday afternoon! This month we will be exploring the agricultural history of the Yorklands lands and waters.
About this event
Discover some local winter nature, get some fresh air and gentle exercise. Our walks will help you get better acquainted with this unique heritage site that we wish to preserve for future generations.
Did you know that the Former Guelph Correctional Centre was fully self sufficient? The grounds of the Yorklands were used as fields to grow crops and the ponds were stocked with fish. Learn more about this agricultural histroy and our plans for the future.
Meet your guide at the front gate on York Road. Please be advised of our COVID-19 protocols below.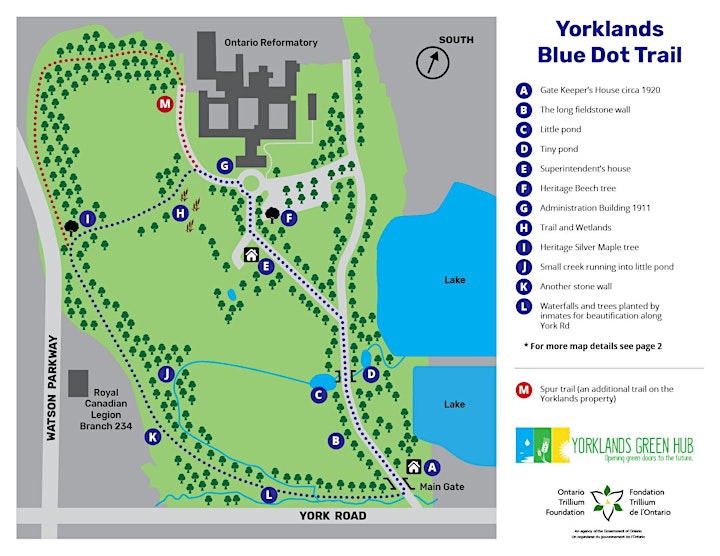 COVID-19 Protocols
As the province is currently experiencing the COVID-19 pandemic, the Yorklands Green Hub will be abiding by the directives of Public Health as well as the following directives.
Notices - The latest COVID-19 guidelines will be shared on all event and program promotions. Participants and volunteers will be sent an email should the guidelines change.
Screening - Participants will be asked if they have experienced any COVID-19 symptoms in the previous 2 weeks prior to the commencement of a Yorklands Green Hub event or program. If the answer is YES they will be asked to stay home.
Physical Distancing - Participants will be encouraged to maintain at-least 2 metre distance between each other. Face coverings will be worn when 2 metres cannot be maintained.
Handwashing - Participants will be encouraged to wash their hands with soap and water prior to arriving at the event or program.
Face Coverings - Face coverings are required to be worn at all times by staff, volunteers and members of the public when physical distancing of at-least 2 metres cannot be maintained.
Contact Tracing - The names and phone numbers of participants will be collected at every event or program. They will be stored in a secure file and deleted from record after 2 weeks have passed.
Capacity Limits - Yorklands Green Hub events and programming will abide by the limits outlined by Wellington Dufferin Guelph Public Health.