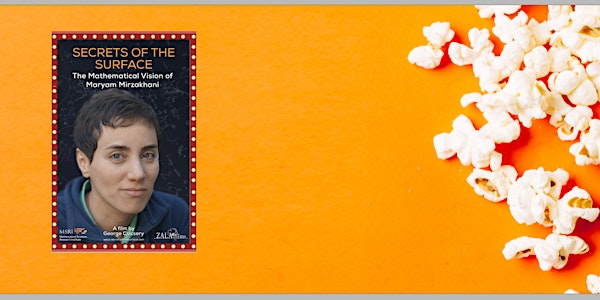 Secrets of the Surface: The Mathematical Vision of Maryam Mirzakhani
Sales Have Ended
Ticket sales have ended
Ticket sales for this event have now ended.
This screening is in honour of Professor Maryam Mirzakhani's birthday and will be followed by a live Q&A, all online.
About this event
Registrants will receive an email containing instructions to access the film on May 12 at 6pm (ET), one hour before the "Watch Party" is due to start.
Join the conversation with the @FieldsInstitute on Twitter, with #FilmswithFields, 7pm May 12, 2020.
The Fields Institute is proud to host an online screening of Secrets of the Surface: The Mathematical Vision of Maryam Mirzakhani, in honour of Professor Mirzakhani's birthday on May 12, 2020.
The film will begin with an introduction by the Director, George Csicsery, and will be followed by a 20 minute live Q&A session (Zoom).
The Q&A will feature
Moderator
Kumar Murty - Director, The Fields Institute
Panellists
George Csicsery - Writer & Independent Filmmaker, Zala Films
Diana Davis - Visiting Assistant Professor, Swarthmore College
Ingrid Daubechies - Professor, Duke University
Kasra Rafi - Professor, University of Toronto
For full details, head over to the event webpage.
Please register for the event free of charge to receive information on how to access the film and following discussion.