Description
Interested in sponsoring our event? Sponsorship opportunities for 2017 have ended but planning for 2018 has already started. Send an email to bsidesstjohns@gmail.com to receive a 2018 Sponsorship package.
The Call For Papers is now closed
B-Sides events combine security expertise from a variety of platforms in search of the "next big thing" in information security. B-Sides is an open platform that gives security experts and industry professionals the opportunity to share ideas, insights, and develop longstanding relationships with others in the community. It is a rare opportunity to directly connect and create trusted relationships with key members of the community.
B-Sides are free, community organized events put on by local individuals with the expressed goal of enabling a platform for information dissemination. B-Sides is an 'unconference' that follows the 'open spaces' format. This varies from structured presentations to smaller break-out groups, but both provide
a direct connection between speakers and the audience.
We're hosting an evening/night social and a Capture The Flag (CTF) event again this year!
Even though our last talk finishes up around 6PM, BSides St. John's 2017 is far from over. During the evening and night of September 21 (6PM – Midnight), we will be hosting a social event coinciding with the Capture the Flag! Whether you wish to participate in the Capture the Flag event or not, we encourage everyone to stick around after the last talk to chat, network, and enjoy some food and drinks compliments of our platinum sponsor Cisco!
GoSecure has been hard at work building out some great challenges, and we look forward to sharing more details soon. Fortinet has graciously offered to provide all network equipment and configuration required for the CTF challenges. Please note, this is a BYOD (Bring Your Own Device) event, so bring your tablet/laptop if you plan to participate. A Kali Linux virtual machine or live disk is recommended. Food and drinks compliments of our platinum sponsor, Cisco!

There will be two rounds of competition this year, and registration will be open to either or both, for teams of up to 2 people. Each round will be separate, so feel free to participate at a level you're comfortable with. Attendees can still register and pick teams the day of the event. Full details for the CTF will be provided during the day.
If you're interested in observing the CTF event, no registration is required!
As with any good challenge, we'll be offering some awesome prizes. Visit http://bsidesstjohns.com/ details.
Can't attend in person?
Thanks to our Platinum sponsor, Cisco, we're pleased to offer a remote attendance option again this year.
Agenda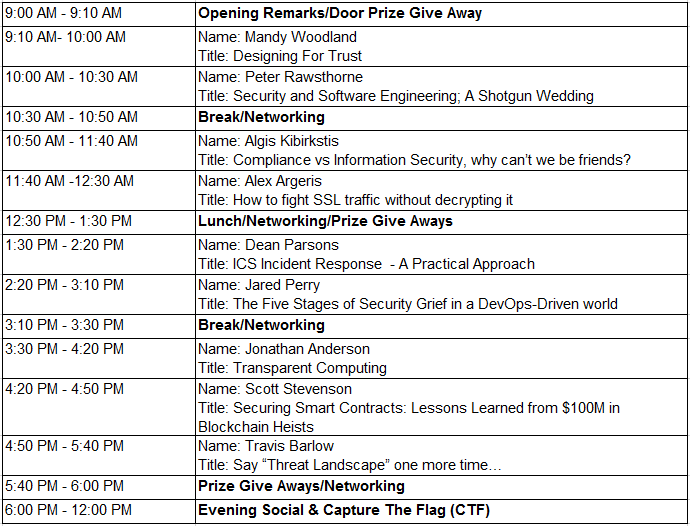 Never been to St. John's? Here are some fun facts!
St. John's is located along on the East Coast of Canada, on the northeast of the Avalon Peninsula in southeast Newfoundland. It is the most easterly city in North America.

Referred to as "North America's Oldest City", St. John's is the oldest settlement in North America to hold city status, with year-round settlement beginning sometime before 1620. The first transatlantic wireless transmission was also received in St. John's by Guglielmo Marconi on 12 December 1901. St. John's is very close to the Cape Spear National Historic Site which is the most easterly point in North America.
Organizer of Security BSides St. John's 2017