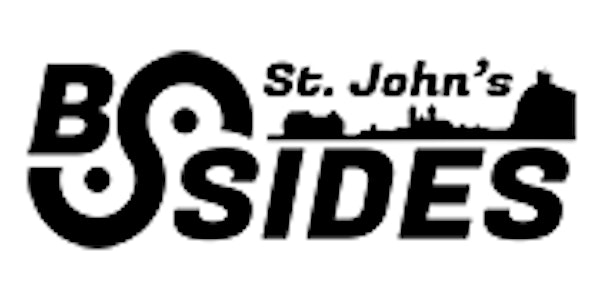 Security BSides St. John's 2022-10th Anniversary!
After a pandemic-induced hiatus, BSides St. John's is back and bigger than ever for our 10th anniversary!
When and where
Location
Holiday Inn St. John's Conference Centre, an IHG Hotel 180 Portugal Cove Road St. John's, NL A1B 2N2 Canada
About this event
BSides St. John's is back, and we're celebrating our 10th anniversary! Come join us for a day of fun, learning, and meeting up with the local security community!
Your local organizers are happy to announce, BSides St. John's will be back for 2022, bringing you the best security-related talks in the province. We've got some exciting things already queued up, and more coming soon, so get your tickets while you can!
BSides events combine security expertise from a variety of platforms in search of the "next big thing" in information security. B-Sides is an open platform that gives security experts and industry professionals the opportunity to share ideas, insights, and develop longstanding relationships with others in the community. It is a rare opportunity to directly connect and create trusted relationships with key members of the community.
BSides are free, community organized events put on by local individuals with the expressed goal of enabling a platform for information dissemination.
Please note, all attendees must adhere to the Code of Conduct, as outlined here: https://www.bsidesstjohns.com/bsides-st-johns-code-of-conduct/
Capture The Flag is back!
Even though our last talk finishes up around 5 PM, BSides St. John's 2022 is far from over. During the evening of September 15 (6PM – Midnight), we will be hosting our usual post-conference social. We will also be hosting an Capture The Flag competition, hosted by HackTheBox. Please note, if you plan to participate, this is a BYOD (Bring Your Own Device) event. Stay tuned for more details!
Learn all the things!
Looking to enhance your skills? There will be a training day, separate from the conference. More details coming soon.
Can't attend the conference in person?
As in previous years, we're pleased to offer a remote attendance option again this year. Check out the registration page to get your ticket!
Keeping in touch
We all get lots of emails, so our new Newsletter is only sent out a few times a year, to keep you aware of things like when our CFP is open, when registration will be open, and other fun stuff. You can sign up at https://tinyletter.com/bsidesstjohns
While our event is 100% sponsor-funded, we have never and will continue to never share your information without your explicit consent. This year, we have added a checkbox to our registration page, should you choose to give that consent. Sharing your information helps ensure our sponsors will get the best possible value for their investment, which allows us to do all the cool things we do.
Never been to St. John's? Here are some fun facts! 
St. John's is located along on the East Coast of Canada, on the northeast of the Avalon Peninsula in southeast Newfoundland. It is the most easterly city in North America. Referred to as "North America's Oldest City", St. John's is the oldest settlement in North America to hold city status, with year-round settlement beginning sometime before 1620. The first transatlantic wireless transmission was also received in St. John's by Guglielmo Marconi on 12 December 1901. St. John's is very close to the Cape Spear National Historic Site which is the most easterly point in North America. The city's official motto is "Avancez", which means Advance.
Interested in sponsoring our event? A limited number of Sponsorship opportunities for 2022 are still available. Send an email to bsidesstjohns@gmail.com to receive a 2022 Sponsorship package.