See Yourself Here 2013: An Open House at the University of Toronto, Faculty of Law (Free Admission)

Friday, 1 March 2013 from 9:30 AM to 3:30 PM (EST)
Event Details
Thank you! Looking forward to See Yourself Here 2014!
Thank you to all the guest speakers, student volunteers, staff, faculty and attendees for making See Yourself Here 2013 a success.
Check out a photo gallery and an article about this year's event here:
http://www.law.utoronto.ca/news/sixth-annual-see-yourself-here-draws-record-crowd-and-waitlist
Our event was featured on The Huffington Post Blog!
 http://www.huffingtonpost.ca/samuel-getachew/u-of-t-challnage-todays-e_b_2791851.html
Date: Fri. Mar. 1, 2013 from 9:30 am – 3:30 pm at Flavelle House, 78 Queen's Park, University of Toronto, Faculty of Law.
If you are coming as a group, please register individually rather than under one name. We need a list of all attendees for safety and administrative purposes. 
http://www.law.utoronto.ca/student-life/student-clubs-and-events/see-yourself-here
See Yourself Here provides high school, university and mature students from diverse backgrounds with a chance to learn about the law school admission process and the legal profession. Participants attend inspirational speaker sessions, educational workshops, and a networking reception with law students, alumni and members of the legal community. See Yourself Here began as an initiative of the Black Law Students Association in 2008 and has expanded to become an annual event that includes law students and participants from a broad range of equity-seeking communities that have historically been underrepresented in law schools and the legal profession.
Lunch and breakfast will be provided.
Admission is free but registration is required. 
Please feel free to like our Facebook page or join our Facebook event for our latest updates.
You can read about last year's event here. 
We hope to see you there!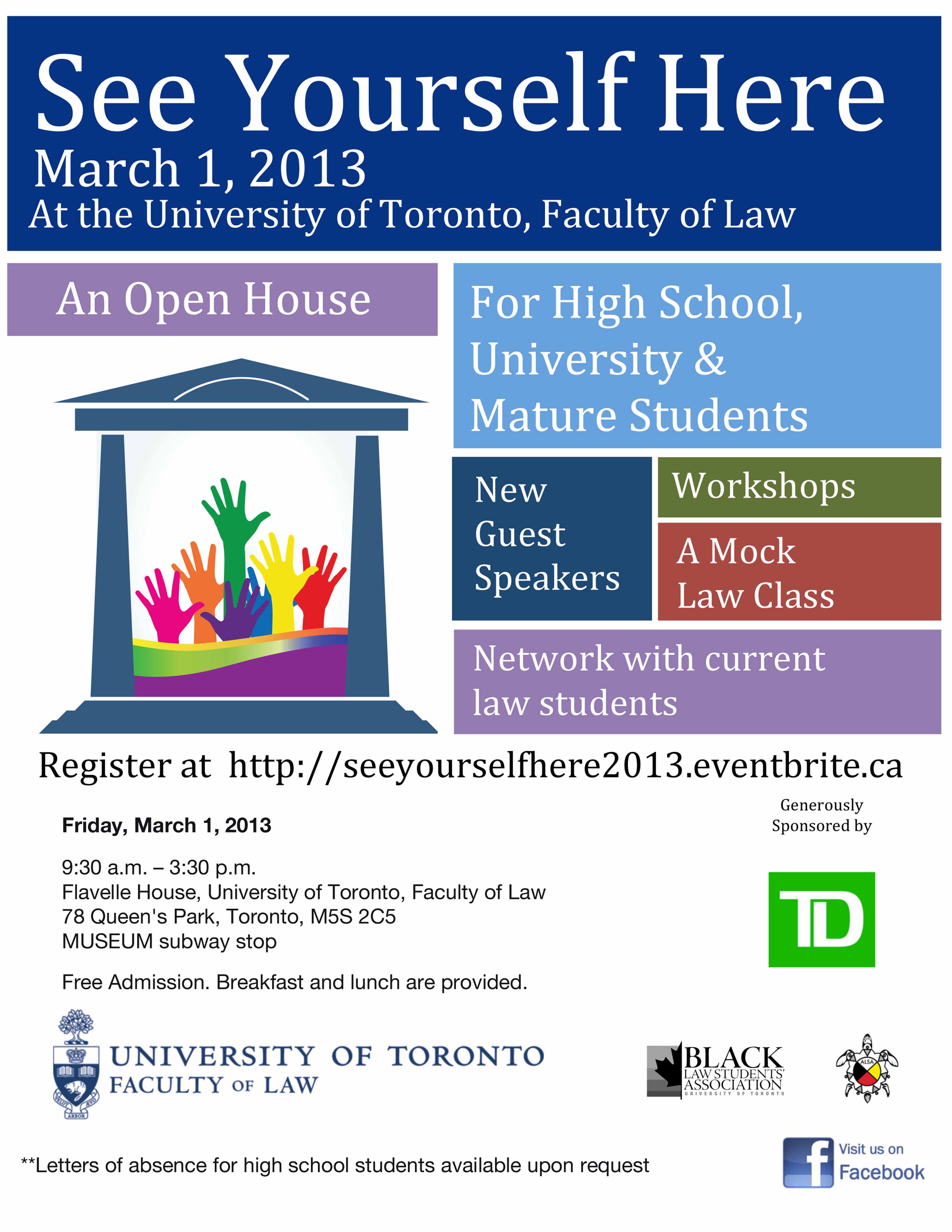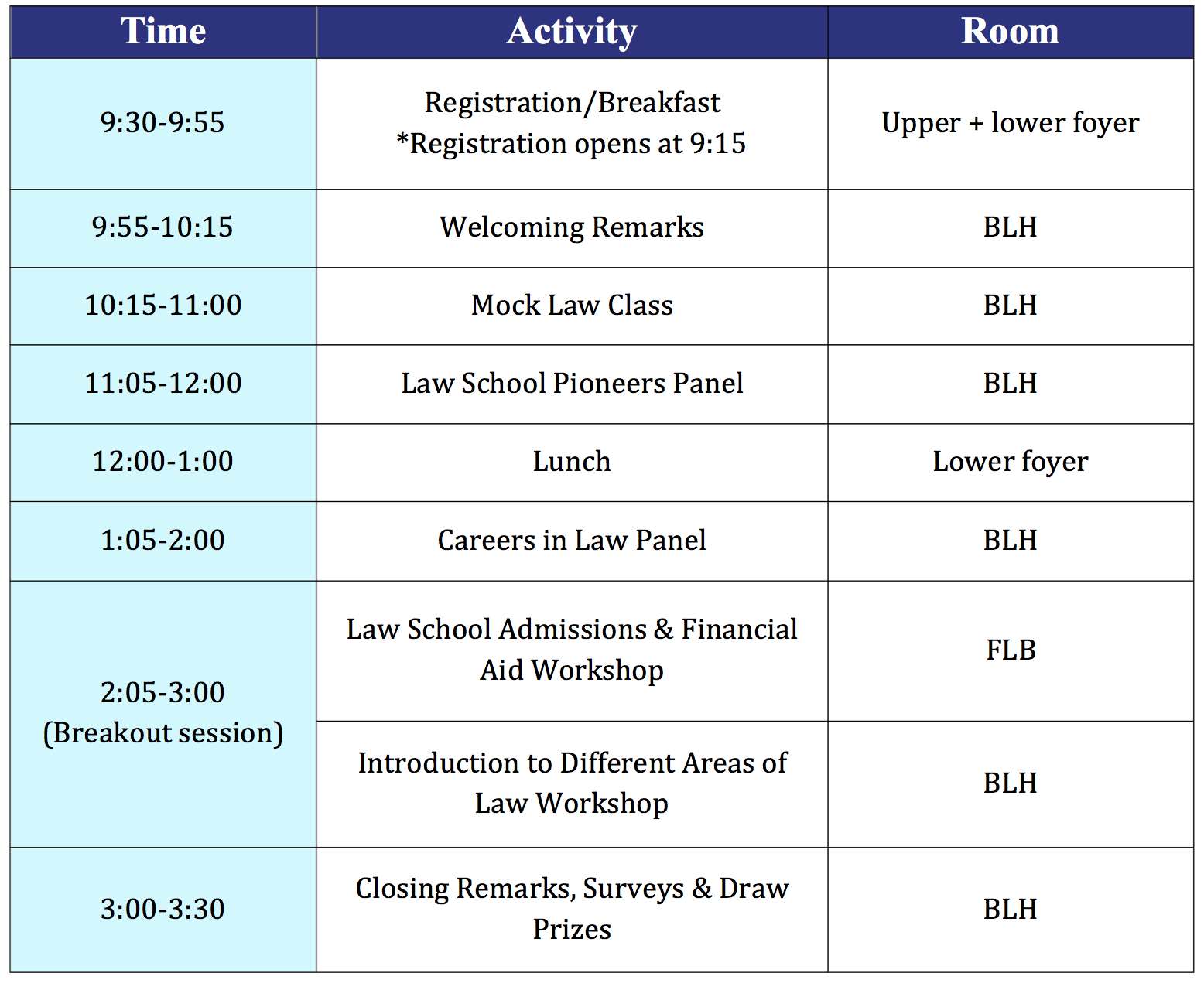 Welcoming Remarks 
Adrienne Ho, 2013 Chair of See Yourself Here 
Tony Duggan, Acting Dean
Winner of multiple teaching awards, Tony Duggan was appointed to the Faculty in 1999. Previously, he held the Henry Bournes Higgins Chair in Law at Monash University, Victoria. He was Associate Dean at the University of Toronto from 2002-2004 and Sub-Dean of the Faculty of Law, University of Melbourne from 1980-1983. Professor Duggan currently teaches secured transactions, bankruptcy law and trusts. He has published widely in these areas and also in the areas of contract law, consumer credit and consumer protection. He is the current president of the International Academy of Commercial and Consumer Law, and he serves on the Board of Trustees of the Canadian Business Law Journal. 
To learn more about Prof. Dugan, visit http://www.law.utoronto.ca/faculty-staff/full-time-faculty/anthony-duggan
Jonathan Chan & Joan Kasozi, Black Law Students Association Representative 
Jon is a second year law student and member of U of T's first ever team to compete in the Julius A. Isaac Diversity Moot, an advocacy competition focusing on equity issues hosted by the Black Law Students Association of Canada. Jon's parents both emigrated from the Caribbean, and Jon firmly believes there is growing opportunity for diversity and multiculturalism in the law.
Joan is a 3L from Uganda. She received her undergraduate degree from the University of Toronto in international relations with a minor in french. Her interests are in business immigration and international law. 
Promise Holmes Skinner, President of Aboriginal Law Students' Association  
Promise Holmes Skinner is 25 years old and in her final year of law school. She is the only person in her family to attend university and the only to attend law school. Promise completed her undergrad with a double major in Sociology and Criminology at King's University College at the University of Western Ontario. Promise is the President of the Aboriginal Law Students' Association at U of T and will be articling at Greenspan Humphrey Lavine LLP, a criminal law firm in Toronto. 
Mock Law Class 
Anthony Niblett, Assistant Professor 
One of the law school's most popular professors, Anthony Niblett holds a Ph.D. in economics from Harvard University as well first class honours degrees in both law and commerce from the University of Melbourne. His research focuses on law and economics, contract law, and judicial behaviour. Before joining the Faculty of Law in 2011, Professor Niblett was a Bigelow Fellow and Lecturer-in-Law at the University of Chicago Law School where he taught legal writing and contract law theory. In addition to his appointment at the Faculty of Law, Professor Niblett has a courtesy appointment with the Department of Economics.
To learn more about Prof. Niblett, visit http://www.law.utoronto.ca/faculty-staff/full-time-faculty/anthony-niblett
Law School Pioneers Panel 
Moderated by Promise Holmes Skinner and Brendan Stevens 
Andrew Alleyne, Partner, Fasken Martineau
Andrew is an advocate for the black legal community, having been a director of the Canadian Association of Black Lawyers since 2004 and in his current role as President.
In 2012 Andrew was named a "Rising Star" (Top 40 under 40) by Lexpert magazine.
Andrew is engaged in a broad corporate commercial practice with a particular focus in outsourcing and information technology matters. He advises on acquisitions, drafting and negotiating a wide range of commercial agreements as well as Canadian and foreign entities with respect to Canadian legal and regulatory aspects of online gambling. 
To learn more about Andrew, visit http://www.fasken.com/en/andrew-alleyne/
Clint Davis, Vice President Aboriginal Affairs, TD Bank Group 
Clint Davis is the Vice President Aboriginal Affairs at TD Bank Group. Clint was appointed by TD to help develop a strategy and implementation plan for growing Aboriginal business for the bank. He is an Inuk from Nunatsiavut, Labrador and before joining the bank was President and CEO of the Canadian Council for Aboriginal Business. Clint holds a Bachelor of Business Administration degree from Acadia University, a Bachelor of Laws from Dalhousie University and a Masters of Public Administration from Harvard University. He is a Canada/US Fulbright scholar and a recipient of two scholarships from the National Aboriginal Achievement Foundation. Clint is a Trustee on the Inuit Capital Strategy Trust for the Nunatsiavut Government.
Mitch Frazer, Partner & Chair of the Pensions and Employment Practice, Torys LLP 
An adjunct Professor at the University of Toronto Faculty of Law, Mitch is Vice-Chair of the North York General Hospital Foundation Board of Governors, a member of Ryerson University's Board of Governors, a member of the Wilfrid Laurier University Pension Committee and a member of the Toronto French School Finance Committee. Mitch is also a former member of the Ontario Government's post-secondary education advisory committee on first generation students. Mitch's numerous industry recognitions include being named in Chambers & Partners' Chambers Global:  World's Leading Lawyers for Business, being named by Lexpert Magazine as one of Canada's leading lawyers under 40 in 2008, and a recipient of Precedent Magazine's Precedent Setting Award in 2010. 
To learn more about Mitch, visit http://www.torys.com/OurTeam/Pages/FrazerMitch.aspx  
Eunice Machado, Counsel, Crown Law Office - Civil at Ministry of the Attorney General
Eunice Machado is Counsel with the Crown Law Office – Civil. Before moving to public sector, she was a partner at a large law firm. Her litigation practice includes the resolution of complex administrative and corporate commercial disputes including work on class actions and appeals at all levels of court.
Eunice was born in Portugal and moved to Toronto at a young age. She was a co-founder of the Portuguese Canadian Lawyers Association and is currently involved with both the TDSB and the TCDSB on task forces working to assist youth of Portuguese heritage to pursue excellence in their studies.  
Jean Teillet, IPC*  (BFA, LLB, LLM), Partner, Pape Salter Teillet
Ms. Teillet is a graduate of the University of Toronto Law School.  She is a partner in the law firm of Pape Salter Teillet.  She specializes in aboriginal rights litigation and treaty negotiations.  She has also acted for many years for midwives in Ontario and BC. Ms. Teillet has several published works including the annual Métis Law in Canada.  She maintains an active role as a public speaker in Canada and internationally, speaking about aboriginal and human rights, culture, identity, access to justice and Charter issues. Ms. Teillet is the great grand niece of Louis Riel.
For a full resume see www.pstlaw.ca
Careers in Law Panel 
Moderated by Michael Portner Gartke & Lin Cong 
Anusha Aruliah, Counsel, Justice Canada - Aboriginal Law 
Anusha is a lawyer with the Department of Justice Canada, and is a member of the Ontario, Nunavut and Yukon bars. She is a civil litigator, was a criminal defence lawyer and was most recently a  Shakespearean actor. She was the first person in her family to go to law school. She was also the first person in her family to go the Arctic Circle. Anusha is not sure which first is more puzzling to her family.
Emile Carrington, Crown Counsel for the Ontario Ministry of the Attorney General  
B.A. from McGill University in 1989 and J.D. from the University of British Columbia in 1992.  Crown Counsel for the Ontario Ministry of the Attorney General since 1994.  A designated firearms Crown who has prosecuted several homicides and complex gang-related cases. Seconded to the Crown Law Office – Criminal from 2010-2012, during which time appeared on appeals at the Court of Appeal for Ontario and Supreme Court of Canada. Discipline Counsel for the Law Society of Upper Canada from 2001 to 2002.  Director of Education for the Ontario Crown Attorneys' Association from 1997 to 2006. Instructor for the Ontario Bar Admission Course from 2001 to 2005.  A frequent lecturer and guest speaker at schools, Crown conferences and police seminars.
Gave Lindo, Lawyer & Business Manager, CBC Television
Gave is a lawyer for the Canadian Broadcasting Corporation where he negotiates television, film and digital media projects with independent producers, broadcasters and distributors. He is also chair of CBC's Inclusion & Diversity Advisory Committee. Previously, Gave practiced law in the dispute resolution group of Fasken Martineau LLP and focused on media and information technology. Gave is currently a board director for ArtsSmarts and Obsidian Theatre Company as well as an advisor for a number of non-profit organizations. He holds a Bachelor's degree in Political Science, a Juris Doctor and a Master of Business Administration from the University of Toronto. 
Julian K. Roy, Falconer Charney LLP
Julian Roy is a graduate of the Faculty of Law, University of Toronto. He was called to the Ontario bar in 1995, and practiced criminal law exclusively before joining Falconer Charney LLP in 1999. Since joining the firm, Julian has maintained a diverse litigation practice in the areas of civil, constitutional and criminal law. He has appeared at all levels of court including the Supreme Court of Canada, and has represented families and public interest interveners at numerous Coroners Inquests. Julian acted as co-counsel to Aboriginal Legal Services of Toronto before the Ipperwash Inquiry, and was part of the legal team on Maher Arar's lawsuit against the Canadian Government. 
To learn more about Julian, visit http://fcbarristers.com/Falconer/lawyers.html
Sara Zborovski, Partner, Gilbert's LLP
Sara's practice is focused on assisting companies navigate the regulatory landscape imposed by the Food and Drugs Act. An active member of the intellectual property law community, she advocates before all branches of Health Canada on behalf of the food, natural health product, cosmetic, nutraceutical, pharmaceutical and medical device industries. Sara has drafted and presented submissions to Health Canada, the Competition Bureau, the Federal Trade Commission and the Food and Drug Administration in Washington, D.C., as well as to the Federal and Ontario Courts. She is a regular contributor to Food in Canada Online magazine and The Huffington Post.  
To learn more about Sara, visit http://www.gilbertslaw.ca/html/#
Breakout Sessions
1) Introduction to Different Areas of Law Workshop (BLH) 
Hear second year and third year law students like.... 
Beatrice Tam (Environmental Law)   
Beatrice is co-chair of Women & the Law and a volunteer with Pro Bono Students Canada. She will explain the steps from high school through law school to the call to bar. A graduate of the Planning program at the University of Waterloo, Beatrice will share her interest in environmental law, providing a brief overview of the Canadian environmental law system as well as related academic and career options. 
Lin Cong (Corporate Law)
After working in Shanghai and Seoul, Lin will work at Stikeman Elliott in Toronto this summer. At the law school, she is the president of the Asia Law Society and a senior associate editor for Journal of International Law and International Relations. With an interest in corporate and securities law, Lin will provide an overview of business law practices and some advice for those who are interested in pursuing a career in business law.
Jacqueline Chu (Downtown Legal Services)
Jacqueline is a firm believer that anyone with the right attitude can make a difference in the world. She will talk about her experience at the University of Toronto's clinical education program, Downtown Legal Services. Approximately 180 students work at the clinic as volunteers, credit students, shift leaders, and members of the executive board. Supervised by staff lawyers, students are fully responsible for their own files, in areas ranging from criminal to refugee law, and appear before courts and tribunals on behalf of their clients. 
Noemi Chanda (Health Law)
After completing her Master's in Economic Policy, focussing on health policy, Noemi attended law school at University of Toronto. She completed a genetic patent policy fellowship with Gilbert's LLP last year and will be working at Borden Ladner Gervais this summer. Noemi will talk about the growing health care sector and the many different opportunities that exist in health law. 
Promise Holmes Skinner (Criminal Law)
Promise will be articling at Greenspan Humphrey Lavine, a preeminent criminal law firm in Toronto. This past summer, she worked as a criminal law Duty Counsel summer student for Legal Aid Ontario. She has an Honours Bachelor of Arts with a double major in criminology and sociology. She is passionate about defending accused persons and representing the interests of disadvantaged persons in conflict with the law. She will discuss her experiences in criminal law.
2) Law School Admissions and Financial Aid Workshop (FLB)
This workshop will highlight the strengths of U of T Faculty of Law's program, including our academic and extracurricular offerings, and the career advantages our students enjoy.  Specific details about our holistic admission process and excellent financial aid program will be provided. Rejeanne Puran, our Admissions and Financial Aid Coordinator, will be presenting.
Special Thanks to All the Students, Staff and Faculty That Made This Event Possible! 
Faculty & Staff
| | |
| --- | --- |
| Alexis Archbold | Assistant Dean Students |
| Angela Fernandez | Associate Professor |
| Annette Henry | Director of Finance, Facilities, Services and Administration |
| Anthony Duggan  | Acting Dean, Professor & Hon. Frank. H. Iacobucci Chair in Capital Markets Regulation |
| Anthony Niblett | Assistant Professor |
| Ben Minaei | Facilities & Services Co-ordinator |
| Benjamin Alarie  | Associate Professor & Associate Dean, First Year Program |
| Carol Rogerson | Professor |
| Cathy Alzner | Administrative Assistant to the Associate Dean  |
| Cheryl Fung | Main Receptionist |
| Edward Iacobucci  | Professor, Associate Dean Research & Osler Chair in Business Law |
| Hamish Stewart | Professor |
| Ian Lee | Associate Professor, Associate Dean (J.D. Program) |
| Lucianna Ciccocioppo | Director, External Relations/Executive Editor, Nexus, Advancement Office |
| Dylan Reid | Web Communications Officer |
| Nancy Reid | Advancement Coordinator, Advancement Office |
| Rejeanne Puran | Admissions and Financial Aid Coordinator  |
| Sandra Janzen | Associate Director, Annual Fund and Alumni Programs, Advancement Office  |
| Sean Ingram | Senior Development Officer, Advancement Office |

Students    
Adrienne Ho (Chair) 
Adam Bierylo
Alexander Condon 
Aman Gebru
Andrew Jin
Ayeesha Lalji
Beatrice Tam
Benjamin Iscoe
Bert Riviere
Bianca Thomas
Brendan Stevens
Cary Ferguson 
Christina-Markie Mammoletti
Dharsha Jegatheeswaran
Hani Migally
Jacqueline Chu
Jesse Mark 
Joan Kasozi 
Jonathan Chan
Katherine Genest
Lin Cong
Maria Wei
Marianne Salih
Marita Zouravlioff
Michael Portner Gartke
Michael Warfe
Michelle Seto 
Nicholas Rolfe 
Noemi Chanda
Osasenaga Obazee 
Promise Holmes Skinner 
Rebecca Vasluianu
Selma Jaber 
When & Where
Faculty of Law, University of Toronto
78 Queen's Park
Toronto, M5S 2C5
Canada

Friday, 1 March 2013 from 9:30 AM to 3:30 PM (EST)
Add to my calendar