Description
What if there were a way for communities to create their own currencies - ones that truly serve them? Cooperative currencies that, instead of dividing people, could actually help communities heal by reconnecting with themselves?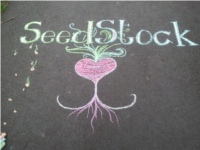 Introducing SeedStock, a new currency for Vancouver and the Lower Mainland that will reconnect our communities with the people, businesses and organisations that feed us, create for us and heal us. A currency that will help unleash the collective energy to turn our visions of a better future into reality.
There is a passionate group of people here in Vancouver working hard to transform this vision of a new currency into a reality, and they need your support.
Join us for an inspiring and entertaining evening as SeedStock kicks off its crowdfunding campaign and the project's initiators, Jordan Bober and Andrew Perry, share why there has never been a better time for Vancouver's first community currency.
Find out how YOU can help make this happen, and be counted among the pioneers who helped start something truly revolutionary in Vancouver! All attendees will return home with a stake in this new currency.
Special Guests and performers in attendance
Be inspired and entertained by special guests
*Buckman Coe*
*Corrina Keeling*
*Zamir Dhanji*
*Johnny McRae*
*Hazel Bell-Koski*
and world-renowned community currency pioneer

*Michael Linton*
This is an evening you will not want to miss!
Seating is limited - reserve yours today!
Doors 7pm, program starts at 7:15pm sharp.
Buckman Coe Corrina Keeling
Johnny McRae Zamir Dhanji Michael Linton
Organizer of SeedBomb! Seeding Vancouver's first community currency
Seedstock Community Currency (www.seedstock.ca) is a Vancouver-based local currency launched in January 2013 to support local, community-minded businesses and non-profits alike by matching underused business capacity with unmet needs. We believe that community currencies can improve the connectedness of communities, support local, independent businesses, encourage a more vibrant and diverse local economy while generating new community resources for community initiatives to realise its visions.