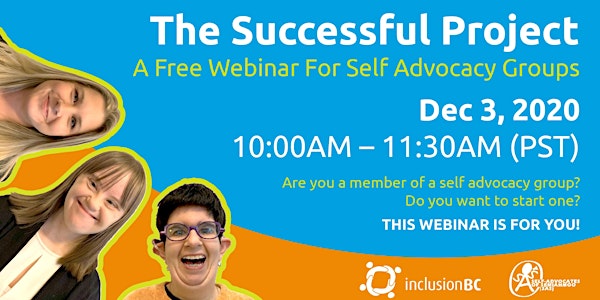 Self Advocates of Semiahmoo | Keynote
The Self Advocates of Semiahmoo (SAS) keynote presentation will celebrate the UN International Day of Persons with Disabilities.
About this event

The Successful Project
A webinar about self advocacy from The Self-Advocates of Semiahmoo (SAS)
Are you a member of a self advocacy group?
Do you want to start one?
This webinar is for you!
Learn how to host fun events that get everyone engaged.
Learn about fundraising, community development, and creating successful projects.
The Self Advocates of Semiahmoo make change through positive relationships. They are people who are focused on creating a better world for themselves and others, with and without disabilities. SAS has been able to do many different projects that have made them successful in their community and the disability sector.
In this webinar you will learn about fundraising, community development, and creating successful projects!
SAS members, Krista and Michaela, will share with you two of their favorite annual events: The New to You Clothing Sale and their Canada Day Celebrations at White Rock Beach.
SAS will share with you a special checklist that will help you plan, carry out and review projects. It is called the The Successful Project Checklist.
During this presentation we also need you!
We will be asking questions throughout the presentation. We want to hear what you do in your self-advocacy groups and day programs.
There will also be a live chat and 30 minutes at the end to ask questions to the presenters.
Follow SAS on Facebook @SelfAdvocateSAS
About the Presenters:
Michaela Robinson
Michaela is one of the most active people you will meet. She has a packed schedule with multiple jobs, volunteer roles, and advocacy work. She is well known in the South Surrey and White Rock Community for many reasons, including flying to Ottawa to work on the Canadian Accessibility Act. She is also proud to have contributed as part of SAS to the all abilities playground, Generations Playground, in White Rock. Michaela cares about staying connected to people in her life and makes sure to have time for you.
Krista Milne
Krista is passionate about her community. She has worked with children and seniors in South Surrey and White Rock. Krista is a main presenter for the SAS Equally Empowered presentation where she speaks to students K to University. As part of XBA dance studio, Krista learns new techniques and works on strengthening her muscles for her other activities in Special Olympics. She is someone who cares about work life balance and makes sure she has time to relax and spend time with her family and friends.
Jillian Glennie
As an Involvement Coordinator for SAS, Jillian Glennie looked at how the organization could make the best impact from the work they do. Jillian is focused on supporting people to have more opportunities and creating a community where all thrive. She loves to be in nature with her family and will often have new adventures on the weekend. Jillian is proud to have supported SAS in creating a unique style to candidate meetings that focuses on what people plan to do and staying positive.
For more information on our Virtual Learning Series, visit Inclusion BC Website.
For any questions about registration, contact Lya Iglesias, Event Manager at 250-891-5384 or via email at events@aspect.bc.ca
Thank you to our sponsors!