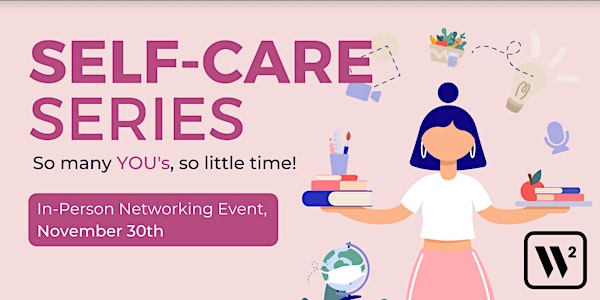 Self Care Series: So many YOU's, so little time
Time is precious - As women, we're constantly filling everyone else's cup. Come network and discuss the importance of investing in YOU!
When and where
Location
Accenture Canada Innovation Hub 40 King Street West 30th Floor Reception Toronto, ON M5H 3Y2 Canada
About this event
Time is the most precious gift humanity has.
Time can heal wounds, create space for growth and make us reflect with gratitude in the moment.
As women, when it comes to our careers, our time is usually diverted to others; we're constantly filling everyone else's cup.
We're going to reach a point in time when we realize we might have lost ourselves along the way and we're not at the milestones we once hoped for.
When trying to access a higher power of thinking, feel productive or accomplished or just find some brain space to think something though, finding THE TIME is our BIGGEST barrier!
Our personal growth and professional development comes second to all the other demands and expectations we have at work, home, and in life.
So how can you give yourself the gift of time?
At WomenSquared, we believe that by attending our events, accessing our resources or using our tools, you are proactively deciding to invest time into yourself. Put yourself forward, choose self-care and along the way connect with likeminded women to remind you that you are not alone
Let's not wait for January to roll around for a "fresh start" or press pause and wait for a new year "clean slate". When we return in January, we're still going to have that "post-holiday exhaustion glow". So let's start now!
WomenSquared is excited to present our very FIRST in-person networking event!
For the first time ever in person, the WomenSquared community will meet to discuss the importance of filling your cup, investing in you and re-visit the role that networking plays to help you advance further.
Community is the foundation to building connection and achieving success. Our community empowers and enables us to chase after and achieve our goals, so we need to surround ourselves with people who will push us when we start to de-prioritize ourselves.
Don't wait until January to start investing in YOU!
Where: Accenture, Level 30th reception, 40 King St W, Toronto*
When: Doors open at 5:30pm for light refreshments. Event kick-off at 6pm.
Giving Back:
A big part of building our community is giving back. This event will be free on admission, however we are partnering with The Period Purse to continue to give back to our community.
The Charity Partner - The Period Purse: https://www.theperiodpurse.com/
We support The Period Purse's mission to achieve menstrual equity by providing people who menstruate with access to free menstrual products, and to reduce the stigma surrounding periods through public education and advocacy.
We'll be offering a link to provide an online financial gift within your means, OR you have the option of a physical donation of period products (opened boxes are fine), new menstrual cups, cloth pads, and new underwear.
* per Accentures policy, all attendees must be vaccinated.