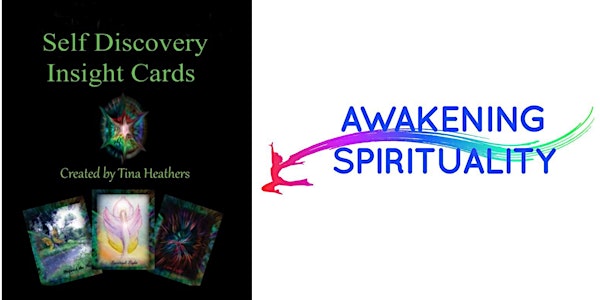 Self-Discovery Online Card Deck Sessions
A monthly online self-discovery session for life's questions
About this event
Looking for insight or life direction? Wondering what's blocking your creativity? Are you on a journey to find your truth? Searching for perspective to learn and grow spiritually?
This Self Discovery session is a fun way to use your intuition to ask questions and reflect on your life path and spiritual journey. Join us as we gather to share and discuss ideas and concepts that work to set us free to be who we really are.
The Self Discovery deck is based on the Spirt Art of Tina Heathers and is used in groups or private one on one sessions to unravel the meaning and opportunities in our present life circumstances.
Come play with us!
FACILITATED BY TINA HEATHERS: Tina loves to talk about inner peace, spiritual healing, meditation, the metaphysics of personal reality, card readings, A Course in Miracles, Goddess and the Divine feminine. At present, her world revolves around meditation and discovering the deeper and deeper layers of metaphysics and the nature of our personal reality.
Hosted by AWAKENING SPIRITUALITY, an online community of seekers interested in personal development and spiritual exploration. The focus is on dialogue and guidance rather than dogma or restricted thinking. View 1 minute video about Awakening Spirituality.
DATE/TIME: Second Wednesday monthly @ 7 pm EDT (CAN/US)
ZOOM ONLINE: Attendees will receive a link to this session after selecting an RSVP ticket (as well as 48 hours prior, 2 hours prior, and 10 minutes before the event begins) for you to join the video conference on your phone, tablet, or PC from the comfort of your own space.
NOTE: For the best experience, please be sure you have the latest version of ZOOM by checking here https://tinyurl.com/zoom-up
DIAL-IN AUDIO: Can't do video? Just dial-in from your home/cell phone and punch in the meeting ID number provided in your confirmation email. Find your local number here (* long-distance charges may apply).
Phone: *1-647-558-0588 (Toronto and area)
*Long distance charges may apply
Outside Ontario: https://us02web.zoom.us/u/koqvNHHWU
Meeting ID: (see 9 digits in link to the right under "Online event")
NOTE: The RSVPs here represent only some folks who may join since this event is advertised across multiple media platforms.