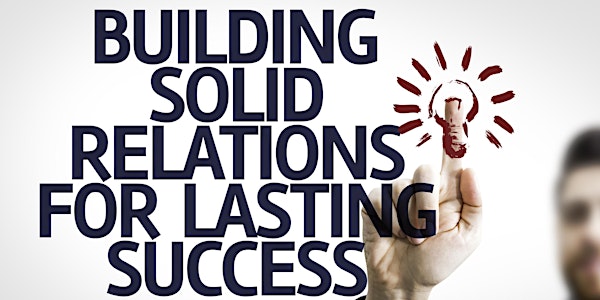 Multiple dates
Self-Marketing Mastery Series
Everything you wanted to know about building a strong referral based business.
Date and time
Fri, Oct 16, 2020 4:00 AM - Fri, May 14, 2021 5:30 AM PDT
About this event
"Building Profitable Business Relationships"
For Q2 (April, May, June) if you've been referred by one of our partners, ask them for the discount code and you get the session(s) for free.
Ever ask yourself, "Why don't I get more referrals?" or "Why don't my clients refer to me more often?" You've heard about the power of word-of-mouth marketing, yet it isn't happening the way you think it should. Do your networking efforts feel like a waste of time? You have meeting after meeting; coffee after coffee and not getting traction.
You are not alone!
These one-hour mastery sessions are facilitated by Cindy Mount, a 25+ year veteran of referral and relationship marketing. We cover a variety of topics and ALWAYS have time for networking. On participant approval, the participant list from each Power Hour is shared so they can continue the relationship building process.
April 30th - (Learning) Knowledge Networks, a valuable tool in growing your business & Discussion with Gene Jochen, B Smart Inc. - Emotional Intelligence and Business Outcomes
May 14th - (Learning) Your Support Network is built with people who provide emotional, spiritual, physical or financial support. Your support network include those who are genuinely interested in you, they accept you as you are and will do whatever they can to help you. There are 8 different places to look.
May 28th - We start with "accelerating key relationships up the relationship/referral ladder" &
Guest Speaker: Charles McFarland - There is only one question your business has to answer and it's NOT "What Can You Do For Me?" or even the old W.I.I.F.M ('What's In It For Me?'). The potential customer has done over 70% of the research before ever engaging in a conversation. The ONLY question left is, "Why Should I Choose You?"
June 11th - What's all the fuss about being F.A.B.U.L.O.S.? How you can turn F.A.B.U.L.O.S. into building relationships that could end up being more profitable.
June 25th (End of Q2 and Free Sessions) - The 10 Principles of Networking at a Mixer & Review of the April-May sessions & lessons learned.
Come back often as we add more topics
Here's how we'll spend the hour:
15 minutes – introductions & networking
15 minutes – education related to referral, business relationship mastery and other business support topics.
15 minutes – work in teams for more networking, discussion and application of the education portion. (Put this into practice)
15 minutes – biggest takeaway and what action will you take in the next 24-hours to apply what you learned. In some instances, find an accountability partner.
While we do not offer refunds, the amount is transferrable to another date, or one of our other programs.
Your meeting link will be sent to you the day before the event.
10% of proceeds go to The Animal Guardian Society, Where Adoption is the only option. I've been a volunteer Foster Home for three+ years, fostering rescues until we can find them a "furever" home.
About the organizer
Referrals are the best, most trusted way to grow your business ... and they're free. Which means having the right referral strategy is critical to ensure that you have a steady flow of introductions coming your way. Traicor International focuses on helping you do just that by generating a regular flow of referrals from your top COIs (Centers of Influence) - people who enjoy working with you, see a value in what you do, and want to pass along your information.