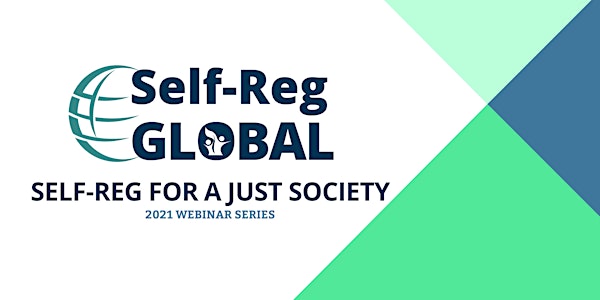 Self-Reg For A Just Society: A Self-Reg Global Monthly Webinar Series
Join Drs. Stuart Shanker and Susan Hopkins every month in 2021 for Self-Reg Global's Self-Reg for a Just Society Webinar Series!
Refund Policy
Contact the organizer to request a refund.
Eventbrite's fee is nonrefundable.
About this event
Self-Reg Global's "Self-Reg for a Just Society" Webinar Series! A new half-day webinar and a new topic each month in 2021 aimed to tackle the issues of today whilst looking forward to a brighter and more just future for all of our children.
Our goal is to ensure that our webinar topics are culturally relevant and reflect the needs of our community and so more topics will be confirmed for the rest of the 2021 series in the areas of:
Children and Teen Well-Being, Parenting, The Early Years, Schooling, Child Development, Well-Being, Whole Child, Autism, Anxiety, ADHD, Trauma, Behaviour Problems, Safe Schools, Inclusion & Diversity, Equity & Racism, Addictions, Technology, Healthy Relationships, Peer Pressure & Bullying and Mental Health.
We have confirmed the first four topics in our 2021 Series:
January 22nd - An Introduction to Self-Reg
February 26th - Reframing Social-Emotional Learning
March 26th - Reframing Resilience
April 23rd - Brain Development and the Early Years (Part 1) - Overthrowing the Victorian Telos
May 28th - Brain Development and the Early Years (Part 2) - Building A Better Brain, Deconstructing the Enriched Environment Paradigm
June 25th - Brain Development and the Early Years (Part 3) - No Mind Is An Island Entire Of Itself - The Deprivation Studies. What did we really learn?
August 27th - Brain Development and the Early Years (Part 4) - Homestasis: The Self-Regulating Brain
Tickets for each individual webinar will be available as well as a discounted season pass offering.
Season Pass holders not only will get access to the webinar series live, but will have access to all webinar recordings and resources until the end of Jan 2022!
Contact info@selfregglobal.com for information on group discounts
Who are we?
Self-Reg Global is Dr. Stuart Shanker's newest venture, looking to bring Self-Reg to every corner of the globe. We envision an international movement equipped with the science of Self-Reg and united by the commitment to potentiating the potential of every child, every human being. We strive to build strong relationships and a strong sense of community among passionate Self-Reggers on a global scale.
Like and Follow us on Facebook and Twitter!
When?
Join us on the 4th Friday of Every Month in 2021 for a brand new webinar!
Further Dates In Series:
February 26, 2021 - March 26, 2021 - April 23, 2021 - May 28, 2021 - June 25, July webinar replaced by SRSS 2021 Keynote - August 27, 2021 - September 24, 2021 - October 22, 2021 - November 26, 2021 - December 24, 2021 [Dec will be Pre-Recorded]
Meet the Presenters:
Read more about Dr. Shanker and Dr. Hopkins here.
Event Timing:
9:00AM - 9:15AM EST - Welcome
9:15AM - 10:30AM EST - Keynote
10:30AM - 10:45AM EST - Break
10:45AM - 12:00PM EST - Workshop
Access to live event and recording:
Life can be unpredictable at times and we completely understand that attending a live event during the workweek is something we can't all commit to. So, whether you can join us live on the day or you would like to join in at a time that better suits you, we have you covered. We do encourage you to join live to get the full experience and engage in the interactive portions of the workshop but all those who sign up for a webinar in this series will be able to view a recording of every webinar and all associated resources until the end of the month and until the end of January 2022 for season pass holders.
Refunds:
Refund requests can be directed to: events@self-reg.ca. Refunds will be allocated in the following manner:
Individual Webinars:
Up to 48hrs before the event start - 95% refund (Self-Reg Global will retain 5% to cover admin and payment processing fees).
After the event - Once the post-event recording access information has been issued, refunds will be decided on a case by case basis.
Season Pass Holders:
Refunds for season passes will be calculated based on the number of events already attended by the season pass holder. The cost of the individual ticket price for each webinar attended (based on equity or standard pricing) will be deducted from the refund amount and 95% of this remaining value will be refunded (Self-Reg Global will retain 5% to cover admin and payment processing fees).
Terms Of Use:
Please see Self-Reg Global's Terms of Use here
For the recorded content please see TMC's Terms of Use here
If you have any questions, feel free to reach out to events@self-reg.ca
We look forward to seeing you on Zoom!