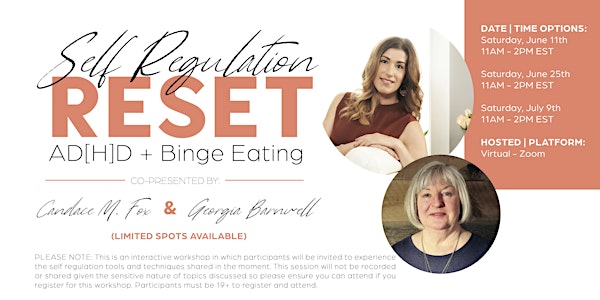 Self Regulation Reset: AD[H]D + Binge Eating
Self-regulation tools/techniques and nutrition resources for AD[H]Ders who struggle with binge eating/disordered eating habits/patterns.
Refund Policy
Contact the organizer to request a refund.
Eventbrite's fee is nonrefundable.
About this event
Join Candace Fox and Georgia Barnwell for a 3 hour workshop to learn self/emotional regulation tools and techniques along with nutritional information for a healthy gut/brain relationship for AD[H]Ders who also struggle with binge eating or disordered eating habits.
This topic holds both a personal and professional interest for both Candace and Georgia who have been on their own healing journey from binge eating/disordered eating.
The workshop will cover a variety of topics from self regulation tools to using nutrition to support a healthy gut/brain relationship.
Presented by Candace:
- Why binge eating/disordered eating is a common experience for AD[H]Ders
- How self regulation tools can lessen the intensity/urge to binge eat and when to use them
- 5 self regulation tools/techniques you can use on your own, anywhere at anytime
- The science behind self regulation tools like EFT/Conscious EFT and Havening
Presented by Georgia:
- AD[H]D and our gut/brain relationship (gut damage and inflammation)
- Using anti-inflammatory nutrition and ferments to calm the gut
- Nutritional strategies to help AD[H]D and food cravings
- Realistic strategies for adding in foods that support gut health / cutting out foods that may disrupt a healthy microbiome
A message from Candace:
Hello Hello! My name is Candace Fox.
I am so excited to be able to join forces with my friend and fellow psycho-sensory practitioner and colleague Georgia Barnwell. We are both energy psychology nerds and self development junkies! We also like to have fun and are both self professed crazy cat ladies so - don't be shocked if in the middle of this workshop you get a glimpse of a few furry friends, Pete and Sza Sza.
My personal interest in AD[H]D and binge eating is very personal. I was diagnosed with an eating disorder by the age of 15 (although, I would say I had suffered from disordered eating habits much earlier) and by 26 had landed myself in residential in-care treatment centre. Despite utilizing traditional therapies - recovery was an uphill climb that I was not winning. A solo and serendipitous trip to Costa Rica led me to tapping and a road that ultimately found me completely overhauling my life and becoming an Advanced EFT Practitioner and Master Conscious EFT Practitioner. Bonus - I found Georgia on that path too!
In 2020, I received a not-so-shocking diagnosis of AD[H]D. Like a snap of my finger - things just made a lot more sense - my childhood, old coping strategies, behaviours/responses etc. I am happy to report my life looks very different than it did 15 - 10 or even 5 years ago. My relationship with food, my body, my Self and even by AD[H]D brain and sensitive nervous system is all a work in progress - and I have tools and resources to thank for getting me to where I am today.
I would to make sure I say - none of what we are going to share with you is some magical cure that will heal you overnight. You have to show up for yourself and put the work in. But - what I can say is that without these tools I know I wouldn't be here today. These tools can be life changing if you let them be.
I am so excited to meet you all!
Warmly,
Candace M. Fox, CPP
Master Conscious EFT Practitioner & Emotional Success Specialist (NeftTI)
Advanced EFT Practitioner (EFT International)
Certified Coach Practitioner (Certified Coaches Federation)
Neurodivergent & Eating Disorder Survivor
www.candacefox.com | www.candacefox.com |306.291.2589
A message from Georgia:
Hello! I'm Georgia Barnwell.
I have been on a lot of interesting adventures on my journey to get where I am today. For most of my life, I have been emotionally and mentally dysregulated. I was a victim of whatever weather was blowing inside or outside my head. I had initially been drawn to energy work in hopes it would help me connect to a deeper healing and sense of Self. I then studied nutrition hoping that if I knew what to eat, I would suddenly be 'perfect' and 'peaceful'. Did that work? Well - there's no such thing as perfect, and being peaceful 24/7 is also unrealistic!
When it came to my relationship with food and my body - as predicted, my dysregulated state led me to dive into emotional eating to calm myself down. Things began to shift when I was introduced to EFT Tapping and then Conscious EFT. I had no idea I could learn how to calm my nervous system down without self-medicating with food and drink.
I have discovered new ways to relieve stress, increase focus and start to move in a direction that I CHOOSE. I combine whole food education and anti-inflammatory nutrition with tapping to help people make friends with themselves to nourish calm, clarity and resilience.
I can't wait to meet you all and go on this adventure to share my wisdom, experience and resources to help you on your own healing journey and recovery path.
Warmly,
Georgia Barnwell, BSc, MHA, DHN
Certified Master Conscious EFT Practitioner & Emotional Success Coach
Holistic Nutrition Consultant
Reiki Master
Quantum Touch Practitioner
www.energyfortransformation.com | georgia@energyfortransformation.com | 902-449-9820