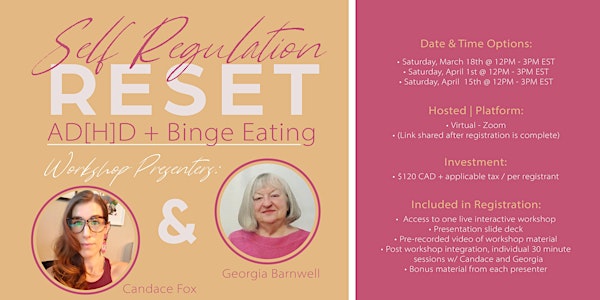 Multiple dates
Self Regulation Reset: AD[H]D + Binge Eating
An experiential workshop that explores the AD[H]D + binge eating connection while also providing transformational tools and resources.
Date and time
Sat, Mar 18, 2023 9:00 AM - Sat, Apr 15, 2023 12:00 PM PDT
Refund Policy
Contact the organizer to request a refund.
Eventbrite's fee is nonrefundable.
About this event
The relationship between AD[H]D and binge eating is not widely discussed despite being the most common of eating disorders that overlap with the brain disorder. Even more elusive - a concrete set of resources and tools, easily accessible that can be used IN THE MOMENT during those undeniable visceral/biological urges that seem completely unavoidable and nearly unstoppable.
I get it. We get it. Been there - done that, done that, done that, done that...you get the point!
The good news, you can recover and overcome binge eating whether you have a clinical diagnosis of Binge Eating Disorder or are self-diagnosed as having disordered eating habits. The 'bad' news (which isn't bad at all!) it is going to take effort, consistency, and intentional action on your part. Change doesn't happen overnight. There is no 'miracle cure' that will resolve anyone's dysregulated nervous system or dysfunctional relationship with food.
Back to the good news - Georgia and myself have been where you are and have a collection of tools and resources that we can share that have been lifelines to both of us. As I struggled with a debilitating eating disorder for over 15 years, I honestly did not think recovery was possible for me - even after a stint in a residential recovery centre. The missing link for me was self-regulation tools - a total game changer in my recovery path.
When I was eventually diagnosed with AD[H]D at the age of 35, I quickly realized there was a definite link between binge eating and my new diagnosis (and research that supports my claims)! The truth is, binge eating isn't the problem - it is your body's coping/safety strategy and we'll dive deeper on that topic in this workshop!
Nuts & Bolts:
Co-presenters: Candace Fox & Georgia Barnwell
Workshop is 3 hours in length with a short break between presenters
The slide deck will be sent ahead of time with space for notes
Participants will be asked to ensure their video is on during times of exploring tools and discussion
The actual workshop will not be recorded to ensure the privacy of participants in attendance and disclosure of personal information - with this in mind, you may want to take notes during the Q&A period and discussions as the pre-recorded video will be on the material covered only!
Presentations will cover:
Candace:
- The AD[H]D and binge eating connection
- Why binge eating isn't the problem, it is the coping strategy
- Why being 'at war' with our eating disorder/disordered eating and our bodies is not helpful
- How self-regulation tools/techniques can lessen the intensity/urge to binge eat and when to use them
- 3 self-regulation tools/techniques you can use on your own, anywhere at anytime
- Research and science that supports the efficacy of self-regulation tools for cravings/binge eating
Georgia:
- AD[H]D and our gut/brain relationship (gut damage and inflammation)
- Using anti-inflammatory nutrition and ferments to calm the gut
- Nutritional strategies to help AD[H]D and food cravings
- Self-regulation tools to promote rest and digest/nutritional absorption/emotional safety
- Realistic strategies for adding in foods that support gut health / cutting out foods that may disrupt a healthy microbiome
----------
Message from Candace:
I am so excited to be joining forces with Georgia once again to host this very important workshop. I can't stress enough - none of what we are going to share with you is some magical cure that will heal you overnight. You have to show up for yourself and put the work in. With that said, without these tools I know I would not be here today. These tools can be life-changing if you let them be!
I look forward to meeting you virtually!
Warmly,
Candace M. Fox, CPP
Student, Professional Addiction Studies (McMaster University)
Master Conscious EFT Practitioner & Emotional Success Specialist (NeftTI)
Advanced EFT Practitioner (EFT International)
Certified Coach Practitioner (Certified Coaches Federation)
www.candacefox.com | www.candacefox.com |306.291.2589
Message from Georgia:
I have been on a lot of interesting adventures on my journey to get where I am today. For most of my life, I have been emotionally and mentally dysregulated. I was a victim of whatever weather was blowing inside or outside my head.
I have discovered new ways to relieve stress, increase focus and start to move in a direction that I CHOOSE. I combine whole food education and anti-inflammatory nutrition with tapping to help people make friends with themselves to nourish calm, clarity and resilience.
I can't wait to meet you all and go on this adventure to share my wisdom, experience and resources to help you on your own healing journey and recovery path.
Warmly,
Georgia Barnwell, BSc, MHA, DHN
Certified Master Conscious EFT Practitioner & Emotional Success Coach
Holistic Nutrition Consultant
Reiki Master
Quantum Touch Practitioner
www.energyfortransformation.com | georgia@energyfortransformation.com | 902-449-9820
About the organizer
Candace Fox is a freelance writer, Certified Coach Practitioner (CCP) and an Accredited Advanced Conscious EFT Practitioner certified by the National Emotional Freedom Techniques Training Institute (NeftTI) and EFT International. 
As a reformed stress junkie, Candace understands the demands of working in environments that can take a toll on an individual's mental, emotional and physical health. Having bought into the notion of 'the grind' in her early 20s she faced multiple burn outs as an entrepreneur, TV/News writer/producer and during her time working in the non profit sector.
Candace was introduced to EFT in 2014 while visiting an eco-community in the rainforest of Costa Rica. That fateful finding ultimately changed the course of her career while helping her navigate the sometimes treacherous terrain or as she now refers to them ADVENTURES of life. To learn more about Candace Fox or read her musings on her blog please visit her website. 
Contact: info@candacefox.com
Website: https://www.candacefox.com/workshops
Blog: www.thenakedfoxblog.com