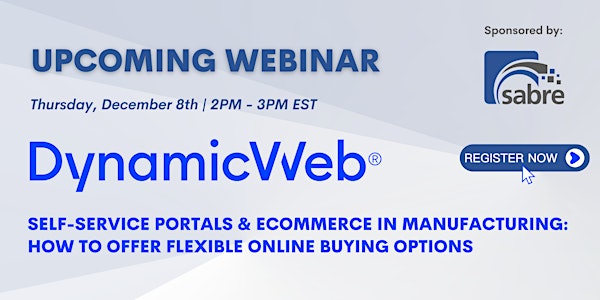 Self-service Portals & eCommerce in Manufacturing
Manufacturers are leveraging the efficiency and flexibility of self-service portals and B2B eCommerce. Join us for a webinar with Dynamicweb
About this event
Sabre Limited invites you to join our Expert Webinar Series presenter Dynamic Web in presenting Self-service Portals & eCommerce in Manufacturing: How to Offer Flexible Online Buying Options.
With digitalization up and down the supply chain, the global shift to online buying, and sudden changes in market conditions, manufacturers have reached a crossroads: continue with the status quo, or get ahead with doing business online and digitalizing their sales channels.
Manufacturers and distributors need fast, efficient and reliable ways of operating together 24/7. And in scenarios that don't involve EDI, distributors need to be able to research, plan, and place orders at their convenience - not wait for sales reps to take orders by phone or email. In some industries, manufacturers are now selling direct to customers with better profit margins, unleashing entirely new business models and revenue channels.
Join us for a webinar with Dynamicweb to learn how your manufacturing business can leverage eCommerce and portals to expand your sales channels.
We'll discuss:
The eCommerce imperative in manufacturing
eCommerce benefits for your customers/buyers
eCommerce benefits for YOU (the manufacturer)
Centralizing and distributing product information with secure PIM
Streamlining sales order processes with integration to ERP and CRM
Q&A