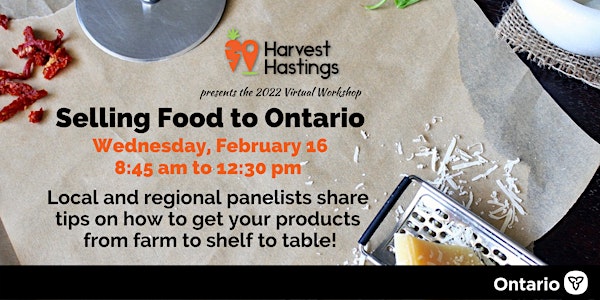 Selling Food to Ontario
Join us for the Selling Food to Ontario webinar!
Date and time
Wed, Feb 16, 2022 5:45 AM - 9:30 AM PST
About this event
Harvest Hastings, in partnership with Ontario Ministry of Agriculture, Food and Rural Affairs, is pleased to host an upcoming Selling Food to Ontario session, on February 16, 2022, from 8:45 am to 12:30 pm. Selling Food to Ontario is an opportunity to network with other local food champions to learn how to get your products from farm to shelf to table!
Agenda
8:45 Introductions and Welcome from Harvest Hastings and OMAFRA
9 - 9:45 Navigating Market Channel Opportunities
Speakers include an introduction from Karen Fischer from OMAFARA, Candace Tierney from Oat and Mill, Oliver Haan from Haanover View Farms, and Victoria Watts from Pasta Tavola.
9:45 – 10:15 The Regulatory Landscape
Breakout Sessions in focused topic areas including:
1. Working with the Public Health Unit - Theresa Verhage, HPEHU , 2. Provincial guidelines for meat and poultry – Scott Fisher, OMAFRA3. Egg grading - Melissa Kempers, CFIA
10:15 – 10:30 Break
10:30 to 11:15 Getting it on the Shelf (and keeping it there)
This session consists of a panel of representatives from local independent retailers, restaurants, and a major national retailer. Panelists include Lucas Cleveland from Market SMOR, Wendy Mortimer from the Coe Hill Grocery Store, Jeff Camacho from Burger Revolution, and Sheri Evans from Sobeys
They will be asked the following questions:
1. What does it take to get on your table/shelf? 2. What do you see as emerging demands for local food products?
11:15 – 11:30 Indigenous Food Sovereignty Showcase – Aric Augonie of Earth Haven Farms
11:30 – 12:15 Local Resources and Business Supports
Local Food Product Development and Processing Facilities:
1. OAFVC - Trissia Mellor 2. County Food Hub - Melissa Tran
Open Food Network – Theresa Schumilas
OMAFRA Business Development Supports and Services – Magloire Ngnitedem, Business Development Consultant, OMAFRA Other Business Development Resources
12:15 Closing Remarks