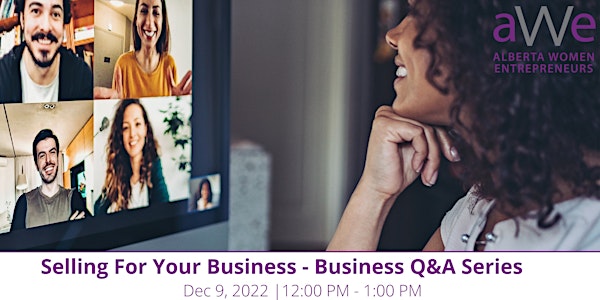 Selling For Your Business| Business Q&A Series
Selling For Your Business| Business Q&A Series Answers + Information + Connections = One Step Closer To Your Dreams
About this event
How do I find leads?
How do I sell without being annoying?
What sales tools do I need?
What is a good closing rate?
How do I ask for the sale?
Most entrepreneurs underestimate the importance of the sales function in their business. They also worry about coming off as pushy or slimy. Fortunately, sales can be approached in a helpful and empowering way.
Join us for this online group Q&A session, where we answer your sales question LIVE, share resources and connect you with other Alberta-based women entrepreneurs.
Answers + Information + Connections = One Step Closer To Your Dreams
Presenter:
Jenifer Horvath, Business Advisor AWE
Jenifer Horvath is passionate about supporting women to achieve their goals, in their own way. She has over 20 years of marketing, product management, management consulting, and coaching experience. She's worked with international organizations such as Playtex, Campbell Soup, and EPCOR; Alberta-based organizations such as Alberta Motor Association, Alberta Milk, SAIT and Edmonton Economic Development; and many small businesses and start-ups. Having developed and implemented many strategic plans, she offers high-level insights as well as executional discipline. Her intellect, however, is pleasantly softened by a compassionate, considerate personality. As described by a previous co-worker, "she's sharp, without the sharp edges."
Jenifer works part-time at AWE as a business advisor and coach helping Alberta women start, build and scale their businesses. When she's not at AWE, she runs her own business, HeartLifted, coaching moms to achieve success on their own terms. Jenifer is an International Coaching Federation (ICF) member.