HOME OWNERS INFO SESSION- Learn about the process things to consider when selling a condo/house/investment in Toronto, GTA and Ontario
About this event
🏠 Thinking of Selling Your Home? Join our online Education Seminar
your options : MLS, exclusive, private, other
the sales process and costs involved
when is the best time to sell
how to determine the market value of your home
understanding multiple offers, bully offers, and bidding wars
repairs/ renovations & other home preparations
common Seller mistakes to avoid
⏰ Thurs January 20, 7-8pm on Zoom
Presented by Christine Ng Real Estate Broker, 23 years Toronto, GTA
More info: tochristineng@gmail.com, 416-443-0300
If you can't make it, contact Christine to book a private session or consultation (no cost nor obligation). tochristineng@gmail.com
This info session is for Homeowners who are interested to learn about the home selling process, in Toronto, Ontario, Canada. Not intended for anyone under listing contract with a Realtor or Broker. Any service partners or Realtors looking to network (ie. mortgage brokers, stagers, home inspectors) please reach out anytime.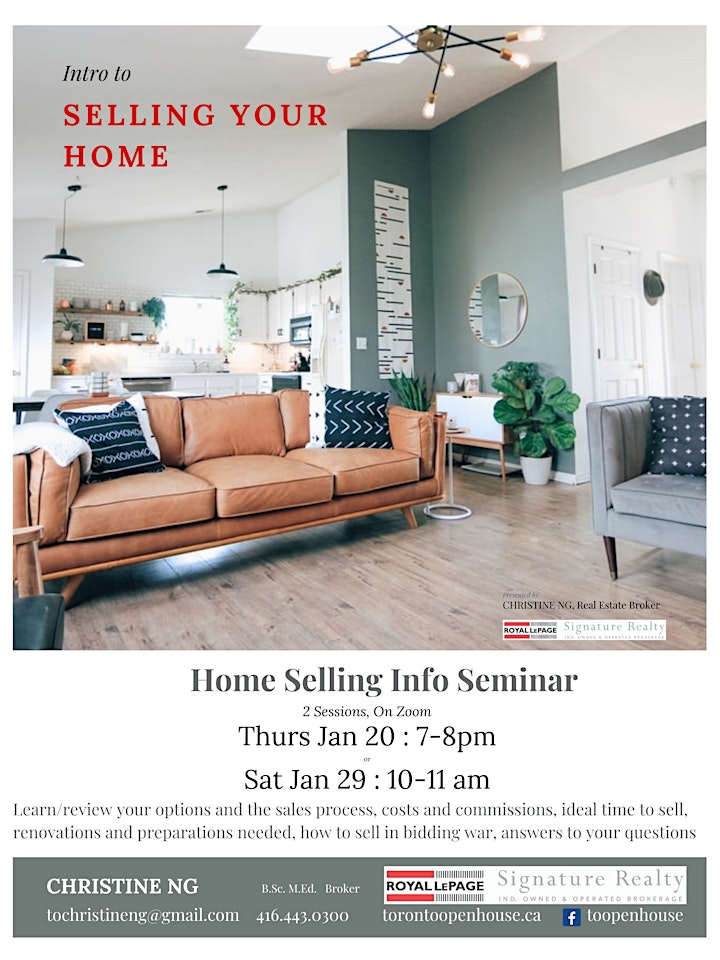 Organizer of SELLING YOUR HOME - TORONTO
CHRISTINE NG  B.Sc, M.Ed.

A Real Estate Broker with 22+ years full time experience. Helping Sellers, Buyers, and Investors of residential property in Toronto & GTA, Ontario. Understands (& speaks improvingly) Cantonese, Spanish & French. Contact me: tochristineng@gmail.com, 416.443.0300